When it comes to my hair my motto is generally 'stick to what you know'. As a result of this, bar the odd alternate between dark and highlights my hair has pretty much always been the same and I rarely experiment outside the box. Hence why I was excited when Buy Hair got in touch offering me the chance to try their Synthetic Clip in Hair Extensions.
A little about Buy Hair
BuyHair.co.uk was established in 2005 to supply 100% human hair for the global hair extension market. Not only do we supply superb quality synthetic hair, but we also supply natural hair extensions with a high quality grade (GRADE AAA). We strive to offer great customer service and quick delivery to our customers around the world. We have the most variety of colours available in lengths from 14" inches to 30" inches long.
I opted for the hot pink clip in extension, which is a vibrant bubblegum pink. I thought if I were to try something so different to my usual style then I may as well go all out and go dramatic hey :)
But it was hard to choose as they do literally every color you can imagine...
It arrived packaged neatly in a long clear packet which ensured that the hair did not get tangled or damaged in transit.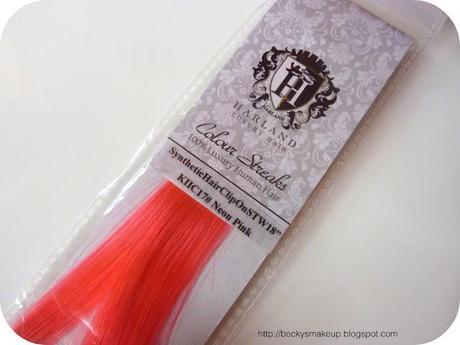 The first thing I noticed bar the vibrant color was how soft the hair was despite being synthetic, although there was no doubt that it was synthetic. Personally speaking I prefer that it was synthetic.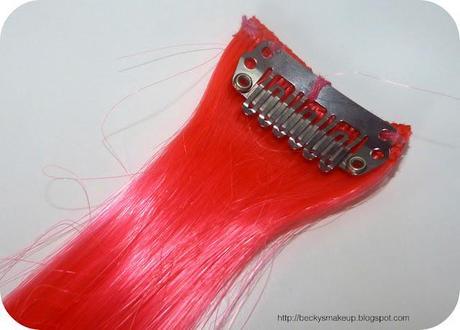 There is a clip at the top, bonded to the hair which will clip into your hair. You have to bend this to open, like the generic hair clasps you can buy. However it took me a few moments to figure this out having not used this before. As there are no instructions it is just trial and error for a novice like me with application :)
First of all I separated the top section of my hair in order to disguise the clip when applied. As you can see by my expression this is not exactly my favorite of tasks :)
And after...one dramatic shot of color in my otherwise boring hair :)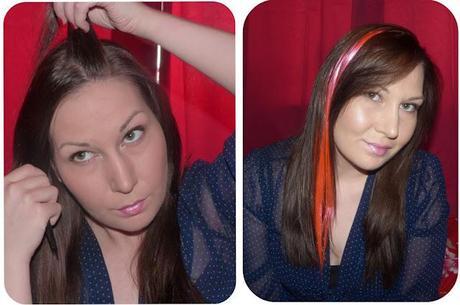 For me at 18" they were the perfect length but you can easily trim then to your desired size if you have shorter hair. They are an inch wide but the hair spreads so can look a lot wider which you cannot amend. 
These were perfect straight, although you can curl, wash and treat as normal hair to extend the longevity of the piece. The only problem I did notice was trying to curl the synthetic hair, does not work as well as I imagine the real hair would which was a little bummer for me as I probably would of used this more had it curled well. 
All in all though this is a good product and although it is not necessarily something I would wear, I feel there is definitely a market for this. Perhaps more directed at either the younger or more daring than myself! 
This retails at £2.65 which is a really good price, and you can purchase this at BuyHair.co.uk
Small Disclaimer - products mentioned were sent to me for consideration for review. All opinions are my own and honest as always!