There is something fascinating about collections of buttons...a bit like looking at precious stones. You want to rummage through them, admire them, covet them!
I used to turn out my mother's button box (actually a metal biscuit caddy) . Not only did it have buttons in it but there was always a tangle of thread, a few collar studs, some ribbon, the slide pulls from zips and sundry other items!
I buy mixed packets of buttons in one colour, for craft use, but inevitably they are seldom used as few match each other. I try to have some semblance of order in my two plastic tubs, but it doesn't always work out that way. I start with good intentions and have one box for matched buttons, either strung together or still attached to cardboard. The other box is meant for odd buttons and those that come as spare buttons when you purchase a garment. I say "meant for", as they always get muddled up!
Imagine my utter joy when, during lockdown and no sewing shops open, I found a set of eight matching buttons suitable to attach to a cardigan I'd just knitted! These buttons did not 'match' the colour, but were made from antler so co-ordinated with the Aran design. Such a relief that was, as I didn't like the idea of an unfinished project.
My piece today is about looking through button collections....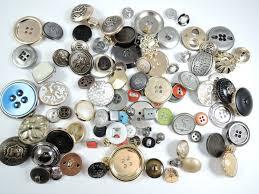 Button Box Envy
Open up your button box and let me look within
Oh ! I see lots of colours, lots of shapes - thick and thin
Ones that match tied together with coloured thread,
Or still attached in rows on labelled cardboard.
I run my fingers through the box, to see the colours bright.
Stopping to admire a glass one that twinkles in the light.
Mother -of-pearl, wood, plastic, even reindeer antler.
Two -holed, four-holed --shanked and fabric covered.
My mother's button box, I played with as a child,
To match them altogether , like in a system filed -
Also there were collar studs, press studs and zip pulls,
Jumbled altogether with bobbins, lace and ribbon.
If you come to visit, you'll love to look at my collection.
Gaze with wonder at the history - held in recollection.
Four buttons from a jacket I wore in '72.
A blazer button, much older, never to be used...
I'll never use most buttons within that box of fun,
But often find an odd one to replace a missing one.
I envy other button boxes and like to explore their depths.
So look out your own collections and find memories there.
Thanks for reading, Kath
Email This
BlogThis!
Share to Twitter
Share to Facebook