The next time you ask the question "What can I do with squash besides make soup?", you have to look up this recipe for Butternut Squash Posole!
It's the perfect Starch Solution recipe – with a New Mexican twist.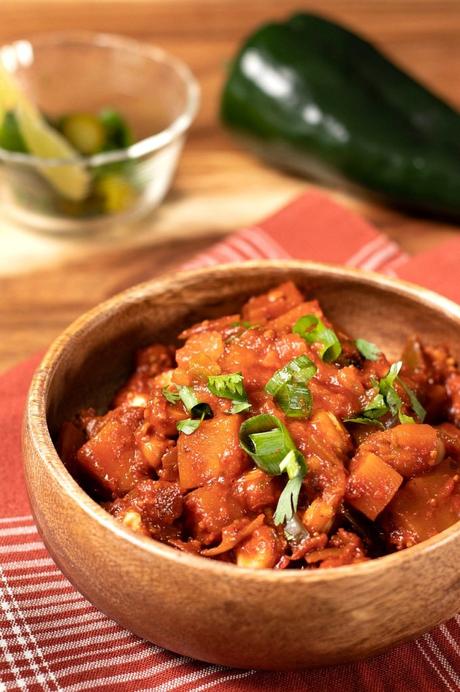 That was literally how this recipe came to be.
My wife had bought a Butternut Squash and asked me to make 'something' with it. Since I already have a Butternut Soup Recipe (that's really good too btw) – I wanted to do something a little different with it.
Off to Chef Google I went to see if he could help me out. And literally the first recipe I came across – I knew was it. …. posole.
I LOVE POSOLE! So kudos to Food52 for the inspiration.
Posole (for those of you who don't know) is a traditional spicy soup of pork, potatoes, hominy, and red chile, and is a popular treat in New Mexico around Christmastime. I have my own Posole recipe right here.
But THIS one uses my favorite squash instead of potatoes. I also added a poblano pepper and left out any kind of meat replacement so I could concentrate on the stew itself.
And I must say, it came out wonderful. Loads of flavor without being too spicy.
You also get:
Tons of Vitamin A from the Squash
Tons of Vitamin C from the Poblano and Red Chile
And lots of all-important fiber from the Hominy
All with no added oil or fat – perfect!
I will say this recipe is not the fastest one to prepare – as you're going to have to make my New Mexican Red Chile Sauce first, but once you have that ready, the rest comes together fairly easily.
And no worries – the leftover Red Chile Sauce CAN be frozen so you have it ready for the next time – but if you're like me, it won't last long because like the famous hot sauce commercial says…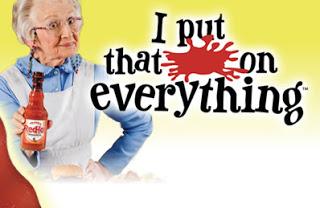 Hope you enjoy the recipe so without any further ado – let's jump right into it.
Butternut Squash Posole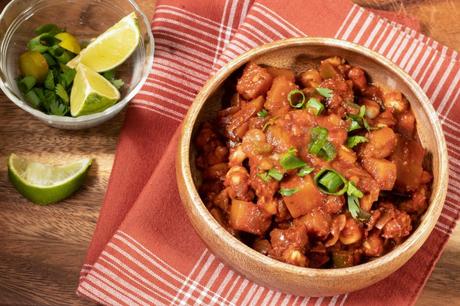 As I said, the first thing you will want to prepare is my Red Chile Sauce. You'll need about 2 cups for this recipe and the remainder will keep in your fridge for about a week (or you can freeze it).
Then go ahead and cut up your butternut squash. You'll need about 2 cups so with mine, I just cut off the neck and used that. There's not a lot of 'meat' left in the bulb part anyway.
Be careful – these squash are hard to cut – so make sure you're super careful with your knife. I cut the neck into two halves, peeled the tough skin off, then cut the remainder into small cubes.
To a large dutch oven, add one diced white onion, and one diced poblano pepper. Make sure to remove as many seeds and the white membrane of the pepper as possible to keep the heat down.
With a couple of splashes of low-sodium vegetable broth, sweat those down until softened.
Then add a few cloves of minced garlic, some Mexican oregano, and a little cumin. I have all the exact amounts down in the recipe box below. Simmer for about 1 minute.
Now we can add our 2 cups of Red Chile and 1 cup of water. Stir well and bring the heat up just until it starts to boil, then toss in your cubed squash. When it starts to boil again, turn the heat down to low and cover. Let the squash simmer about 15-20 minutes, or until they are just beginning to soften.
When the squash is almost done, drain and rinse a 25oz can of white hominy and stir that in along with a few tablespoons of freshly chopped cilantro.
Taste for seasoning, adding any salt or pepper to your liking, then simmer for another 5-10 minutes and serve.
Garnish with cilantro, freshly chopped green onions, salsa, or lime. My homemade Corn Tortillas (although a bit too much work at this point – sorry) would go great with this meal.
That's the recipe of the week. Hope you enjoy it and if you do, please be sure and let me know in the comment box below.
Stay safe everyone!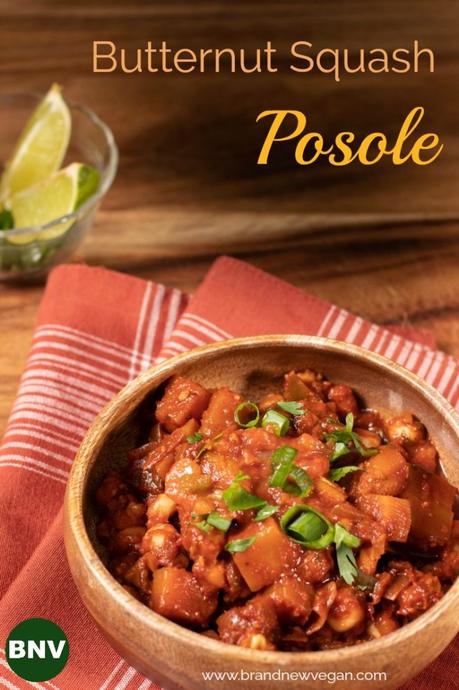 Print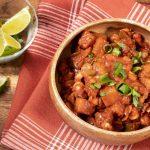 Butternut Squash Posole
Author:

Brand New Vegan

Prep Time:

30 min

Cook Time:

30 min

Total Time:

1 hour

Yield:

6-8 servings

Category:

Soup, Stew

Method:

Stovetop

Cuisine:

Mexican

Diet:

Vegan

Print
---
Description
The next time you ask the question "What can I do with squash besides make soup?", you have to look up this recipe for Butternut Squash Posole!
It's the perfect Starch Solution recipe – with a New Mexican twist.
---
Ingredients
1

white onion, diced

1

poblano pepper, seeded and diced

3

cloves garlic, minced

2 tsp

Mexican oregano

1 tsp

cumin 

2 cups

New Mexican Red Chile sauce

1 cup

of water (or more to thin as needed)

1 1/2

–

2

cups butternut squash, cubed

25oz

can hominy, rinsed and drained

1

–

2

Tbs cilantro
salt & pepper to taste
---
Instructions
Prepare Red Chile Sauce according to recipe – set aside 2 cups
Peel and cube about 2 cups of squash.  Set aside. 
To a large dutch oven, add onion, poblano, and enough veg broth to keep it from sticking
Once the veggies are softened, add garlic, oregano, and cumin
Stir and simmer 1 minute
Add chile sauce and water.  Stir well and bring to a boil
Add squash.  When the soup comes back to a boil, reduce heat and cover
Simmer 15-20 min or until squash is just tender
Add hominy and cilantro and stir to mix.
Simmer an additional 5-10 min 
Serve with your choice of garnish
---
Notes
Your donations help keep new recipes coming! Donate now!
Keywords: butternut squash posole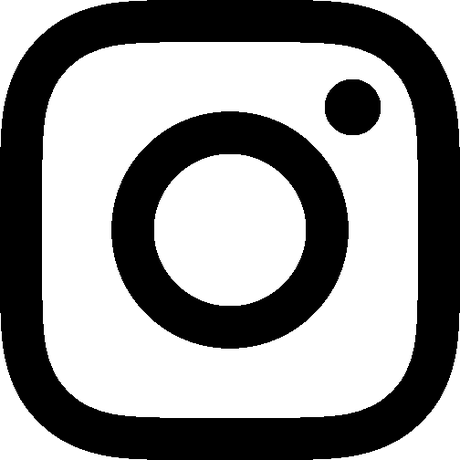 Did you make this recipe?
Tag @brandnewvegan on Instagram and hashtag it #brandnewvegan