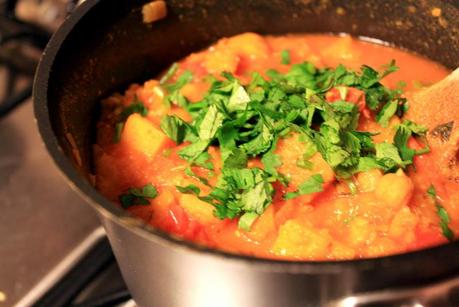 It's freezing outside today. Well, freezing for Bay Area standards. I'll happily admit that I'm a big baby when it comes to the weather being cold. My hubby, who's from Chicago, always teases me about how the Bay Area doesn't have "real" winter, how a little bit of cold & rain does not a winter make.
Ok, fine.
But it's still cold as far as I'm concerned

On days like today, I love making a hearty recipe that just warms my bones. Something that sticks to your insides and leaves you full and happy. This Butternut Squash Curry does just that.
I took inspiration for this recipe from a good friend of mine who also loves to cook. He made this when we came over to him & his wife's place in SF, but I think his version didn't have chickpeas.
I added the chickpeas and served it with a mint & almond whole wheat couscous that helped absorb some of that great spicy curry sauce. The hubby and I loved it: he said that even though he generally doesn't like "mushy" stews, (his words, not mine!) this one had just the right bit of texture with the chickpeas and almonds in the couscous.
The Ingredients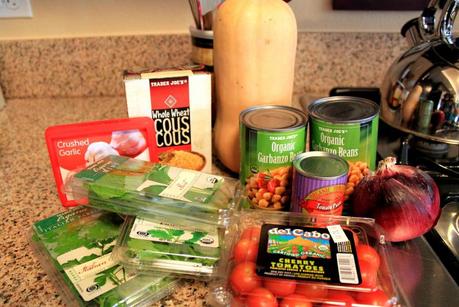 For the curry:
2 cans of chickpeas, drained & washed
20 cherry tomatoes, cut in half
1 Butternut squash, peeled & cut into 2 inch chunks
1 red onion, finely chopped
4-6 cloves of garlic, finely chopped
2 tbs of finely chopped parsley (optional if you don't like parsley)
2 tbs of finely chopped cilantro + more for garnish
1 Tbsp olive oil
1/2 tsp ground cumin
1/2 tsp ground tumeric
1/2 tsp cayenne pepper
1 tsp paprika
2 tsp of tomato paste
1/2 tsp of sugar
1.5 tsp of sea salt
Freshly ground black pepper to taste
2 cups of water
For the couscous:
1 cup Whole wheat couscous
1 cup Vegetable stock
Chopped fresh mint
Sliced roasted almonds
The Directions
.
Step 1:
Chop your veggies, herbs and the butternut squash. To cut the squash: slice off the top & bottom, and then cut it in half width wise. Peel both halves. Then cut each half length wise. Scoop out the seeds. Then chop into cubes!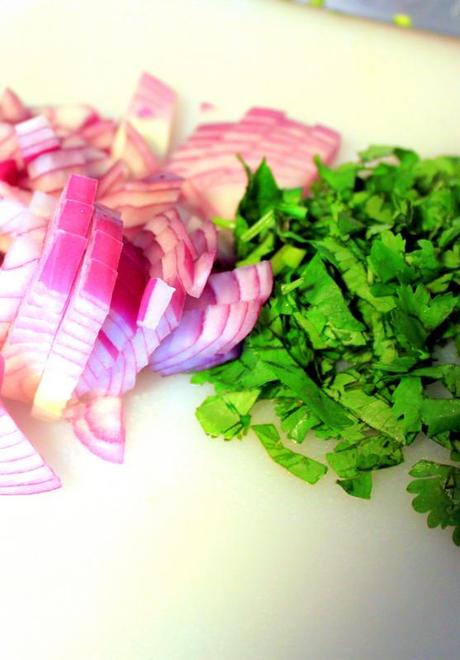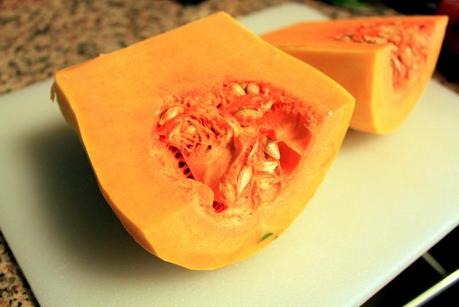 Step 2:
Heat oil in a large pot, and add the onion until soft. Add the garlic and cook for about 20 seconds, then add the cumin, tumeric and cayenne pepper. Cook for 30 seconds, stirring continuously. Add the paprika, tomato paste, sugar and half the coriander, parsley, salt and pepper. Stir.
Step 3: 
Add the tomatoes and the drained chickpeas. Stir and then add the butternut squash and the water, stir and then cover with the lid. Once simmering, turn the heat down to low and cook covered for 35 minutes.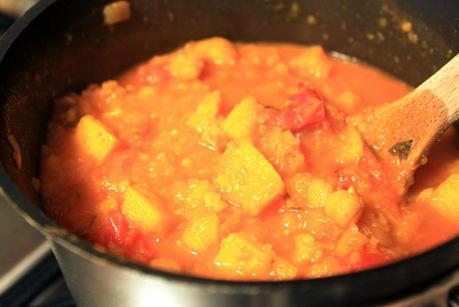 Step 4:
Cook couscous according to package directions with vegetable stock or water. Once it's cooked, fluff with a fork and stir in mint + almonds.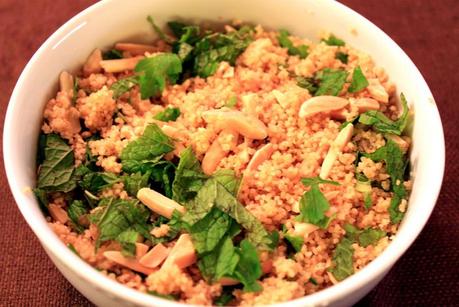 Step 5:
Garnish curry with some cilantro and serve with couscous.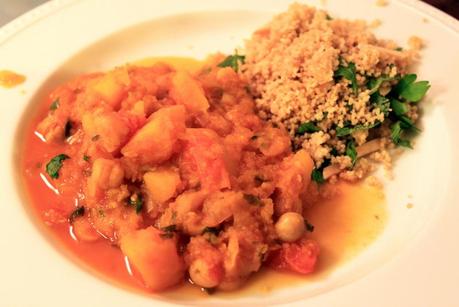 I loved how the curry just seeped out from the sides and got absorbed into the couscous. Not only was this extremely satisfying, but it was very healthy as well: full of fiber with the butternut squash, chickpeas, tomatoes and couscous; and a nice balance of protein from the chickpeas + almonds. I wish we had leftovers so I could eat it again!