This cake was made for Melodie's second birthday and girls definitely where surprised with such *creation*, my first attempt to use fondant and I actually hardly ever decorate cakes at all:) For the future..if I ever decide to use fondant...I should focus on rolling it out thinner, especially for small details.
This cake might be relatively low fat, I did not feel like any butter cream; used thick yoghurt instead, but this still does not make the cake diet:) So, I got this nice collection of chocolate, vanilla and strawberry flavours - just what girls like:) Melodie enjoyed eating butterflies actually:)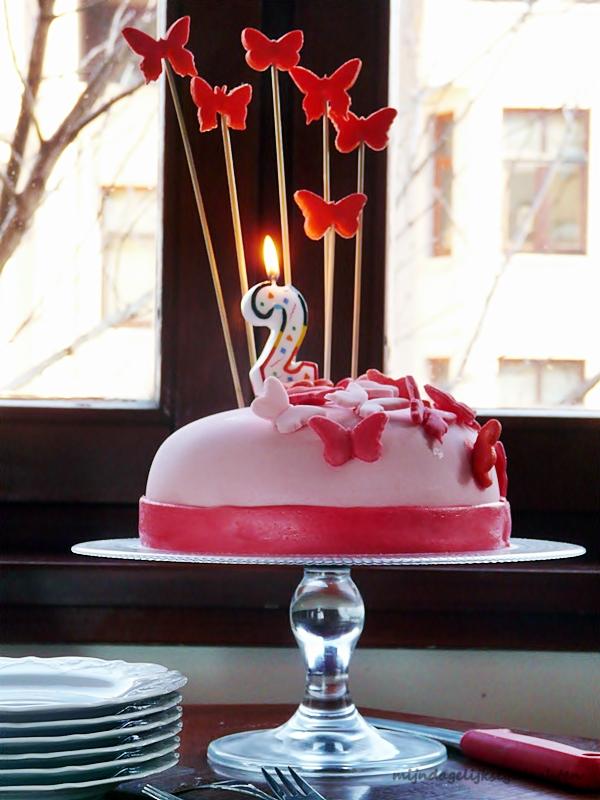 Marshmallow fondant:
300g marshmallows
1tb.s. water
4-4,5 cups vanilla powdered sugar
red food colouring
butter for greasing hands and a bowl
Microwave marshmallows with water in a greased bowl, checking every half a minute. Add 2 cups of powdered sugar and start mixing with your greased hands, adding 2 more cups and maybe 100 grams extra if needed. Add colour, cover in plastic and store in room temperature up to a couple of days.
Moist Chocolate Cake
cake recipe is adapted from here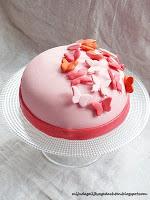 1 3/4 cups AP flour
2 cups sugar
3/4 cup cocoa powder
10g baking powder
0,5 t.s. salt
2 eggs
1 cup buttermilk
100ml melted butter
10g vanilla
1 cup hot strong coffee
Combine dry ingredients in mixer/blender. Then add wet ingredients ( except coffee) and mix until smooth. Pour hot coffee into the batter and stir with spatula.
Butter 20cm baking form and place parchment paper onto the bottom, Pour half of the dough into form and bake for 25-30 minutes at 175C. Repeat with the second half the same.
Let them cool completely.
Strawberry White Chocolate Yoghurt Frosting
300g strained full fat Greek yoghurt or sour cream (I used Turkish labne here)
pinch of salt (if using yoghurt or sour cream)
3tb.s. strawberry preserves, thick kind
200g melted white chocolate
200g vanilla powdered sugar
red food colouring
2tb.s. dry strawberry milk powder
2tb.s. rice flour
Mix in blender/mixer all ingredients together and chill in the fridge prior to using.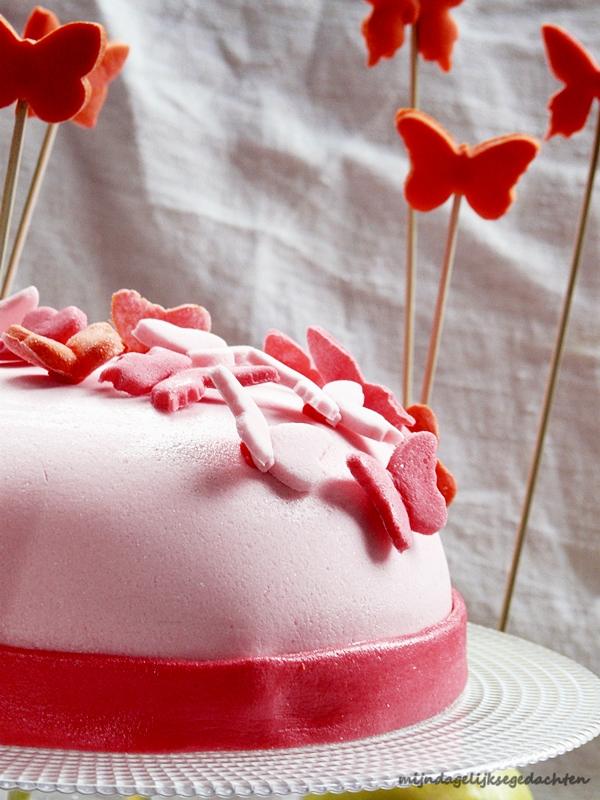 Trim cake layers. Spread evenly with frosting, sandwich two cakes and frost from outside as well, but not too much. Refrigerate.
Carefully roll out fondant into a large disc that would fit to cover a cake. Place it over the cake and with your hands remove all the air that might be stuck under it. Trim the edges. Use leftovers to make decorations (though some of the fondant will still be left). I folded my butterflies like a book and let them sit for a while folded like this on the table. Then using a little bit of sugar paste glue decorations onto the fondant. Refrigerate until ready to serve.