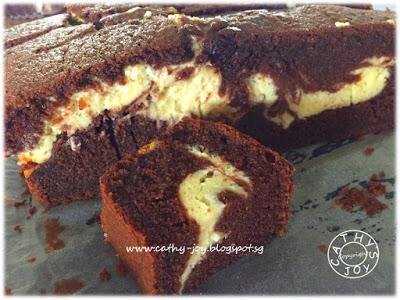 Butter Chocolate Cheesecake
(recipe adapted & modify slightly from Anncoo)
Ingredients:
(A)
250g Cowhead salted butter, softened
160g fine sugar
4 eggs
1 tsp rum
170g Blue Jacket Cake Flour
1.5 tsp baking powder
 4 Tbsp cocoa powder
8 Tbsp Cowhead UHT milk
(B)
227g Cowhead Cream cheese, room temperature
60g fine sugar
3 Tbsp whipping cream
1 egg
1 Tbsp Blue Jacket Cake flour 
1/4 tsp baking powder
Method:
1.
Beat ingredients (B) till fluffy. Set aside.
2. From ingredients (A), beat butter & sugar till pale & fluffy. Add in eggs gradually, followed by rum & milk. Mix well. 
3.
Fold in sifted flour, baking & cocoa powder with a rubber spatula in 2 portions into butter mixture. Mix well.
4. Spread 1/2 portion of batter into pan, then spoon in cheese mixture (B) & top with the remaining portion of cake batter. Use a chopstick to swirl through the batter to create the marbling effect.
5. Bake in a preheated oven at 160 for 70mins.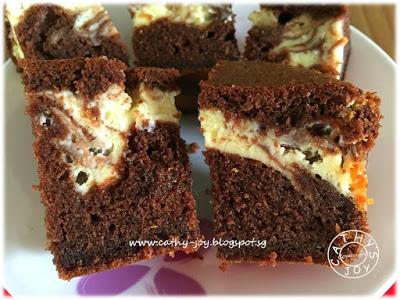 Verdict:

This cake is extremely soft & moist. Cream cheese & chocolate butter cake is indeed a perfect combination. I must say that these little slices were simply addictive.