APRIL HAS STOLEN MY LIFE!
No, seriously. Spring has sprung, the evenings are light and beautiful, the pollen party outside my bedroom window is in full force each morning… and my life seems to have gone in to overdrive. April has been busy, busy, busy, so to reflect the speedy gonzales-ness (totally made up word) of this whirlwind month, I thought I'd do a little round up using my much-favoured literary tool, the bullet point. Let's go.
I had a hair cut. A really bad one. It wasn't so much that the cut was bad, it was just not what I wanted. I said long Alexa-Chung-style boho bob, she gave me short, neat, graduated bob. (See Exhibit A.)
I'm slightly embarrassed to admit that tears were shed in the H&M fitting room to which I fled directly after said hair cut.
I'm more embarrassed to admit that to the hairdresser, I simply smiled and said, "That's great, thanks". WHY DO I FIND IT SO HARD TO TELL A HAIRDRESSER WHEN I'M NOT HAPPY?
I attended a small industry soiree. It was a mere two days after my hair was shorn off but I'd got over it.
I was late. I hate being late. But somewhere between reading the invite and seeing/processing the time of 12pm some weeks before and waking up the morning of the do, my brain had deviously changed the time to 1pm.
I got ready VERY fast (thank god for the short hair), drove VERY fast (thank god I didn't get caught), and made it just in time (read: 10 minutes late).
I shall tell you a bit more about Kalm Kitchen in due course, but myself, Andri from Always Andri and Vicki from Pocketful of Dreams were treated to a delicious spring luncheon (see Exhibit B) and waxed lyrical about weddings, business and dodgy hair cuts for three hours. The perks of being a wedding planner.
I went to the White Gallery. This is an annual trade event for retailers and the wedding industry media set over three days in which designers showcase their new collections and boutiques do their buy for the next season.
It's always an exciting time, and myself and Russell (the owner of Blackburn Bridal) got giddy and bought too much. Again, I shall be sharing a bit more about the new collections in due course, but if you're getting married in 2015 and you haven't bought your dress yet, YOU HAVE TO COME TO US.
See Exhibit C for a sneak peek of some of the dresses that will be arriving next summer.
My husband turned 30!
Now he's not a man for big celebrations so I wasn't going throw a surprise party or whisk him away to Vegas (all to do with his wants and nothing to do with my finances, obviously…). Our celebrations consisted of a curry with his family the night before for which I made a This Is Your Life/Mr & Mrs style quiz to test who knew Paul best. (Gah! Beaten by his little brother.) Then I took him for a night away in a Kent village called West Malling where we did lots of walking, drinking and mussel-eating. And the festivities concluded with a night out with his besties and their WAGS in which we went for a Chinese and had way too much fun playing with the Lazy Susan.
He says it was his best birthday ever. Although I suspect this is more to do with his presents which consisted entirely of cleaning tools for his car. (Men. Are. Weird.)
I got promoted! Or more specifically, my amazing manager/friend/life mentor Mandi left the bridal boutique after eight years for pastures new, meaning I am now Acting Manager (oooooh, get me).
So far, so good. The wedding planner side of me is relishing being in control and I'm making plans and To Do lists like it's going out of fashion.
Our house sale/purchase is speeding towards it's conclusion. I write this with every body part crossed as our sellers have encountered a small blip with their purchase (please let it be ok, please let it be ok), but we signed the contracts yesterday and exchange is set for Tuesday. All being well, we should be drinking champagne and doing cartwheels in our new glorious garden (see Exhibit D) in a matter of weeks.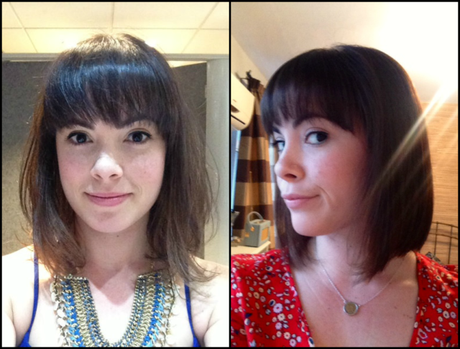 EXHIBIT A: The long boho bob I asked for, and the short, graduated bob I got. 

EXHIBIT B: Delicious deliciousness as prepared by Kalm Kitchen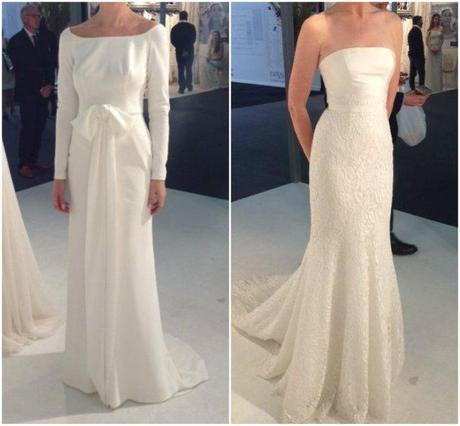 EXHIBIT C: These two Jesus Piero beauties are coming to BBC very soon…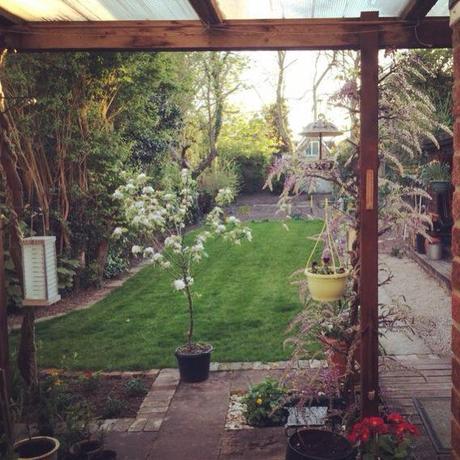 EXHIBIT D: The garden that is so close to being ours!
So that's been my month so far. Its been pretty relentless, I have to say, so I'm looking forward to spending the weekend at home, catching up with emails and Utterly Wow stuff, tidying the house and doing the copious amount of washing that has spilled out of the bedroom and in to the hall. (Why don't men put their dirty clothes in the laundry basket please? Is it an actual chemical malfunction?)
My Utterly Wow season kicks off in May with three weddings back to back, so my blogging schedule is likely to get even more irregular than it already is, FYI. If you enjoy following my shenanigans then now is the time to add me to your blog reader, or click the little button at the bottom of the side bar which will send you an email update every time I publish something new. The wonders of technology!
Have a lovely long weekend, everybody. Let's hope the sun stays out for most of it.
Sama xxx
Ps. Thanks to all who have commented on my When I Grow Up I Want To Be… post. I've loved, loved, loved reading about your diverse jobs and career paths. Feel free to keep 'em coming!