Midland rolled into Boots & Hearts for the second year in a row, this time, hitting the main stage to put on a show for their Canadian Midlanderos.
The boys played 12 songs in their return to Boots & Hearts, and there wasn't a single one of them that didn't have fans singing along. The crowd got loud, they danced, and they lit 'em up. They had a whole lot of fun doing it as the Saturday afternoon sun beat down and the music played.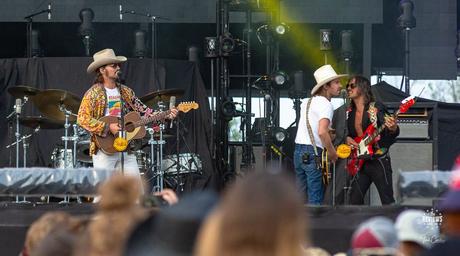 As one of the most successful new acts in country music over the last few years. Their rise to stardom seemed to come quickly, and it did, but it wasn't a foregone conclusion. We had a chance to talk to Midland backstage before their show and asked them about their journey from their pre-EP Spotify sessions at SXSW to their first #1, their album release (
On The Rocks
), and now a Platinum single (
Drinkin' Problem
) on their resume.
We asked the band if they had words to describe their journey over the last two years and Mark Wystrach told us, "At this point, grateful because the road has been a lot of fun and as you realize your dreams it's great, but it's not an easy road." He added, "When we finish this year it will be two years of the hardest touring, recording, working that we've ever done in our lives.".
The rest of 2018, the end of that two-year run, is packed with live dates. They've got some festivals and state fairs lined up, and then they line up with Thomas Rhett on the Life Changes Tour. After that, they kick off their own run of shows on The Electric Rodeo Tour. Oh, and in the middle of that, they'll head across the pond to play shows in the UK and Ireland.
It's going to be busy. But fun.
This slideshow requires JavaScript.
On stage, Mark, Cameron, and Jess are top tier entertainers. Their music fits their personalities on stage. Their choice of covers connects with the audience and meshes well in their set.
Add their well-oiled harmonies to the mix, and it's easy to see why people are in on Midland, and why it's easy to bet on them having a successful future.
That future, btw, includes a brand new album that we can't wait to hear. But wait we will, because Mark told us at the end of our interview that it's not coming out until March 2019.
We told him folks will be marking that on their calendars.
Until then, go back and listen to On The Rocks, check out those old Spotify sessions from SXSW 2016, and their new Spotify Singles releases, Burn Out and a cover of Bruce Springsteen's Tougher Than The Rest recorded at Sound Stage Studios Nashville.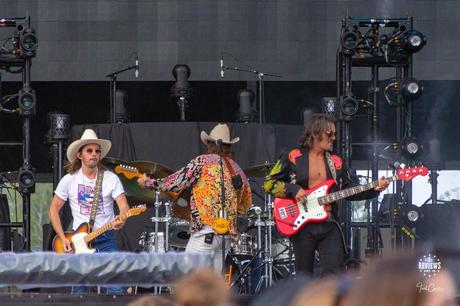 The boys were funny, charming, easy-going, and made us wish we had about an hour longer to hang out, something to drink, something for the boys to smoke, and some barbeque. Next time.
Check out the full (3:30 minute) interview now!
We're not sure when we'll get the chance to see Midland up on stage next, but we're hoping that it isn't long. Especially if they give us the kind of show they gave thousands of us at Boots & Hearts.
Midland Setlist, Boots & Hearts 2018
🚬 Check Cashin' Country
🚬 This Old Heart
🚬 At Least You Cried
🚬 Burn Out
🚬 Gator Boys / Jack And Diane / Dust On The Bottle
🚬 Dixieland Delight
🚬 Midnight Rider
🚬 Altitude Adjustment
🚬 Make A Little
🚬 Drinkin' Problem
🚬 Mary Jane's Last Dance
🚬 Turn The Page
Photos of Midland at Boots & Hearts 2018