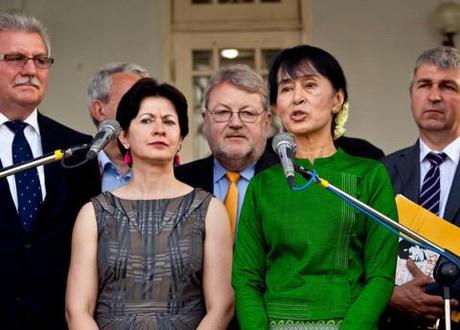 Burmese opposition leader Aung San Suu Kyi addresses crowds on Wednesday 29 February 2012 in Yangon, Burma. Photo credit: European Parliament
Burmese pro-democracy leader Aung San Suu Kyi has won a place in parliament in Sunday's historic by-elections, which are widely considered to be the country's first tree and fair elections in many decades. According to partial official results from state media, which were reported by the BBC, Suu Kyi's party took at least 40 of the 45 seats being contested. While the military junta, which has controlled Burma since the 1960s, still have a vice-like stranglehold on power, the election results have been interpreted as an indicator of coming political reform in the country.
The by-elections were being held to fill 45 parliamentary seats left vacant by the appointment of ministers after the polls that formally ended military rule in November 2010. Suu Kyi's National League for Democracy (NLD) was competing in its first elections since 1990, after boycotting the 2010 polls. There are 664 seats in parliament altogether so even if, as forecast, the NLD wins most of the seats, the army and its proxy Union Solidarity and Development Party (USDP) will still hold about 80% of seats in parliament.
Suu Kyi told a crowd of supporters outside NLD headquarters in Rangoon, Burma's commercial capital, that, "it is not so much our triumph as a triumph of the people who have decided that they have to be involved in the political process in this country … We hope this is the beginning of a new era."
Was she wrong to run at all? With her election to Parliament, Hanna Hindstrom of the exile media group Democratic Voice of Burma told The International Herald Tribune, "she already faces growing pushback from her own party ranks and external analysts who say her presence will help legitimize the military-backed government and its questionable reform agenda."  
Suu Kyi was right to seize the junta's olive branch. In an editorial, The Independent insisted that the election was "not what most of us would call a free or fair election" and noted that, in some places, Suu Kyi was not allowed to hold any rallies and in others she was confined to obscure parking lots and fields. But, regardless of the heavy weighting in favour of the entrenched elite, the newspaper congratulated Suu Kyi for participating: "some of Ms Suu Kyi's supporters regarded her decision to take part in the election with misgiving, wondering whether she isn't setting herself up. It is a fair concern. The generals have power aplenty. What they don't have, and still crave, is a slice of the legitimacy that only Ms Suu Kyi can bestow. It would suit them well to carry on running Burma and enriching themselves in the process while at the same clipping Ms Suu Kyi's wings and co-opting her into the political process. They may have calculated that they are better off with her as a MP – free but fairly impotent in a parliament that doesn't control anything – as opposed to being behind bars and strong in less-calculable ways. Ms Suu Kyi has weighed up those risks and has grasped the olive branch that has been held out to her and we in Britain, a country she knows extremely well, should support her all the way." "Clearly she took part in this flawed election because she believes that the generals, or at least some of them, are sincere in wanting to change things in Burma for good in the direction of openness, tolerance and plurality – perhaps even real democracy," argued the newspaper. "We must now hope that she is right."
Powerful symbolic victory. An editorial in The Times (£) insisted that Suu Kyi's presence in the Burmese Parliament will "make no difference to the country's governance" but does have important "symbolic significance. A brutal despotism has, over many years, gone to great lengths to suppress a popular movement. Yet that movement, in extreme adversity, has survived, carrying Burma's future with it; and suddenly there appear to be stirrings of political change." The newspaper said that, "alongside her preternatural courage, Ms Suu Kyi has a shrewd political brain" and while "there is no assurance that legislation allowing political parties and independent trade unions will be permanent," she was right to stand: "With courage and judgment, Ms Suu Kyi has … gained that foothold in Burmese affairs of state, she will be mightily difficult to dislodge."
The (uncertain) Burmese Spring. "Of all the Springs we've seen, perhaps the Burmese one is the most astonishing," argued Clarissa Tan of The Coffee House, The Spectator blog. "It's because the person aligned on the side of oppressive leadership — President Thein Sein, formerly of the junta — in a sense participated in the Spring himself." Tan noted that Suu Kyi has "found common ground with Sein, who had unexpectedly unveiled an array of political reforms. These included the freeing of hundreds of political prisoners, relaxing media censorship, allowing trade unions and halting work on a Chinese hydro-election dam project on the Irrawaddy that was unpopular with citizens." Tan said Burma is "in tremendous flux at the moment. Is this going way too fast, even for Sein? Has he just opened up another dam, and will the groundswell of support gushing out for the revered Suu Kyi all prove too much for the hardcore faction of his Union Solidarity and Development Party? … as with the other Springs, uncertainty hovers in the air."
"Now will she kick the hornet's nest?" wondered Mark McDonald at the International Herald Tribune Rendezvous blog, who said her she know faces the difficult transition from spiritual leader of the opposition to political strategist and parliamentarian. McDonald argued there's been little to suggest since her release from house arrest in 2010 that she's about to say anything massively radical: "… she hasn't emerged from detention as some sort of avenging angel — rather, she has been patient, cautious and discreet, even wary, and she has made few sweeping political pronouncements. Nothing seismic. No kicking at the hornet's nest or playing with fire." That said, McDonald said that, in recent months, "as the country has opened up more to the outside world, she has begun to speak more boldly, about amending the deeply undemocratic Constitution and about her distrust of the military."