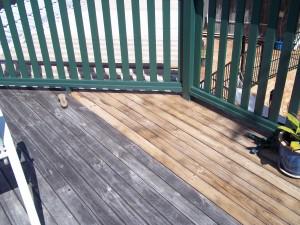 The deck I'm working on.
Aussie fact:  They don't take a shower, they have a shower.  I overheard a discussion on this important topic.  In the the States we are accustomed to saying "I'm going to go take".  The Aussies quickly jab, "Where are you going to take it mate?"  I can't argue with that kind of logic.
I am staying in the small coastal town of Burleigh Waters, just 2/km from Burleigh Heads, an amazing beach which has two large book end "heads" that make it unique compared to the surrounding beaches north and south of it.  The heads are protrusions of land into the ocean (see picture below).  I woke up at 5:30 a.m. today.  I wanted to get my work done and have plenty of time to go to the beach.  My first day at an Australian beach.  I am more excited than being 6 years old and seeing Santa being tracked by the weather man.  When I walked out of my room the sun was just beginning to illuminate the coastal sky.  I climbed to the top patio deck to take a look just in time to see the high rises begin to glow.  Tricia was awake and preparing herself some breakfast.  I followed her lead and made the same thing for myself.  I have done that quite a lot since I have been in in Australia.  I want to try every Australian cuisine I can get my hands on.
By 6:30 I was working in the front of the house.  Tricia had already left for work.  She is a nurse.  Oliver and Gracie don't leave for school until 8:00 a.m.  They ride their bikes to school and wear matching uniforms.  I began the day by spraying the front driveway for weeds growing from between the bricks.  I found myself putting a more effort than had been asked of me.  I like Tricia and I'm appreciative of her allowing me to stay with her family.  After the weeds I cleaned up the dead leaves that had fallen in the driveway and also from the pool area.  The job took me about an hour longer than it would have had I figured out how to use the sprayer.  Live and learn.  Since I began early in the day my work would be done by 11:30 a.m.  After the leaf clean up I began the arduous effort of scrubbing the mold from the top patio.  It is old wood that has grayed over time.  Tricia asked that I take off the gray layer of mold so that she could stain it and preserve the wood coloring.  A brush to scrub, a household bottle to spray the remover, and my hands and knees, were my tools.  I put on my "outback" jeans, the jeans that I brought to destroy (sort of the theme for everything I brought with me), and gave it a go.  I began by spraying the remover and then scrubbing firmly in one direction and then scrubbing it perpendicular after.  Then I would spray the same area and repeat the original direction.  With the Australia sun blazing down on me I must say that the task is not for the weak of heart.  Still each time that I stood up I was reminded why I was doing it.  Coastal scenes to the west and mountains towering in the east and the sound of the abundance of Australia's famous exotic birds everywhere.  There is a black bird that looks like a mini-toucan that comes around the bird feeder.  Yesterday I had spent A$21 to stay in a hostel with nine guys.  I didn't have access to the internet and after I showered I felt like I needed to shower all over again because there was no air conditioning.  Cheap meals there were A$7 to A$10 and I struggled with getting the back pack into a locker.  Fast forward to the patio.  I spent several hours outside sweating over that patio, and at night I had my own mini-cottage next to a unique private pool with mural and tree canopy.  I get home cooked meals and I have free access to a bike to take to the beach.  The best part is I get to experience the every day life of Australian's with Australians.  That alone makes it worth anything that is thrown at me.  I liken it to the following; you can pay for a bus to take you several blocks for several dollars, or you can walk.  To me that translates into being paid several dollars to tough it out and walk several blocks.  I can visit Australia and spend money to stay in hotels as a tourist, or I can work 5 hours a day and live in a Australia as an Australian.  Now were talking.
11:28 rolled around and I had 30% of the patio completed.  Time to clock out.  I made some lunch and hopped on didn't waste a moment to hop on Tricia's bike and head for the beach.  I rode through the roads of Burleigh Waters and soon reached Burleigh Head.  I had found out the place is world renowned and it wasn't long before I knew why.  The two capstone heads at the ends of the beach remind you of a beach in a brochure.  The water is clear and light blue when looked at from far away.  You can see the ground under the water and everything in it.  I also noticed that all of the shells were whole and found this peculiar.  They weren't crushed.  Back home most of the shells come ashore ground up and broken.  I wonder why they aren't like that here?  A shell collector would be in heaven with these shells.  I parked the bike and began walking the beach.  Minutes went by and I could resist the chilly water no longer.  I tossed down what little I had brought with me and jumped into the triple breaks of ocean water with the rest of the Aussies.  The beaches here aren't like back home where everyone jumps in.  They only have lifeguards watching portions of the beach and those are marked by flags.  It's interesting because there aren't many people in most of the water until you come to those flags and then it is crowded.  It is an interesting concept and it seems attractive for those who are good swimmers and want some of the beach to themselves.  After taking a dip (in between the flags, it wasn't until later that I found out I was allowed to swim outside of them) I sat down listening to some music and enjoyed the scene before me.  I simply stared out over the water.  I had read a book called The Fatal Shore on my way over to Australia about the founding the country.  I took a moment to think on that book and the voyage of James Cook who was the navigator who found the continent for Britain.  As I looked out at the ocean I was reminded of how far it was before any other mass of land.  I am literally on the largest island in the world.  After appreciating that for a moment I walked over to one of the heads that are signature here.  As I ascended the slope of grass I watched as the ocean was breaking on rocks below.  I brought hiking sandles with me to Australia, but I didn't have them with me at the moment.  I immediately made a date to visit those rocks before I leave.  After taking in the view I walked up further still.  The head begins with grass and is rimmed with large rocks and topped with a habitat of green.  I thought that it was impassible but as I came closer I realized that it is a protected national park with paths throughout.  I looked down at my sad deteriorating flip flops, unfit for anything other than flat land, and set a second date.  I have some exploring to do.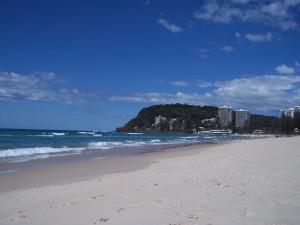 "The Point".  The right head of Burleigh Heads.