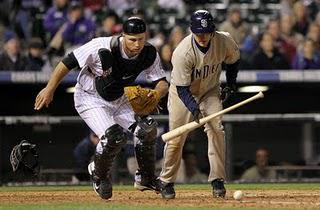 Being a little slower out of the batter's box might
just keep the catcher back long enough to
move a runner on a bad bunt.
(Photo by Doug Pensinger/Getty Images) 
A  batter squares to sacrifice bunt.  The ball is bunted about a foot or two in front of the plate.  The catcher pounces on it and throws to get to lead runner.  Sometimes even the batter/runner is out at first base as well.  What started as a chance to move a runner ended up as a demoralizing double play.
If you are the bunter/runner, here is a tip that you can normally get away with to help move the runner up and avoid a double play as well. 
Be slow getting out of the box.
When a ball is bunted, the batter takes off towards first base.  Unfortunately, when the ball is bunted right in front of home plate, the catcher has a clear shot at the ball if the batter takes off down towards first base as normal.  This, of course, makes it easier for the catcher to cut down the lead runner and possibly the batter at first.
A quick thinking batter who sees a poorly bunted ball in front of the plate should not be so quick to get out of the batter's box.  Leaving slowly and getting between the ball and the catcher forces the catcher to stay back behind the plate and bit longer.  This delay might be just enough to allow the lead runner to get to his base.  As long as the batter is in continuous motion as he leaves the box, an umpire probably will not declare interference.  The batter is entitled to go to first base but the rule says nothing about how quickly he must get there.  Obviously, if the batter just stops in front of the plate as a way of blocking the catcher, an interference call will probably be the result.  Even if some contact is made, an umpire probably will not penalize the batter/runner if he was in motion.  The runner is traveling towards first and the catcher is going for the ball.  Just a normal play in the eyes of the umpire.
It takes some quick thinking but it sometimes works.