Bulls have long been symbols. If I write "that's bull" your mind will likely fill in the missing implied word. In ancient times the king of the gods, El, was known as "bull El"—probably for a very different reason than the veiled scatological reference above. Bulls were powerful and, to those in settled, agrarian societies, necessary for life. Of course, they can turn on you and kill you with little thought. Even in our high-tech, urbanite world, we keep our bulls at hand. "Charging Bull," a golden calf if there ever was one, is a famous Wall Street statue erected to the glory of mammon and greed. On May 7, to celebrate International Women's Day, a statue called "Fearless Girl" was placed in front of "Charging Bull." Our symbols require some reevaluation. In a kind of Trump-up, another artist placed a statue of a dog lifting its leg on the girl, according to the Washington Post.
We creative types can be sensitive about our work. Apart from writing I've dabbled in drawing, painting, and sculpting, although few have seen the results. I know that the space around an artwork is part of the art. I've posted before about Grounds for Sculpture, one of my favorite places in New Jersey. The idea of a sculpture park is that the context of the image is important. Statues show up fairly frequently in New York City. The ever-changing art along the pedestrianized part of Broadway in Midtown keeps the walk to work interesting. Interacting with art is performance. At the same time, the respectful viewer knows, artists are making a statement. Placing a girl before a charging bull says so very much.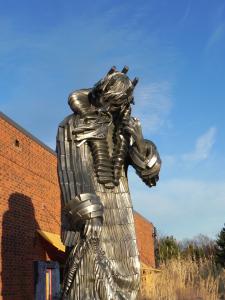 "Fearless Girl," unlike the great lummox she faces, is temporary. Nevertheless, the statement she makes is loud and clear. Wall Street might more aptly be named Ball Street for the amount of testosterone that surges through the place. Men erected a system to keep women out of positions of power. And even when a small symbol of female resistance is placed, some man has to have a pug pee on her. I wonder what our society's become. We're hardly agrarian any more, yet we still feel "bullish" about things. When's the last time anyone used "girlish" as a compliment in a business context? "Fearless Girl" will be allowed to stand until February. The pug is temporarily gone, but will be back. When the girl goes the pug will follow. All that will be left in Bowling Green Park will be bull.