Economical and compact!
When?
Already presented in the last edition of Batibouw the Logamax plus GB172 will be distributed in Belgium by mid-September 2010. The GB172 GB132 replaces Logamax more in open range. Available in 24 kW, this boiler is ideal for homes with low energy consumption, thanks to its wide range of modulation.
Enlarge image
What range?
The range is as follows: 24 kW (6.6 to 24) for heating only executions and execution combination (hot water available immediately through the warm start of the boiler). This latest version also benefits from a health boost to 30 kW for a comfortable optimal health. Versions for "heating only" a new range of boilers has been developed specific (65 l, 120 l and 160 l).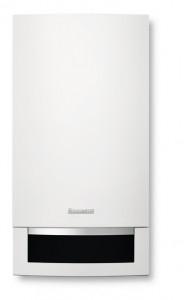 Buderus Logamax plus GB172
Original equipment?
The Logamax plus GB172 has a fill valve, a heating safety valve (3 bar), a diaphragm expansion tank of 12 liters and a modulating pump Class A (up 30 eur power saving each year).
Performance?
Compact (only 84 X 44 X 35 cm), the GB172 has returned over 109% (Hi) with its heat exchanger made of cast aluminum-silicon-proven over a million times. The pump (Class A) and integrated the new regulation ensures minimal energy consumption and losses at the stop insignificant.
Installation and maintenance?
The GB172 was developed by our engineers with the help of a representative panel installers. This information comes from the field results in a very easy boiler to install and maintain. Thus, accessibility and perfect color keyed give a helping hand to the famous technicians during installation. In addition, the reliability of each component dictated the research agenda.
And regulation?
The GB172 demonstrates the importance that Buderus to commissioning and easy maintenance. Thus, the BC25 basic controller, easily accessible, features a ventilated design, an oversized screen displaying symbols immediately understandable and a comfortable keyboard. RC35 The business unit offers a great ease of use through a comprehensive and intuitive programming. The screen of the RC35 is enjoyable and allows the boiler reset very quickly.
Systemic?
Of course, the GB172 can conveniently be connected to other components Buderus, such as solar collectors to heat domestic hot water.
And the price?
The Logamax plus GB172 is ideally positioned in price (1582.00 USD for the execution and heating only 1751.00 euro for the combi version – prices excluding VAT).