Buderus GB142-45 161,000 BTU Wall Mounted Modulating Gas Boiler

The Newest Technology from the World's Leader in Ultra-Efficient Heating The state-of the art design of the Buderus GB142-45 161,000 BTU Wall-Hung Boiler, with cast aluminum heat exchanger and integrated controls, is a rare combination of outstanding quality paired with exceptional value. Utilizing advanced condensing technology, the Buderus GB142-45 Wall-Hung Boiler maximizes the heating value of every cubic foot of natural gas or propane. Its small size and minimal clearance requirements provide tremendous installation flexibility.
Thanks to the prefabricated manifold the Buderus GB142-45 161,000 BTU Boiler has the fastest installation in the industry. This feature greatly extends the service life of the Buderus GB142-45. By simplifying the piping, the GB manifold allows for quicker, easier, and trouble-free installation.
Facts You Should Know About this Boiler
94% + AFUE Efficiency
Whisper Quiet – Fully Enclosed Housing
Direct Vent and Sealed Combustion Options
AM10 Outdoor Reset Control Module Included
Factory Tested
Limited 10 Year Heat Exchange Warranty
Cast Aluminum Block
Simplest and Quickest Installation Time in the Industry with the Pre-piped Boiler Manifold!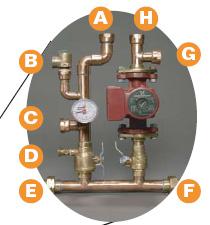 A. Boiler Out
B. Relief Valve
C. DHW Supply
D. Purge
E. System Supply
F. System Return
G. DHW Return
H. Boiler In
Still Not Sure if Buderus is Right for You? – Consider This
Buderus boilers, water heaters and controls are designed and built to outlast conventional heating systems. Since 1825 Buderus has been developing new heating technologies. In fact, Buderus produced the world?s first low-temperature hydronic heating systems. Today, Buderus products are acknowledged as the world standard in high-efficiency, low emission hydronic heating. All Buderus products are designed to meet strict safety, efficiency and environmental regulations.