Traveling alone can be a liberating and thrilling experience, giving one time to relax, reflect and escape. For the most part, I travel by myself--though I'm usually spending my vacation time with family or friends, so I'm technically not alone. But the journey to my destination is generally spend alone, a few hours plugged into my music or nose-deep in a good book. And while I relish in these moments, I will admit there is something to traveling with a companion. It gives you someone to talk to during the flight; or someone with which to split food, expenses, hotel rooms, etc.; or someone to cuddle up to on a long journey. But what if you don't have anyone to travel with?
Well, if you happen to live in London and are interested in taking an impromptu, blind date trip to Los Angeles, then you're in luck. Air New Zealand--the zany airline behind those hilarious in-flight safety videos I talked about in a previous post--came ip with an idea to promote its London to Los Angeles route. The airline is sending couples on blind dates to the West Coast, giving them the opportunity to try out Air New Zealand's "sky couch"--a set of three seats that can fold into a bed for two in
economy
class.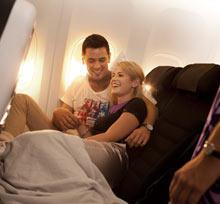 Skycouch or Cuddle Class. Source: Guardian.co.uk
Here's how it works. On Valentine's Day, contestants at Heathrow Airport at a specially built TV studio to take part in the contest, called Blind Gate. Each contestant, equipped with their passport and a packed suitcase, will fill out a compatability quiz to figure out who they will fly with if they win. Two lucky couples, one gay and one straight, will be chosen to board the Air New Zealand flight as soon as the winners are announced, and settle in on the sky couch, also called "cuddle class."
To top it all off, cameras will follow the couples throughout the flight and their weekends in Los Angeles to see how they get along. An itinerary has been put together for the couples that takes them to a number of unusual destinations, too.
Interested parties must
fill out a form
on The Guardian's website by February 1, and ten contestants will be selected to come to Heathrow.
Obviously, one would have to be pretty open minded to take part in this, and be willing to spend an entire flight and weekend with a complete stranger. If nothing else, it would definitely be an adventure. And hopefully, one would get a friend--or maybe more--out of it. If I lived in London and had the available time off, I'd definitely enter. (Just don't tell my boyfriend.)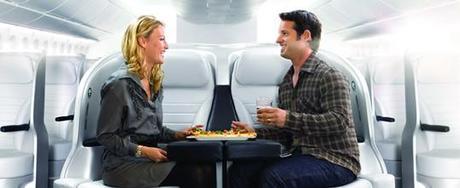 Air New Zealand