On the whole I'm quite a fan of lists. Making a list helps me organize and prioritise what I need to do (as long as I stick to it once I've drawn it up). It's also useful technique for sharpening the critical faculties, for ranking favorite records, books, football strips, bird songs (and justifying the sequence). As the years advance, making lists will probably help me to remember things which should not be forgotten. However a 'bucket list' is not something I'll be devising; not now, not any time soon, probably not ever - it brings mortality too closely into focus.
Just in case there's anybody who doesn't know what I'm talking about, a bucket list is a list of things one wishes to do before one dies (i.e. kicks the bucket). I don't know when the concept originated but it was certainly made popular by Rob Reiner's 2007 comedy film of the same name which featured Jack Nicholson and Morgan Freeman as two terminally ill men setting out to do all the things they really wanted to do while they still had life in them.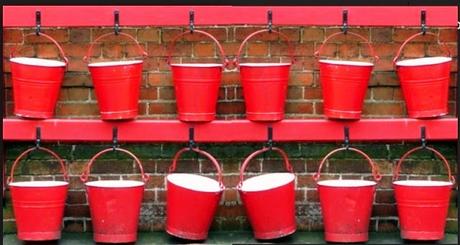 Buckets Listing
Like I said, it's not for me. However I am okay with the concept of a
Fantasy Bucket List
- things which I should like to see come to pass in my lifetime, though over which I have no control. It would include, in no particular order:
- Blackpool FC back in the Premier League
- a cure for Alzheimer's and other forms of Dementia
- grand-children on my knee
- worldwide nuclear disarmament
- proportional representation in elections
- a 'best director' Oscar for Wes Anderson
- the return of the Elgin marbles to Greece
As for a poem , I offer you the following which began life in my head this week as a parody of a well-known song:
Bucket List!
There's a hole in one's bucket list,
dear Liza, dear Liza,
there's a hole in one's bucket list,
dear Liza a hole.
One eventually married
the love of one's life,
one's sons are both wedded
to beautiful wives,
one's Dutchy is provident,
that much is self-evident
and one of course
is very well heeled.
In addition to that
one is head of the 'weal
a role which one will fulfil
with great zeal,
but there's a hole in one's bucket list,
dear Liza, dear Liza,
there's a hole in one's bucket list,
dear Liza a hole.
One enjoys doing one's bit
for our birds and our bees
and shooting the breeze
with one's favorite trees,
(all conjecture of madness
is just utter pish);
but one's spirit is broken
by a most fervent wish
that can hardly be spoken -
the hole in one's bucket list
through which hope drains away.
Is talk of the 'a' word
really so silly?
There's a hole in one's bucket list
dear Liza, dear Liza,
for while you are Queen,
dilly, dilly,
one can't be King.
Thanks for reading, Steve ;-)
Email This
BlogThis!
Share to Twitter
Share to Facebook
Reactions: