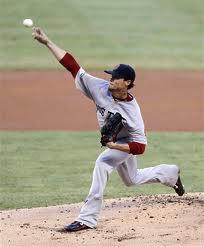 I was busy with Trivia on Tuesday night, but I caught a good part of the Red Sox-Marlins game. It was quite a pitchers duel between Clay Buchholz and Mark Buehrle.
The Red Sox finally got through on Buehrle in the seventh, scoring two runs on Kelly Shoppach's RBI double and an RBI single by Mike Aviles, who could have been out earlier except catcher John Buck dropped a foul pop up earlier in the at-bat.
Buchholz was terrific again, going 7 innings, and allowing just a solo dinger to Logan Morrison in the bottom of the 7th. In all, Buchholz, who has been superb his last three outings, struck out nine and walked two. He gave up a leadoff triple to Jose Reyes in the first, and then struck out the side to strand him there.
It was just the second Red Sox win in 9 games, and Buchholz has them both.
The Sox lineup continues to struggle mightily. The top five went 1-for-18 last night, and for the month of June, five Sox hitters have OBP under .280: Kevin Youkilis (.263), Adrian Gonzalez (.263), Mike Aviles (.244), Jarrod Saltalamacchia (.242), and the really struggling Dustin Pedroia (.222). I'm betting that thumb injury is throwing Pedey off terribly, and you have to wonder if the DL might have been a better idea right now.
Fortunately, the news on Rich Hill is not as bad as what could have been. He has a strained muscle in his elbow, the one that had Tommy John surgery last year. He will rest for two weeks, but maybe out as long as six weeks.
The Red Sox will try to win the series in Miami tonight with Felix Doubront pitching.