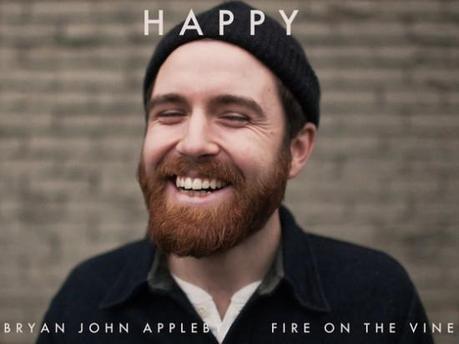 Seattle-based Bryan John Appleby (@bryanjappleby) is more of a lyrical storyteller than a musician, moulding the simple, relatable stories he recounts into masterpieces of classic folk. Accompanied by shimmering, rhythmic percussion, the easily digestible tunes are light-hearted but touching. Appleby has an innate ability to string picturesque details together, creating vivid visual imagery that simultaneously soothes and inspires. With just the few tracks on his June 2009 EP, Shoes For Men and Beasts, it's apparent that this man possesses an effusive thirst for life, which is something I greatly admire in a musician.
You can become familiar with Appleby's music by purchasing his EP via Bandcamp or iTunes. You should also pre-order his July 31st debut LP release, Fire on the Vine, via his Bandcamp page or investigate the special  album package via his Kickstarter page (here). I'm already geeking out over the limited edition poster that will be adorning my wall in just a few weeks!
Appleby has played alongside folk-allies The Head and the Heart and is currently touring along the West Coast to promote his upcoming release. In the meantime, check out this beautiful video of Bryan John Appleby's "Cliffs Along The Sea".
Tour Dates:
August 19th — Tractor Tavern (Seattle, WA) w/ Noah Gunderson, Fort Union
August 25th — Doug Fir (Portland, OR) w/ Campfire OK
August 27th — Sophia's (Davis, CA) w/ Backwards Beast, The Anatomy Of Frank
August 28th — TBA (Fresno, CA)
August 29th — Crepe Place (Santa Cruz, CA) w/ Steven Griswold, His California Convoy
August 30th — Hemlock Tavern (San Francisco, CA) w/ FpodBpod
August 31st — TBA
September 1st — In-Store @ Origami Vinyl (Los Angeles, CA) — EARLY SHOW
September 1st — Bootleg Theater (Los Angeles, CA) w/ Preachers Sons, Infantree
September 2nd — Open Books (Long Beach, CA) w/ Sam Outlaw, Korey Dane
September 3rd — Tin Can Alehouse (San Diego, CA) w/ John Meeks, Roll Film