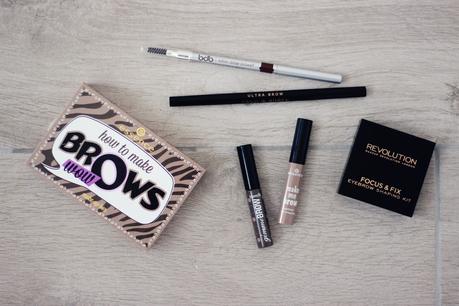 I've not had as impressive a brow story as some, but they've definitely looked awful at various points in my life and I've got a lot better at doing them the way I like them. It's not just my talent that's got them this way though, haha, there are several products in my kit that help tame, shade and tint them to get them just so. 
Shading - Powder products have to be my favorite way to do my brows I think. It's a tad more time consuming than the other options but the end result can be much nicer and softer than other options, and it's easy to get them to the shape that you want. I like the Makeup Revolution Focus and Fix palette and the essence Brows Wow one, which both have a range of shades to get the exact color match you need and come with a little brush so are great travel options too. 
Easy Option - For something a little quicker in the mornings, a brow pencil can be a great option. The Makeup Revolution Ultra Brow pen in Medium has a felt tip end and pencil end which makes filling in sparse areas really simply and easy to mimic the look of hairs. Another one of my favourites is the Billion Dollar Brows Universal Brow Pencil which adapts to the color of your brows and is perfect for balancing the brows out and getting them to look a bit more even. Both are constants in my makeup bag and I couldn't be without either. 
Quick Fix - Sometimes there aren't enough minutes in the day to fuss around with super fancy makeup, and all you have time for is something to quickly swipe through the brows and set them in place. Benefit Gimme Brow is a great option, I use the darker shade - the formula beefs up your brows, volumising them and giving a tint whilst setting them to give the impression you've given a whole lot more effort to the look than you actually have. And if you're looking for a more purse friendly alternative, the essence make me brow is an almost exact dupe. 
Mix and match from the above list to get your desired effect, and those perfect brows will be yours. What are your favorite brow products to use?