When I was a boy I was always given broad beans to eat I HATED them my farther loves them which is why

 

we had them so often, and a consequence of this I haven't eaten them since. When I was younger I also disliked tomatoes and beetroot but are now 2 of my most adored vegetables, so this year I am going to give them a second chance and see if I have changed my mind.
As a chef I cook with them all the time and to a chef the broad bean represents the start of the British growing season proper. They lend them self well to most things but a dish I always go back to is a spring veg risotto simple light and shows off all the early produce, and against the white of the risotto rice really shows of the bean and makes it the star of the show.
So last Thursday I got cracking and me and my 3 year old daughter sowed our board beans, she love's helping Daddy in the garden and she is in charge of putting the seeds in the seed trays then I poke them down.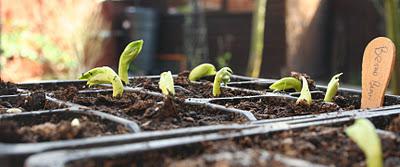 I am growing a variety called

masterpiece Green long

pod has anyone else grown this variety before? What's it like?

 
If anyone has any good advice on growing these then I am all ears, what they like dislike and when to pick them.
I suppose that's why an allotment is so good as you can afford to try new things and experiment a little with vegetables that otherwise you would give a miss, and getting my children involved in growing and seeing vegetables grow they are more inclined to eat them as they have helped them in some way, that's what I believe anyway.