I have prepared these British Wild Flower Matching Cards for one of my assignments and they have been a huge hit with both of my kids.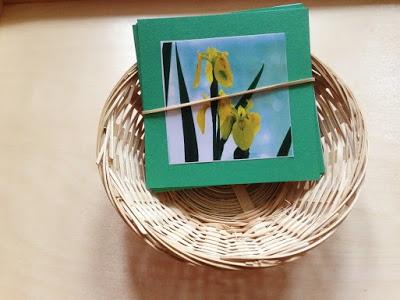 I prepared a 

collection of 9 pairs of matching cards. One set is mounted on white card with a dot of identifying colour on the reverse side, the other set is mounted on green card. The names of the flowers are written on the back of the white cards.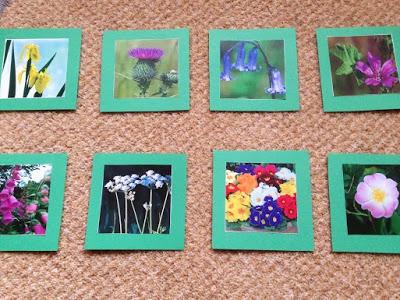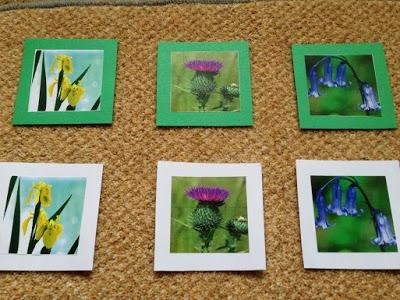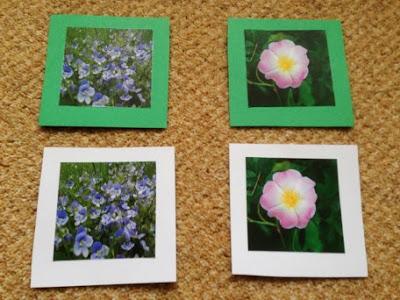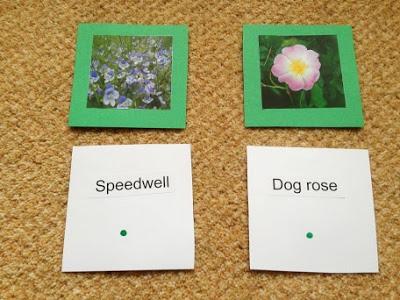 The objectives of this activity are 
To introduce a pairing game

To expand child's vocabulary by teaching the names of some of the common wild flowers

To refine the child's power of observation
I invite the child to lay the cards mounted on the green card, out in a row or in a column. As they are being laid out, we chat about each flower. The teacher should extend the child's knowledge of the flower. When all the cards are laid out, I encourage the child to match the second set of cards (mounted on white card) to the first set of cards.
The 3-6 year old child is eager to learn about the world, other creatures, other cultures and other people. S/he is in the sensitive period for language and this allows the child to easily learn the technical names of the concepts that are introduced in science,geography and history.
 Montessori states that children indeed love flowers, but they need to do something more than remain among them and contemplate their coloured blossoms. She adds that they find their greatest pleasure in acting, in knowing, in exploring, even apart from the attraction of external beauty. 
Derin (40 months) enjoys looking at each picture and matching the cards. Defne (6 yo) also likes matching them but she is also interested in learning the names and characteristics of the flowers. I especially chose flowers that are widely available in most meadows and parks right now. I am planning to take the cards to the park one day. I think they would enjoy seeing the "real"flowers and matching them with the cards there!
Thank you so much for stopping by! If you enjoyed this post, please join us on Facebook,Twitter,Pinterest and G+. Click on the buttons on the right handside to follow us on these platforms.