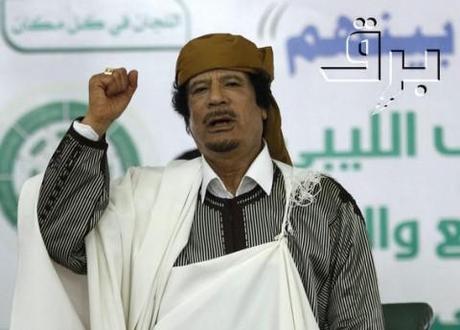 Libyan leader Muammar Gaddafi gestures to his supporters in Tripoli before making a speech which he sought to defuse tensions after more than 10 days of anti-government protests in Libya, March 2, 2011. Photo credit: B.R.Q.
In an intended show of force to the Libyan leader Muammar Gaddafi, the UK has expelled the Gaddafi regime's remaining diplomatic staff from London, formally recognised Libya's National Transitional Council opposition and handed them £91m in frozen oil assets. The ratcheting up of the pressure on the Tripoli regime does not mask the fact that Gaddafi remains in power and the Libyan intervention is approaching an uncomfortable stalemate.
At a Wednesday press conference, Foreign Secretary William Hague insisted that the UK would wage war on Gadaffi for "however long it takes." Turning to the diplomatic situation, Hague said, "[They] must now leave the UK. We no longer recognise them as the representatives of the Libyan government and we are inviting the National Transitional Council to appoint a new Libyan diplomatic envoy to take over the Libyan embassy in London."
On Monday, Britain had been seen to be softening its position when Hague said Gaddafi could stay in Libya if he agreed to relinquish his hold on power. That suggestion was rejected by the international criminal court, which insisted that a new government in Libya would be obliged to arrest the dictator under warrants issued by the court.
Nato's reputation in tatters as Ramadan approaches. "If the Libyan conflict concludes later this summer with Colonel Gaddafi still clinging to power …  David Cameron will have no one to blame but himself," insisted The Daily Telegraph's Con Coughlin, who criticised Cameron for his foolhardiness in rushing in in the spring. Coughlin argued that "unless there is a dramatic change by this weekend, the military campaign will run into the sand: with the entire Libyan population observing a strict Ramadan fast, neither Nato nor the rebels will be able to make a decisive breakthrough. So the most likely outcome of the conflict will be Gaddafi retaining control of Tripoli and its environs, and Nato's credibility lying in tatters."
Gaddafi will fight to the end. Writing at Coffee House, The Spectator blog, Peter Hoskin suggested that upping the pressure on "brutally defiant" Gaddafi tends to incentivise him to "keep on fighting." "The problem for the West is if, as looks possible, there's only one outcome acceptable to Gaddafi: that he remains in power. Such a set-up wouldn't be conducive to a swift, or a bloodless, end to this conflict," concluded Hoskin, who argued that most Libyan rebels want Gaddafi dead.