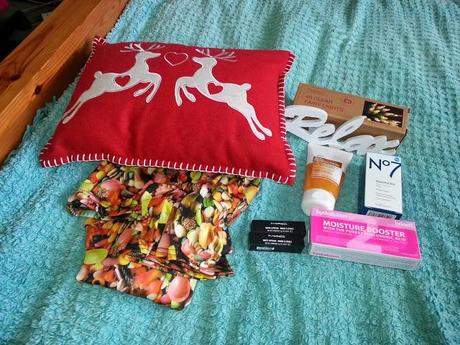 Reindeer cushion. Primark £5. I love a good cushion and my bed now has three. I like that this one is has a bit of a Christmas feel about it. It is kind of felt material and i love the stitched edges. 
Sweet leggings. Primark £6. When i saw these i just couldn't resist, they are covered in sweeties and for a fatty like me they are awesome.
Fairy lights. Primark £3. I wanted some fairy lights to put around my bed and these were cheap and also plug into the mains, batteries are a pain in the bum. 
Relax sign. Primark £1. Sometimes i need to remember to relax, i am quite a stressy person so having this in my room will remind me to relax. 
L'oreal radiance revealing exfoliator . Boots Free. There was a 3 for 2 skincare offer on so i got this free with my other two purchases. I found this to be a gentle yet effective exfoliator so this is a repurchase. 
No 7 pore vacuum mask. Boots £14. I heard great things about this from my friend and seeing as my pores are one of my biggest issues i thought i would give this a go.
Hydraluron Moisture Booster. Boots £24.99. This is a much raved about product in the beauty world and i suffer from dry skin which gets worse during the cold months so again i thought i would give this a go.
MAC Viva Glam 1. Debenhams £15. I actually swapped another lipsticks i had for this (i bought ruby woo then bought riri woo in the limited edition packaging and don't really need both). I don't know if this is a permanent colour or if it has been brought back as part of a promotion but i love the dark red colour.
MAC Mehr. Debenhams £15. I have been looking for this for ages but it was always out of stock, it is a perfect nude (one of my first nudes from MAC). A your lips but better colour. I see this getting a lot of use over the coming months. 
So that's what i bought in Bristol. I was a bit disappointed with Primark, i had gone in with hopes of spending lots of cash, i wanted some jewelry but the stock was a bit disappointing, i did have to fight the urge to buy a new bedding set though.