Last Friday night Canadian Country Music star Dean Brody took to the TD Music Stage to kick off the Blue Jays Summer Friday Fan Festivals schedule… and it was a home run.
Dean and the band put on a great set outside of gates 10 and 11, giving the fans songs they knew so they could sing along, and tracks from Dean's newest album, Gypsy Road that is getting a lot of love – but more on that later.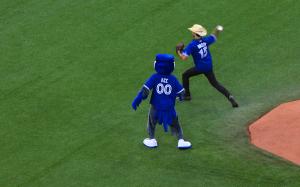 After the set Dean took the field in a brand new Blue Jays uniform to throw the ceremonial first pitch, and I'm happy to say that he threw a strike, even if he told me there wasn't any heat on it. The important thing here is that he didn't bounce it, and now the pressure is on Chad Brownlee to do it on July 31st.
And because Dean Brody is a great guy, I had the chance to talk with him for a few minutes on the phone about baseball, the CCMA's, his upcoming tour and more…
Right off the top I asked him about some baseball stuff, since he did just play a Blue Jays show, and while he did say that he was never a ball player, and he was a little nervous before he threw his pitch, I've got to give him an A grade for getting it to Mark Buerhle without a bounce. I also asked him who his favorite baseball player was, and we went back a few years to 1992 World Series Champion, #17 Kelly Gruber. Nice Pick.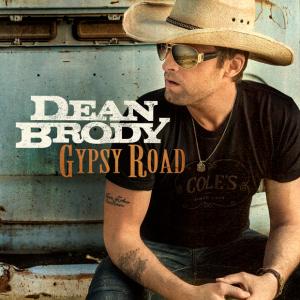 From there we moved on to the music, and with 6 personal nominations + 1 more for album design, I asked Dean how it felt to be recognized in a time when country music is really strong in Canada. He told me that it feels like that strength has been here for the last 10 years or so, and in the midst of changes from an album driven market to a singles driven market in the new digital age it's still really great to be nominated for CCMA's by people who are in the industry. The people who do what you do, know what it takes, and hear your music and say,
that's pretty cool, I like it.
For the record, Dean Brody is nominated for…
‣ Male Artist of the Year
‣ Album of the Year (Gypsy Road)
‣ Single of the Year (Another Man's Gold)
‣ Songwriter of the Year (Upside Down)
‣ Video of the Year (Upside Down)
‣ Fans' Choice Award
When I asked him if there were 1 or 2 of those awards that he would like to win the most it didn't take long for him to tell me that Fans' Choice was at the top of the list, because they are the ones who buy the music and tickets – and Songwriter of the Year came in 2nd, because that's where he started out, and as Dean said, "it all starts with a song".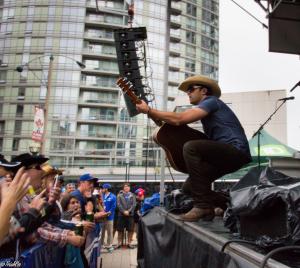 While we were talking about songwriting, I asked if there was something special to Dean about Mexico now that we've seen it show up more than once (Bounty, Sweet Lola, Monterey, etc.) in his songs. He told me that it still feels like there's a feeling of the Wild West and the Frontier when it comes to Mexico, and that makes it fit really well for country music story songs. It's a place that we can all picture and accept in the story telling that we love country music for. He also told me that he and his brother grew up watching John Wayne movies, and that western story is always fun to write.
A shift in gears came next when I asked about The Dean Brody Foundation and how important it is to him to be giving back and making a difference. Dean told me that it's really important to both he and his wife to being giving back now that they're able to, when there were times that they wished they could have, but didn't have the resources.
He also shared that the process can be both extremely rewarding and discouraging at the same time as they navigate the path to helping young girls who have been placed in dangerous and vulnerable situations. But it's the feeling that there is a chance to change even a few lives that keeps them pushing forward. A+ to Dean, his wife and everyone who works with The Dean Brody Foundation – because all of that is amazing.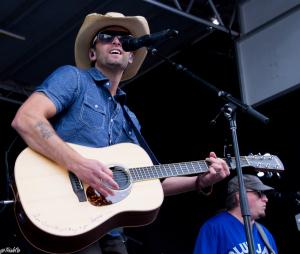 From there we got back to the music, and the really exciting stuff coming up for Dean with the Road Trip Tour!
This fall, Dean Brody and Paul Brandt will take the Road Trip Tour coast-to-coast bringing country music to fans in what promises to be a great show. Dean told me that they're having production calls and meetings now to get ready, and that he's really looking forward to the tour.
A big part of that is Paul Brandt, someone that Dean has always looked up to as an artist, songwriter, and a Canadian who was able to make it in Nashville, and show him that he could too. And while they're just starting to get to know each other, this tour looks like it's going to be a whole lot of fun.
And with female acts like Lindi Ortega, Whitney Rose, and Jess Moskaluke joining the tour for select dates, Dean will hopefully have a duet partner for Bounty every single night… though he tells me that he still has to ask.
If you're looking for tour dates and tickets for the Road Trip Tour CLICK HERE!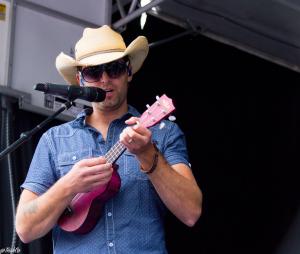 The last question I asked Dean Brody caught him off guard and came from somewhere in left field… if you're out for someone's birthday at a karaoke joint and your name gets called – what is your song?
Dean's answer: Yer So Bad by Tom Petty.
We both agreed that you can't go wrong with Tom Petty, and that it's a great pick.
Thanks to Dean for taking the time out of his busy day (really, like building a house busy) to call and talk – we can't wait to see the tour this fall!
Find Dean online at these fine locations…
Website: deanbrody.com
Facebook: Dean Brody
Twitter: @deanbrody
Instagram: @deanbrody
YouTube: Dean Brody
iTunes: Dean Brody
http://www.thereviewsarein.com/wp-content/uploads/2015/07/Dean-Brody-Upside-Down-Blue-Jays.mp4