A message was on a sticky pad at work today.  I was immediately saddened when I read the words.
"A woman lost her dog in Joplin tornado.  Wants your advice."  A phone number followed.
I hesitated to pick up the phone, not sure how I could help someone 400 miles away.
There was no name on the sticky note, so I called the number and announced who I was.  The woman introduced herself, and told me her dog was missing from the aftermath of the May 22nd tornado.  This EF-5 tornado was the 8th deadliest tornado in U.S. history.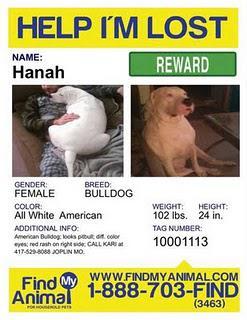 The family had already checked local shelters, and posted fliers.  I asked if Hanah had been microchipped.  She had not been microchipped.  I hated to ask, but I wondered about whether her dog even survived the massive tornado.  How could she be certain that her dog did survive such a horrific ordeal?   She had a photo of Hanah taken after the tornado, alive. She looks stunned, and possibly injured.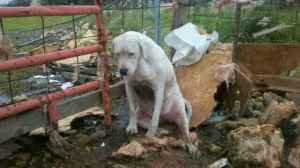 "The picture was taken at the location of 4224 E. 26th street in Duquesne, behind CFI/Conway trucking. The people who lives there had livestock. She was carried to the side of the house. When the sirens went off in Joplin the second night after the storm, the people left there house and she ran in some bushes. They called the humane society, when they got back she was gone. But she has NOT been seen at the shelter (if you go-LOOK FOR HER ALSO). The neighbors at a house 2 doors down and they said she was seen Saturday in the yard and yet again no one helped her!! There is a reward for her. Anybody with info can call Kari 417-529-8088 OR call Duquesne police as they are aware of the situation!!! PLEASE HELP BRING HANAH HOME!!!"
Hanah's Mom's main concern was that other rescues from several other states ranging from Minnesota to Texas had come in to Missouri and rescued animals that were displaced following the tornado.  Unfortunately, there is no record of which rescue groups came in and which animals went where.  Joplin Humane Society is posting photographs of the animals they have on their website: http://www.joplinhumane.org/
My advice was to:
1. Deliver fliers with photos to police, veterinarians, shelters, rescues, media in all towns potentially involved in the "rescue efforts". 
2. If you are able to,  go to the shelters yourself.  Do not rely on them to confirm whether your dog is there.  Your description or breed may not interpreted well over the phone.
3. Comb www.PetFinder.com , especially using the zip codes of the towns she listed as possible groups who had entered Joplin offering help. Petfinder does offer searching within different radius of your location.  I recommended she chose the "all" option.
4. Search for Hanah by varying the breed in the search parameters.  She said her dog, Hanah, is an American Bulldog.  She is just gorgeous.  She looks more like a Dogo Argentino to me, especially considering her size, but others could also consider her a Pit Bull, Am Staff, American Staffordshire Terrier, American Pit Bull, American Bulldog, Bulldog, Dogo Argentino, Boxer, Great Dane, etc.  Interpretation of breed can vary greatly among "experts". 
5. Check breed specific rescues.  Often multi-breed rescues will send purebred dogs to breed specific rescues.  Again, Hanah's breed could be misidentified.  So check different breed rescues.
If you live in the U.S, from Canada down to Texas, please check your local petfinder photos from home.  Her eyes and the outline of her pigmented nose are very distinctive characteristics that anyone can use to help identify her in photos.  See if you can find this beautiful girl and reunite her with her family.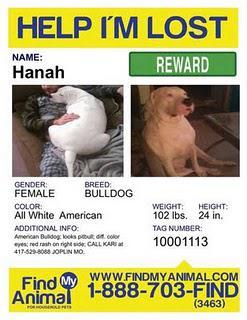 Here are some photographs and information from the Facebook page "Bring Hanah Home"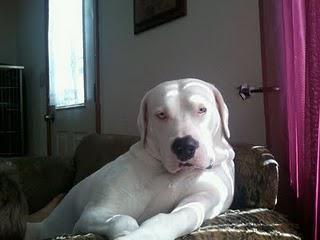 Desperately seeking a 5yr old 110# American Bulldog, white in color,2 different eye colors, may have red rash on rt underbelly. Missing from 4915 E27th st. Please call 1-417-529-8088 or 1-843-399-2199.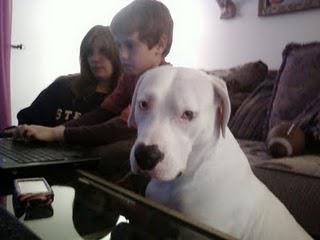 Hanah has been seen 2 times since the tornado hit. Once on E 26th street in Duquesne. Hanah lived on 27th st. before the tornado. There is no house there anymore but we think that's why she may be hanging around that neighborhood."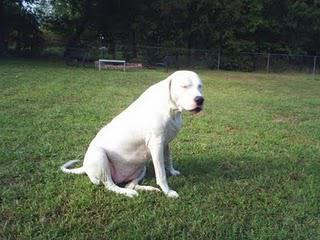 THERE IS A $500+ REWARD FOR HER RETURN.
http://www.flickr.com/photos/ms_tornado_pets_2011/5756429879/in/photostream/lightbox/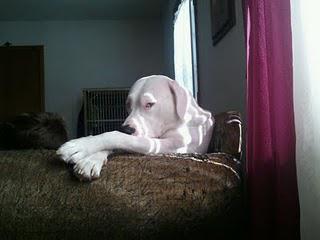 "A VERY generous donor has just called and INCREASED THE REWARD! We are determined to BRING HANAH HOME! We'll have a big ole' check printed up for the fabulous soul who brings our gal home. If she is found at a shelter, rescue or other organization we will donate the funds to them in Hanah's name. We are overwhelmed at the generosity expressed and the love for our Hanah. ♥"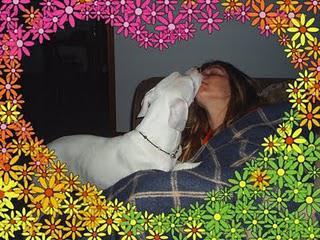 Please share this blog.  Spread the word.  Post it on facebook.  Send it by email.  Check your local www.petfinder.com for a dog matching her description.
To know your dog survived a tornado, and still not be able to hold her must be absolutely heartbreaking.  Hanah wanted to go home, but her home is no longer there.  Her neighborhood is no longer there.  Hopefully she is in the care of a good samaritan.  The more that Hanah's photos and story are shared, the more likely the person who has Hanah will see it and be able to bring her home.
What if your SHARE button is the one that brings Hanah home?   Then you better hit it!
Please, help Hanah find her way home by sharing her story with as many people as you can. 
Become a fan of our Veterinary Rescuer Blog page on Facebook here:

http://www.facebook.com/home.php#!/pages/Veterinary-Rescuer-Blog/133173784037

.
You are invited to share a link of the blog

http://www.vetrescue.blogspot.com/

on Facebook, MySpace, or Twitter.

If you would like to receive this blog into your email inbox each time it is published, go to

http://www.vetrescue.blogspot.com/

, and enter your name into the subscribe box on the upper right side of the page. The blog will send you a confirmation email. Reply as instructed in the email to confirm your subscription. This is a required step. You will then receive the blog as it is published. You will not get junk mail as a result of subscribing!