I may have been silent on here for a while, but I've been doing a heck of a lot of reading. Some of it has been brilliant. I've just finished Sarah Waters amazing, disturbing Paying Guests, and before that a terrific reprint of LP Hartley's dark, witty satire, Facial Justice. Both of these are destined for Shiny New Books 3, so you'll be able to read my reviews on 6 October.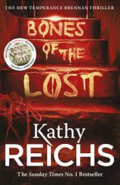 But I've had other books on the go too, books that could have ended up in SNB but will not do so because they simply didn't set me alight enough to want to review them. One was Kathy Reichs 
Bones of the Lost,
which is just out in paperback. I've been a fan of Kathy Reichs' Temperence Brennan series from the beginning -- smart, witty, entertaining, exciting novels with an added frisson of love interest with the gorgeous Andrew Ryan. Well, yes, all those adjectives would certainly apply to the earlier offerings, but this is number sixteen and I'm afraid they no longer quite make it for me. This was a perfectly readable book, and in some ways quite interesting, since a chunk of it concerned Tempe being sent to Afghanistan to work her Forensic Anthropological magic on the case of a soldier accused of murdering a couple of villagers. As the author follows the same profession as her character, the novel is no doubt based on a real life experience, and I read it with a fair amount of enjoyment, but that's about all I can say about it.

Then I've just finished Alafair Burke's Dead Connection. This is actually the first of her Ellie Hatcher series, first published several years ago,though it's coming out in paperback in the UK for the first time at the beginning of next month. Ellie Hatcher is an attractive young cop, and here we find her on the track of a serial killer, and being rather painfully and unwillingly reminded of a case her late father was involved in before his death. This is a perfectly acceptable police procedural, but I just wasn't that grabbed by it.
So I'm asking myself why these two popular authors left me somewhat cold. Were the plots just not exciting enough? I'm sure many people would find them thrilling. I can't help thinking the quality of the writing has a lot to do with my response to what I read. But that's a pretty nebulous thing to put your finger on. I thought of a quotation from Shelley's amazing 1818 essay, 'The Defence of Poetry', where he says: " It is impossible to read the compositions of the most celebrated writers of the present day without being startled with the electric life which burns within their words". I don't know whether he'd have been able to be more specific, but I do know what he means. I suppose it's asking too much to expect electric life in every popular crime novel, but it was certainly there in Waters and Hartley, so I'm glad I got a chance to read them too.