If you've been looking to make some changes to your work wardrobe, and are tired of wearing the same old neutral colored pants, why don't you try adding some color to your bottoms?  In today's post in this series I will be sharing my tips on how to wear colored pants to work.
Colored pants can be a tricky purchase for most women.  For one the bottom half of the body is an area most women don't want to call attention to.  Neutral and darker bottoms worn with colored tops tend to create a leaner bottom with attention brought up towards the face.  Colored bottoms can create the opposite effect when not worn properly.  Few women want to emphasize their hips, thighs and butt areas.  For this reason alone women avoid colored pants.
When choosing colored pants fit is crucial.  Black pants can camouflage lumps and bumps that brightly colored pants can't.  It is important to not only look for pants shapes that are flattering for your figure but to also think about the proper undergarments.  There are different opinions on wearing shapewear under pants, some don't agree with doing it while others swear by it, but at least consider wearing underwear that offer slimming lines and doesn't show VPL (visible panty lines).  If you are bottom heavy pants with a slight boot cut and straight leg pants tend to be more figure flattering in colors.  In addition, fabrics with a bit more beefiness and heft will contain your body in a more structured way than loose, flowy fabrics will.
The other issue with colored pants is figuring out what to wear with them.   Here are three work looks using colored pants to give you some "how to wear colored pants" tips.
Outfit #1-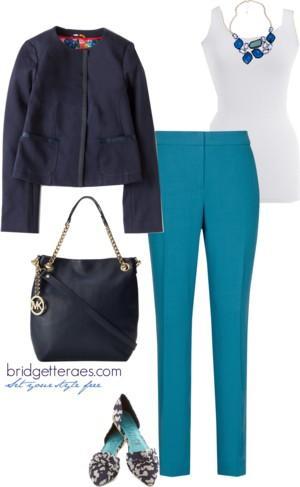 These pants by Reiss are 100% wool and are the bottom half of a suit (jacket here) which means that they are more seasonless than they would be if they were in a lightweight cotton.  One way to wear colored pants, like these, in a sophisticated manner is to wear them tonally.  Here I paired these pants with a navy ponte jacket by Boden over a white tank and a pair of navy printed flats from Modcloth, a navy handbag by MICHAEL Michael Kors.  The colors of the outfit are all brought together with a necklace by Blu Bijoux.
Outfit #2-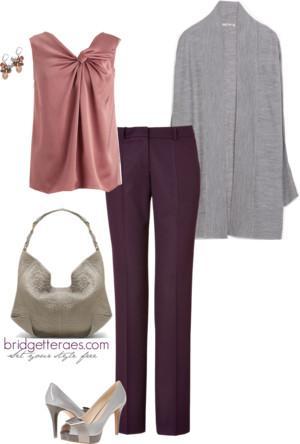 One of the easiest ways to wear a pair of colored pants is to choose a color that falls into the colored neutral category.  Here, this pair of eggplant pants by HUGO are in a color that can act like a neutral, meaning that the color is dark and rich enough to be as figure flattering and camouflaging as a pair of black pants but also adds some novelty and variety to your wardrobe.  Here I paired these pants with a soft pink top by Anne Klein and, for a business casual look, styled the outfit with a grey cardigan from Zara.  The outfit is finished with a pair of grey Nine West peep-toe platforms, a grey handbag by Vince Camuto and a pair of pink earrings.
Outfit #3-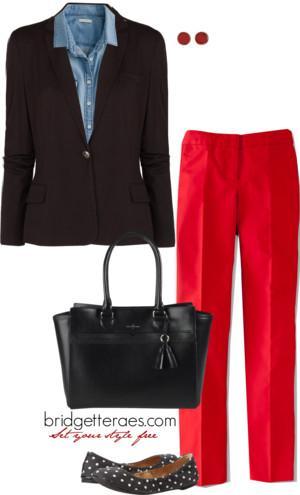 If you have a navy or black blazer, like this black blazer from Mango, hanging in your closet and you have no idea what to do with it, try wearing it with colored pants.  While black and navy blazers can seem versatile they can actually be very limiting if you don't have a variety of bottom colors to wear with them.  In this case, I paired this black blazer with red pants from Boden.  Instead of a basic white shirt underneath I used a chambray shirt from J. Crew and finished the outfit with a pair of polka dot flats from Lucky Brand, black tote and red earrings.

Repost This Article