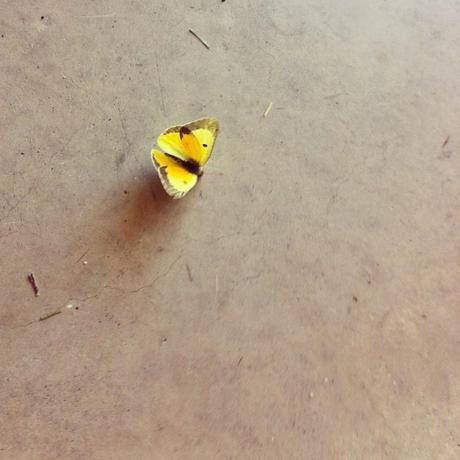 She was impossible to miss with her cheerful yellow wings, outlined in black as if God himself had carefully colored inside the lines. I juggled Everett in one arm, his sweaty head pressed up against my cheek while I yanked my iPhone out of the diaper bag pocket to take a picture. After all, it's not every day that you find a beautiful butterfly perched on your garage floor. The symbolism alone stopped me in my tracks.
I love finding beauty in the unbeautiful. It reminds me that in all things, there is hope. It reminds me that there is grace and forgiveness waiting for me, for you, despite all of the ugly things we've done. He's looking right past the dirt, the stains, the giant cracks and trash waiting to be swept up. Yes, He's looking for the bright yellow wings, a transformation, a stirring of heart.
Because once He sees that, the ugly garage floor might as well disappear altogether.
Those bright yellow wings will carry us right on home.