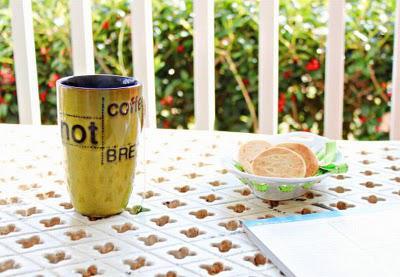 Saturday afternoon. Front porch. Tea. Cookies. Magazine. Ah, life is good. 
Last night I told hubby if today is not raining I'm going to take all the flowers out, arrange the front porch and enjoy the day. And that's what I did. In the morning I took my 30+ flowers out, watered them, arranged a coffee area and enjoyed the weather while Tiffany was sleeping. Felt so good. It's been a while since I let myself carried away without worrying what's for dinner or if the bread is about to get burned :))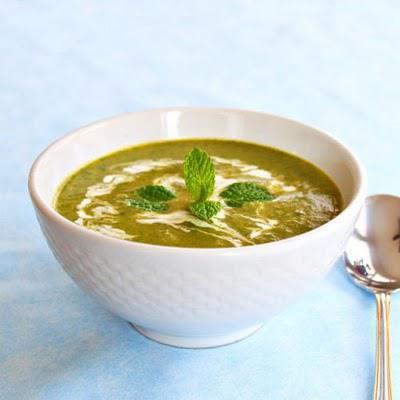 Now, although the sun was up and shining, my throat was still sore and from time to time I have a funny voice. Hubby makes fun of me calling me Olive (from Popeye the Sailor Man). Soup was what I needed. A big bowl of warming soup. Usually in my area asparagus's price is $3.99/pound. Now I found it on sale, $1.99 per pound. Yeeee. That's a good deal, right? Since we all are asparagus fans I bought around 3 pounds. I wanted to make some asparagus soup and knew exactly which recipe.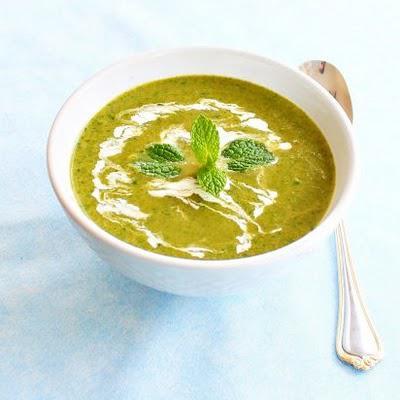 If you're wondering why my soup is so green, well my friends, the secret is wilted spinach. About 1-2 handful when the asparagus soup is done, cover and let it wilt. Then puree as usual.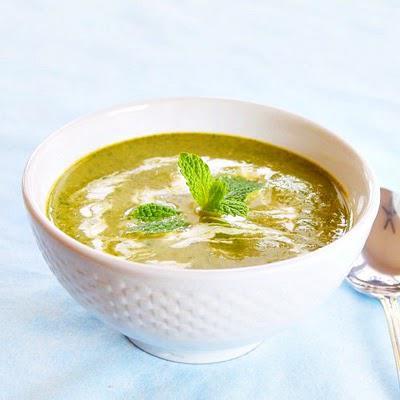 The soup was so good. The spinach can't be detected, just in case you have picky eaters at the table. I haven't had asparagus soup in a while, missed it. 
To get the recipe you'll have to go over Kate's blog.
I haven't been reading Kate's blog for long, but ever since I discovered it I was pleased with her traditions, very similar to mine since, just like me, she comes from an Eastern European country. Check her Christmas Menu and you'll be impressed by her dishes. Next on my list are these apple coconut bites and pear crumble muffins. Gotta have those daily fruit servings, right? 
Thank you Kate for sharing so many wonderful recipes with us.
You can follow Kate on Twitter, Facebook and FoodBuzz
Thank you Monet, Carolyn, Wendy, Elisabeth  Lora   Alisha  Sara   Kate  Claudia   Nancy  
Thank you for reading, hope you'll visit again soon.  As usual, Roxana