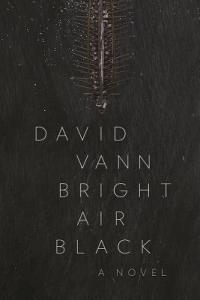 Book Cover Image: Bright Air Black by David Vann

" data-orig-size="267,400" sizes="(max-width: 200px) 100vw, 200px" aperture="aperture" />
BOTTOM LINE: Lyrical, beautiful, brutal
Genre: Historical Fiction
Publication Date: 7 March 2017
Source: Publisher via NetGalley
Synopsis from the Publisher:
"Following the success of Aquarium, which was a New York Times Editors' Choice and garnered numerous rave reviews, David Vann transports us to the thirteenth century BC to give a nuanced and electric portrait of the life of one of ancient mythology's most fascinating and notorious women, Medea.

In brilliant poetic prose, Bright Air Black brings us aboard the ship Argo for its epic return journey across the Black Sea from Persia's Colchis—where Medea flees her home and father with Jason, the Argonauts, and the Golden Fleece. Vann's reimagining of this ancient tale offers a thrilling, realistic alternative to the long-held notions of Medea as monster or sorceress. We witness with dramatic urgency Medea's humanity, her Bronze Age roots and position in Greek society, her love affair with Jason, and her tragic demise.

Atmospheric and spellbinding, Bright Air Black is an indispensable, fresh, and provocative take on one of our earliest texts and the most intimate and corporal version of Medea's story ever told."
My Thoughts: David Vann has made a name for himself writing brutal, stark, and yet poignant stories that capture human nature. With Bright Air Black, he continues in that same tradition by putting his spin on the Medea legend. What follows among its pages is a story of love and revenge, as befits the subject, but also one of fierce pride and loss. Mr. Vann humanizes Medea in a way previously unseen and reminds readers that behind every powerful man there is almost always an equally powerful woman, in spite of what the history books may say.
Mr. Vann stays true to his penchant for not sugarcoating human brutality, and there are plenty of scenes that are not for the squeamish. The climax of Medea's story is one of the goriest scenes I have ever read. Yet he manages to repel and still attract readers with his downright gorgeous prose. In fact, his prose is bordering on the poetic, which would normally have me running for the hills. Instead, I was entranced by the skill with which he uses a few words to convey so much so vividly. It is a feat few can master. While his previous novels allowed readers to glimpse this talent, in Bright Air Black he settles into it with ease to create a novel that is breathtaking.
Bright Air Black is not the story of Medea you read in high school. Mr. Vann provides myriad reasons for Medea's actions, making her sympathetic in spite of her later viciousness. Moreover, his portrait of the local customs and general harshness of the times allows you to experience Medea's fall from grace in intimate terms. Between his lyrical prose and the historical details, Medea becomes yet another woman brutally used by the men in her life, forced to make impossible decisions on her men's behalf, and left alone to deal with the consequences. Medea is the ultimate tragic figure, and Mr. Vann tells her story with beauty and care.











Related Stories
The very buzzworthy Lincoln in the Bardo