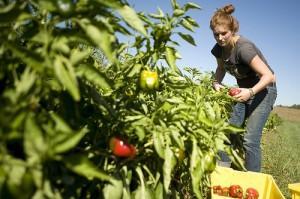 At the University of California, Santa Barbara there are 10,000 bicycle parking spaces and over 10 miles of bike paths. American University has plans to be carbon neutral by 2020. And UC Davis diverts more than 60% of its would be waste from landfills and aims to be zero waste by 2020. 141 sustainability degree programs—up 984 percent from 2008—are offered nationwide and more schools than ever are offering studies in programs related to the environment. The Sierra Club recently revealed the top greenest colleges, and the University of Connecticut came in at number 1, praised for, among other things, its tray-less dining halls where 30% of meals are vegetarian and more than a quarter of the food is local. Universities are leaders when it comes to promoting sustainability and what's even more impressive is that studies are showing that the sustainability lessons students learn at universities are in fact sticking.
As part of their series on the "coolest" Universities the Sierra Club also profiled a handful of students, both in environmental majors and those studying liberal arts. These students, having been exposed to the wonders of composting or the economic ramifications of eating meat have altered their behaviors—many of them have even altered their career paths. While these are just vignettes, the Sierra Club points to research that says that students who learned about the environment were likelier to have "green behaviors."
But there's one red flag that the Sierra Club list raises: the city to campus connection.
Both the City of San Francisco and the City of Oakland, for example, have pledged to go zero waste, but UC Berkeley, the University adjacent to these cities, came in at 25 on the Sierra Club's list. Another example is the Georgia Institute of Technology. Georgia Tech made the list and it did so because it's one of the "best places for commuters." The school was praised for its, "range of eco-transit options, from carpooling to mass transit." yet Atlanta voted down a 1% tax that would have raised $8.5 billion arguably much needed dollars for roads and public transportation.
There seems to be a real disconnect here. In many cases colleges are pursuing sustainability endeavors, whereas their adjoining cities are not, and vice versa. We know that cities are at the forefront of important political and economic shifts, that universities are game changes when it comes to sustainability and we now have more proof that exposure to sustainability ideas among students is in fact impacting their behavior and way of life. So how can cities advantage of B and C, and universities of A? It would be interesting to see a list of cities and universities working together in pursuit of sustainability endeavors, whether it's, for example, a city convincing a college to go zero waste or a student from a university staying local post graduating to help increase their city's mass transportation opportunities.
We know cities are pursuing sustainability and we know colleges are pursuing sustainability. Imagine the change we could foster with increased collaboration—or even a top ten list of the "coolest" city/college sustainability pursuits.