I really want to find something nice to say about Bridget Jones's Baby. Really I do. I loved the first two Bridget Jones books. I also didn't mind the super unpopular Mad About the Boy. It was nice that Helen Fielding was brave to enough to take the series in an entirely new direction with a relatively grown-up Bridget Jones.
Bridget Jones's Baby though? It takes us back to the same old Bridget Jones - just older and unfunnier, and very different from the movie (which I was not expecting).
About the Book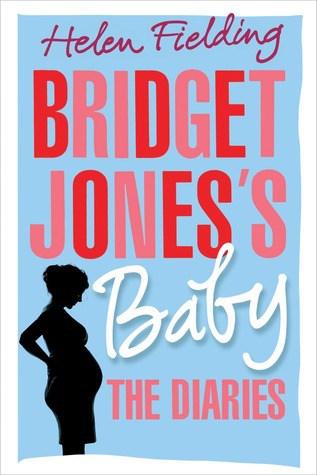 Before motherhood, before marriage, Bridget with biological clock ticking very, very loudly, finds herself unexpectedly pregnant at the eleventh hour: a joyful pregnancy which is dominated, however, by a crucial but terribly awkward question - who is the father? Mark Darcy: honourable, decent, notable human rights lawyer? Or Daniel Cleaver: charming, witty, notable fuckwit?

~ Synopsis from goodreads
My Review
Did I say the book is very different from the movie? Yes it is. In the movie, the two men involved in the love triangle are Mark Darcy and the really delicious Jack Qwant (played by Patrick Dempsey). The book however sticks to the same old Daniel Cleaver (the cad from the previous Bridget Jones books). And dare I say it, I preferred the approach taken by the movie.A new character brings a certain freshness to the series.
I personally found it implausible that Bridget Jones from the first two books could still find Daniel Cleaver attractive. That love story is a plot point firmly closed in the second book, and reopening it in this book just seems very tired and unimaginative. I can understand Cleaver being a point of contention earlier on in the Darcy - Jones romance. But now? So many years later? Sorry, that just doesn't fly. Using Cleaver also reduces the romantic tension. I mean there was no way he was ever going to win the reliable father/suitor award.
The movie effortlessly bypasses all these problems by bringing in Jack Qwant (Patrick Dempsey) instead.
Just seeing this still from the movie, it's not immediately clear which way Bridget is going. Will she accept Mark Darcy back? Or will she go for a new and exciting lover? The movie manages to keep that suspense going for most of the movie (where the book seriously fails).
The book is not a total loss though. There are some hilarious bits notably one being an eco-friendly (dolphin-friendly) condom. No, I still don't know what that is. The book also got Bridget's career conundrums pretty right. Her friends and parents remain lamentably one-note however.
Overall, I didn't love this book as much as I wanted to, but it was a good quick read. I'd recommend it if you love these characters and just have to have more of them. It is the weakest Bridget Jones book I've read though, and I'd really like it if Helen Fielding just closed this series, and tried something else.
Have you read this book? Watched the movie? What are your thoughts?

You can also buy a copy of this book from Amazon.