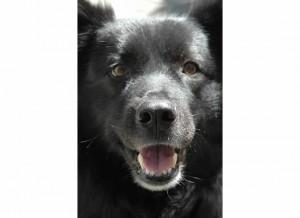 Bridget came into my life when my boyfriend (now husband) Jarrod and I moved from a high-rise apartment and into a basement apartment with a large fenced-in yard. We were both dog lovers from childhood. We had to meet every dog we walked past; we would go to dog parks to watch other people's dogs play, which only now, writing it out, seems creepy.
The day after we moved, we knew the only thing left to do was open our home to a dog. Bridget was about five or six years old, a chow mix, and had leash aggression. She also had been returned to the rescue group twice by other adopters. She had everything going against her: she was a 60-pound adult dog, a breed with a bad reputation, and behavior problems. And we fell in love with her the minute we met.
As we filled out the paperwork, Bridget sat under the table tearing apart a toy. She was snorting with joy. Whether her joy was over the stuffing that now lay in bits all around her or that she was getting a new home, we didn't know. All we knew was she already had us wrapped around her little paw. We took her home, signed up for lessons with a dog trainer, filled the house with stuffed toys she could tear apart.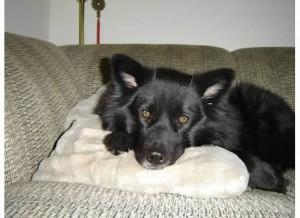 We loved her with everything we had, and she loved us right back. She'd lick up and down Jarrod's arms until they were covered in dog drool; she would snuggle with me on the couch; she'd roll over with her paws up in the air for belly rubs; she'd valiantly protect us from spiders and flies; she'd snort joyfully at ripping the stuffing out of her toys, then watch as I'd dutifully stuff it all back in again.
She also had her issues. We couldn't get within eyesight of another dog without her pulling, growling, spinning at the end of her leash. Even with all the training, she no longer heard her commands when faced with a four-legged adversary. We learned quickly the best course of action was always keeping a lookout for other dogs and crossing the street when one was coming.
To us, she was an angel; to others, she was a bully. Guests would come over and as soon as they got to our glass door she'd be there barking and nearly throwing herself at it. At 60 pounds, all black, and very wolf-like, she was very intimidating. Many a pizza delivery man would walk through the gate, see her at the door, throw the pizza and run. We learned to have delivery people call us and we'd go out to their car. Guests who sat on the couch could look forward to Bridget sitting right next to them, barking at face level. She once took a hamburger right out of a guests hand at a cookout. Somehow, we still have friends.
Still, we were in love with her, and if people could see how she was with just us, they would understand why.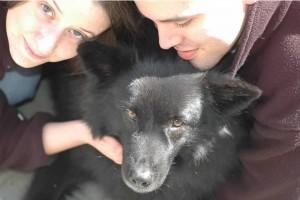 After five wonderful years with Bridget, she seemed to develop what we thought was osteoarthritis in her hips, practically overnight. She had trouble getting up from laying, trouble walking, and keeping her back legs under her hips. The vet gave us medicine for it, and it seemed to work for a few days. I spent the nights doting on her and giving her belly rubs, thinking everything was getting better. A few days later, in the morning, she refused food, and started shaking to the point of vibration. We went to the ER, thinking it was related to her pain meds. I had no way of knowing she wasn't going to be coming home with me. Instead, she had a horrible fever, and her liver functions were all but destroyed. She was septic, had a tumor on her liver, and advanced liver cancer. Chemo would do nothing to improve her life and she'd need to be hospitalized right away. We made the hardest decision we've ever had to make.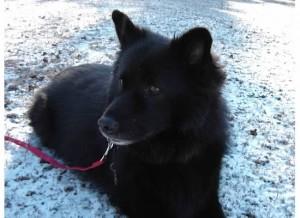 That kind of decision makes you feel like the worst person in the world, but I know that we gave her the best life possible. She was a rescue, and her back story should have left her little spirit broken. But we spoiled her rotten with utter and total devotion and love, and turned a rescue into a little diva, who'd strut her stuff with no apologies. My house? No, this was her house, I was just allowed to share space to adore her, and I gladly did so. I'm thankful for the wonderful memories I have, and though our time together was too short, I regret nothing. We loved her and she loved us right back.
RIP, our angel with an attitude.
~ Written by Bridget's owner, Lori Chletsos
Tags: dog with attitude, in memory, personal story