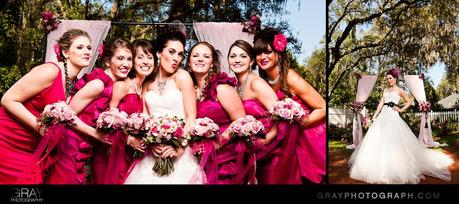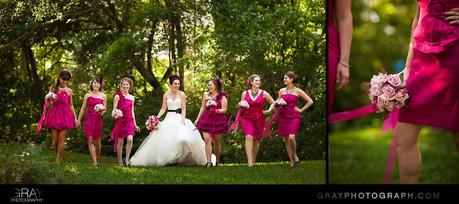 We've all heard it before when it comes to bridesmaids dresses:
"What you'll love most about this dress is that you will be able to wear it again."
Sure.  I love my girlfriends and all, but I've never been able to find another occasion to wear any of my bridesmaids dresses.  Not to mention the crazy costs that go into buying a dress that you didn't pick out and getting it altered.  Geesh, it becomes expensive to be a bridesmaid!
So for our wedding, I wanted to do something different.  I really did want to give them a dress they could rewear, starting with, letting THEM pick out the dress.  I gave them a swatch, and a few style options and asked them to tell me what their favorite choices were.  I also didn't want them to spend an arm and a leg for it, so where did I go?
Yes, Forever 21.  No one's dress was more than $30-$40.  My goal was to give them a fun and flirty date night dress.  I also let them pick out their own shoes and necklace.  I wanted it to be about them, what style they felt comfortable in, and to buy stuff they liked and could reuse.
No longer do you need to go only to a bridal store to find all your bridal parties outfits.  Even Stephen, he wore a suit from Express after the unflattering choices we found at a men's tuxedo rental place.  So, you just never know what you will find at the mall for your wedding.