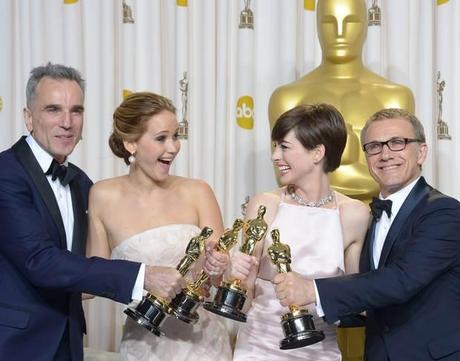 The Academy Awards aired on ABC last night, putting an end to an awards season that turned out… well… rather predictable. In a year that offered so many diverse, excellent titles, from nominated ones like Silver Linings Playbook, Life of Pi, and Zero Dark Thirty, and not-nominated ones like The Perks of Being a Wallflower, The Dark Knight Rises, and Looper, the guilds pooled together early and decided Argo would be their movie of the year, and every single group of critics, artists, and Academy members followed suit. I loved Argo. It was number 7 on my top ten list. But I definitely would have loved the wealth to be spread around a little bit. It seems to be happening more and more lately—one film taking every top prize at every awards show all season long. Ben Affleck wasn't even nominated for Best Director at the Oscars, and the film still won Picture, a feat that's only happened three previous times during the show's 85-year run. I was also disappointed that there wasn't a single big prize during the show's three-hour run (aside from maybe that weird tie in Sound Editing!).
Overall the telecast itself had its hits and misses. Some of Seth Macfarlane's jokes worked, and others fell flat. I still prefer the 2009 Oscar telecast, hosted by Hugh Jackman, the best of the last, say, ten years. There was a classiness to that event, with all its nods to film history. Last night's telecast had a "theme," which was apparently how great the last ten years of movie musicals have been, which is strange since the really great musicals are obviously from the earlier days of cinema, movies like Singin in the Rain and West Side Story, but OK, that's fine. Macfarlane was a fine Oscar host, but for me the last great one was Steve Martin, for the 2001 and 2003 telecasts, in terms of just pure comedy. There was almost too much going in on the first 10 minutes to wrap my head around. Talking to William Shatner as Captain Kirk? The L.A. Gay Men's Chorus singing about boobs? One thing that also bugged me was that the camera stayed on a medium shot of Macfarlane for the entire opening monolog and never cut to a wide shot, which I found almost cramping to his comedy. I did like the sock puppets, though. And any chance for Joseph Gordon Levitt and Daniel Radcliffe to dance together is fine by me.
Now onto the awards themselves. Again, no big surprises. How cool would it have been for Amy Adams' name to be called? Or Philip Seymour Hoffman? Or Joaquin Phoenix!! (See a pattern?) Let's look at the major categories.
The first big Oscar of the night went to Christoph Waltz, who I love, and who's great in Django Unchained, but two elements to this win bothered me. First, Waltz just won three years ago for another Tarantino movie in which he played a similar kind of character. And two, Waltz really was one of the two leads of Django Unchained, not supporting. My favorite performance in that movie was by Samuel L. Jackson, who didn't get any love this awards season, and who actually did give a SUPPORTING performance. But alas, who can not love Waltz?
Then Supporting Actress went to Anne Hathaway. Just once at the Oscars I'd love a big shocker win, when the frontrunner literally wins every single precursor award, but then doesn't have her name called at the Oscars. I remember when it happened to Eddie Murphy in 2007 with Dreamgirls, and reports said he stormed out of the building right after. Hathaway is a fine actress, but I thought she was practically mugging for the camera in Les Miserables, and, while Waltz had almost too much screen time in Django, Hathaway didn't have enough in Les Mis. She has about five scenes toward the beginning of the movie, then a brief one, two and a half hours later, at the very end. I would have preferred Hunt or Adams in this category, but overall Supporting Actress was a little weak this year, so Hathaway was guaranteed.
There was some James Bond love this year, with Skyfall winning two Oscars, the most a single film has ever won (only Thunderball nearly fifty years ago also won an Oscar, for Visual Effects). Also, in a strange twist, Skyfall shared the Sound Editing award with Zero Dark Thirty, in an almost unprecedented tie (the only other time I know of a tie was in 1968, when Katherine Hepburn and Barbra Streisand tied for Best Actress). Skyfall also should've won Cinematography, which would have earned Roger Deakins his first win in nine nominations. One of my favorite moments of the night was a still youthful Shirley Bassey belting out Goldfinger. Gave me chills!
Adapted Screenplay went to Chris Terrio for Argo, and Original Screenplay went to Quentin Tarantino. These were both well deserved, although the Adapted Screenplay category was packed with talent, even considering that my favorite script of the year The Perks of Being a Wallflower wasn't even nominated. I didn't even care for Lincoln that much, but the amount of work Tony Kushner put into it seemed worthy of this award. But Argo is a great film and Terrio was absolutely worthy of this award. Quentin's win this year felt in some ways like an award to make for his going home empty handed three years ago for Inglourious Basterds, the better film, but it was still great after all these years to see him win his first solo Oscar. Let's hope one of these years he might actually win Director!
Best Actor, of course, went to Daniel Day-Lewis, who is so gracious and funny that it's hard not to root for him. His win was so obvious from the minute he was announced to be in Lincoln, Meryl Streep didn't even have to open the envelope! With this win, Day-Lewis becomes the first actor in history to win three Best Actor Oscars in the leading category. Wow! Let's see what he brings us in another five years. Could he win his fourth? He's still young!
Best Actress was the category up for grabs. While Lawrence was the closest to a sure thing, any of the five had a decent shot at winning. Jessica Chastain was great in Zero Dark Thirty, and was truly, in every way possible, the lead of the movie; it was hard to vote against her. Naomi Watts is such a talent it's hard to imagine this was only her second nomination, and for an outstanding film that really should've gotten more love. Jennifer Lawrence is fantastic in Silver Linings Playbook, one of my favorite performances of the year, but she's also just twenty-two years old and has lots of meaty roles to come, I'm sure. My vote was for Emmanuelle Riva, who celebrated her eighty-sixth birthday yesterday, and who gave a daring, courageous performance in Amour. Alas, Lawrence won, which I'm totally fine with, but a win for Riva would have been a magical moment.
Best Actress might have been up for grabs, but Best Director TRULY was up for grabs. This was the category we were all excited about, because it was the one top award all season Ben Affleck actually couldn't win. Was Spielberg going to get his consolation prize? Could the young Ben Zeitlin pull off an upset for Beasts of the Southern Wild? No, the award, as deserved, went to the great Ang Lee, who continues, movie after movie, to push himself as an artist. Life of Pi is an astounding film, and Lee absolutely deserved this award. It's still really weird to me though, telling the world that Ang Lee was the best director of the year for Life of Pi, but then saying the Best Picture of the year was Argo, which, apparently, wasn't directed by anybody.
Yes, Argo, as expected, won Picture. If it hadn't won at the Critics Choice, and at the Golden Globes, and at the PGA, and at the Baftas, this might have come as a shock, but at the end of the night, any film but Argo would have been unexpected. Lincoln went into the night with 12 nominations but only won 2—it's hard to imagine in the beginning it seemed to be the favorite to win this category. Zero Dark Thirty (which I thought was way better than the Oscar-winning Hurt Locker from 2009) had a shot, before all the controversy. I was actually thinking Life of Pi could pull off a win at the end there, but, we all knew, it was always meant to be Argo. I loved that George Clooney just stood off to the side, and gave Ben Affleck his moment. With The Town and Argo, Affleck has come into his own as a director, and I can't wait to see where he goes from here. Gee, maybe Affleck might even be nominated for Director the next time out? That's not even a question… you know he will be!
Overall, 2012 was a great year for movies, and I'm happy that the wealth was spread around a little bit at this year's Oscars. I just wish these awards weren't so damn predictable every year. I'd just love ONE big surprise during the three-and-a-half hours. Let's hope we get a surprise next year. And let's hope 2013 turns out to be an even better year for movies than 2012. Hooray for cinema!