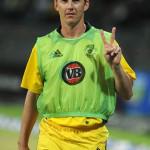 Australian pace bowler Brett Lee, who is also part of IPL champions Kolkata Knight Riders, announced his retirement from International Cricket today. This 35 years old pacer decided to retire from all forms of cricket after 13 years long career due to his body and mind's condition.
"It's official, I have retired from international cricket. Thanks for all your love and support. It's been an amazing 13 years," Lee twitted. "I woke up this morning and knew I had to call it quits today. Friday the 13th, 13 years (since his Test debut), I thought it was pretty appropriate," he told Channel Nine.
Lee, who returned home early from England's tour with calf injury, said it was the right time to call an end to his long career. "I thought I would go over there and try and play the Twenty20 World Cup (in Sri Lanka in September), but (being) mentally and physically challenged, it would just not be worth it. So I'm walking away happy with the call I've made."
One of Australia's most fearsome fast bowlers, Lee retired from Tests with 310 wickets in February 2010, although he played on in one-day and Twenty20 cricket.
Lee has captured 380 wickets in 220 ODIs and 28 wickets in 25 T20 internationals.