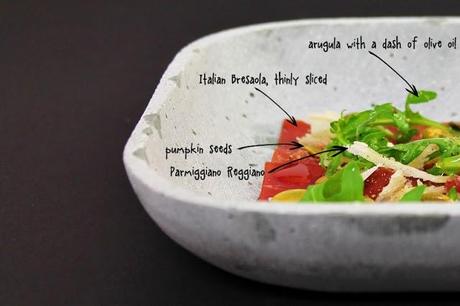 Bresaola is such a good product that there is no need to complicate things, thin slices served with fresh arugula, shaved Italian Parmigggiano Reggiano, some olive oil and a few roasted pumpkin seeds for a bit of crunch and you are good to go.
Bresaola with Parmesan cheese, arugula & pumpkin seeds
Bresaola
Parmiggiano Reggiano
arugula
pumpkin seeds
salt, black pepper
olive oil
lemon or vinegar (optional)
Roast the pumpkin seeds in a dry pan or the oven until they are getting a bit brown on each side. Arrange the Bresaola on a plate, combine the arugula with a little bit of olive oil and a little bit of vinegar or lemon juice if you like a little bit of acidity. Shave the Parmesan cheese and then put the salad, cheese and pumpkin seeds on top of the Bresaola. Serve.