Saturday 23rd May 2015
I'm excited to now be able to sit down, write and share with you my first experience of walking in the Brecon Beacons. It's already been six-days (unbelievable) and yet, it's memory that I am very keen to hold on to.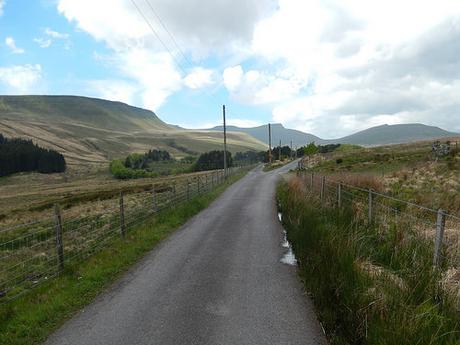 If I had been on my own then, no doubt, I'd have attempted something with an early start, a late finish and almost two-dozen miles in between (thinking of my seventeen-mile coastal walk in Dorset last year). But last weekend, I'd invited a friend to join me after she'd expressed an interest in exploring the area and she even offered a suggestion for a great camp site (more on that in a separate post to come).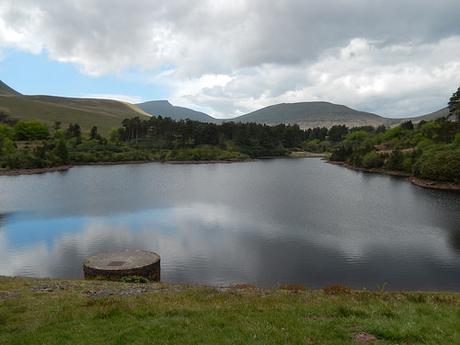 Upper Neuadd Reservoir.
Walking with someone else carries many benefits. I've also learned, in recent months, that I could make more of an effort to reduce my pace slightly and to walk alongside the people I'm supposed to be walking with. This was a golden opportunity for me to slow down and practice.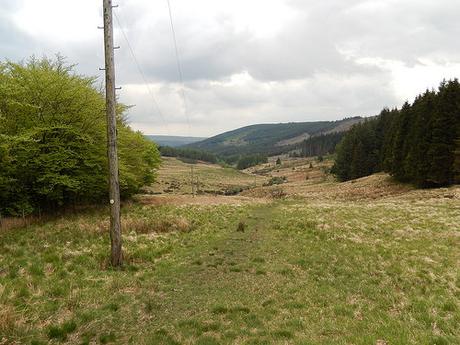 Armed with a pair of OS maps (both of which were double-sided), the thought of having to locate a start point and then devise a route felt intimidating. So, I turned to the internet, where I came across the Four Peaks Walk – not only did this take in four of the highest points within the southern United Kingdom but at less than nine-miles long, it appealed to my friend without offering too much intimidation.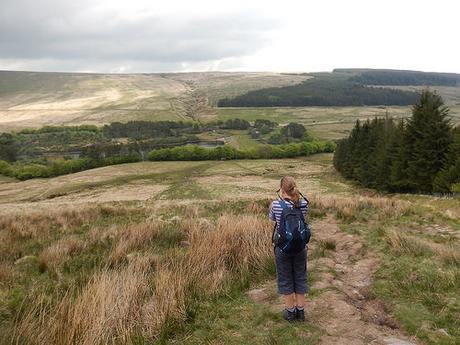 Looking back down to the reservoir, after our first climb and scramble.
We found the car park easily enough, even after a morning of heavy traffic, which had led us to the campsite in Neath a little latter than intended. It was already mid-afternoon by the time we started the walk, after unpacking and pitching our tents.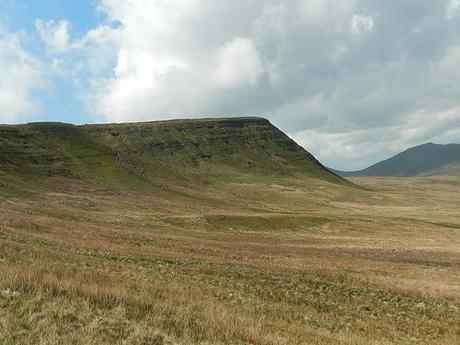 This landscape was completely new to me and, to walk in totally unfamiliar surroundings, it can feel intimidating at first. Heading west from the reservoir, we climbed steeply up and out of the valley, having to scramble right at the very edge to reach the ridge… It was hard going and we took a couple of brief rest stops along the way. All that work and we weren't even at the first of our four peaks yet!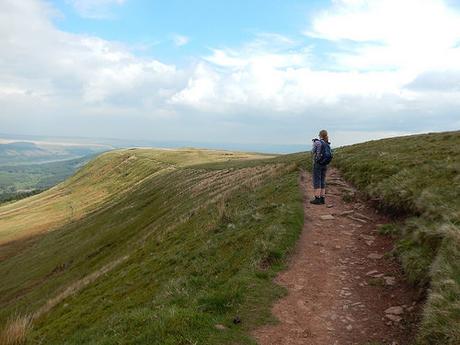 We took another stop for water once at the top and it was at this point that we looked back to realize there were suddenly others who were treading in our footsteps – we were leaders! I think this was also the first time at which we realize that hydration bladders are very good at retaining warm water inside your backpack – after the initial refreshment of the cold, exposed liquid that's been sat in the tube!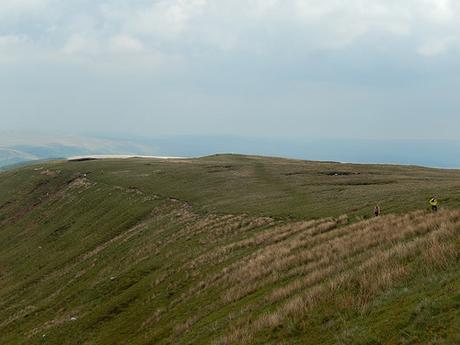 A trig point not too far behind us.
Saturday had begun as a rather bright and dry day. By the time we were ready to set off on this walk (time-conscious, as we had further plans for the evening), clouds were everywhere, leaving the atmosphere much cooler and controlled. It was quite fortunate then, that our 'relaxed' approach to planning had not seen us heading out too much sooner.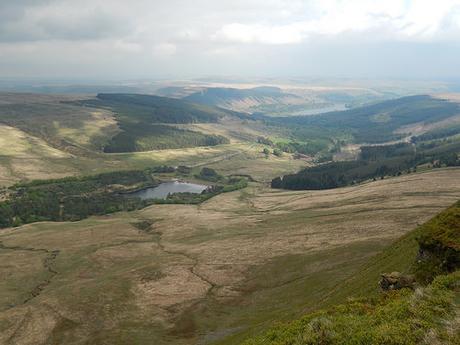 Already, before reaching our first official peak, the views of the valley below were breathtaking.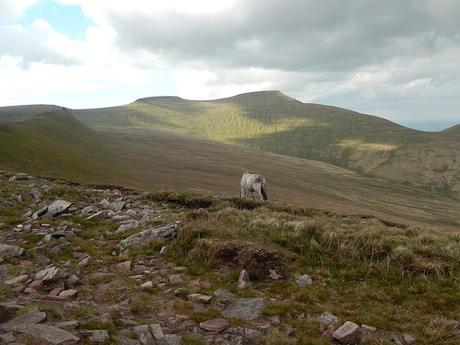 We must've been walking for almost an hour by this point and yet, it seemed almost as if Corn Du (with Pen Y Fan to its right) weren't getting any closer.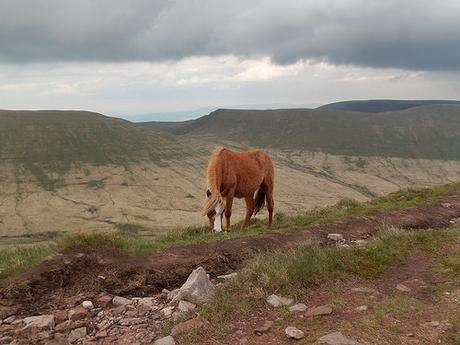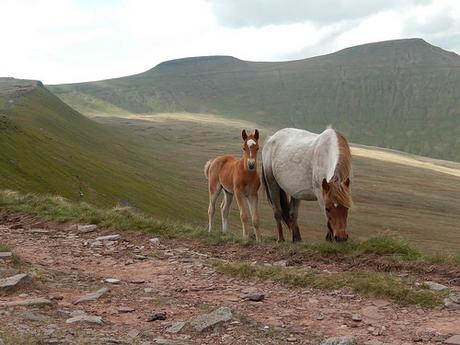 As Corn Du came in to focus, a mass of dark clouds began to emerge over the valley from the south.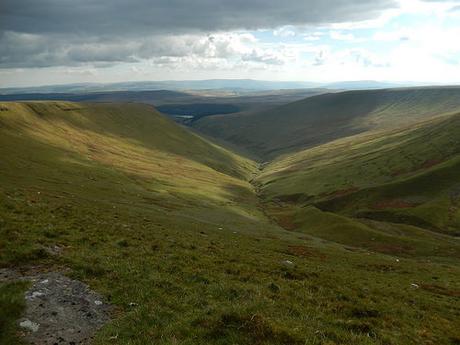 But that wasn't to come to anything that would affect us. Yet we were in awe of the serenity of such a location, already more than 600m above sea level. So calm. So still. Where were the high winds that we were prepared for?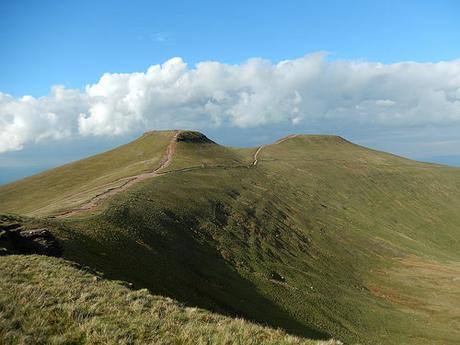 You can walk on the Mendips, cross the Quantocks or climb the Cotswolds and you'll get battered by a fierce breeze each and every time you climb up high. Perhaps it's because the Brecon Beacons are much further inland from the sea?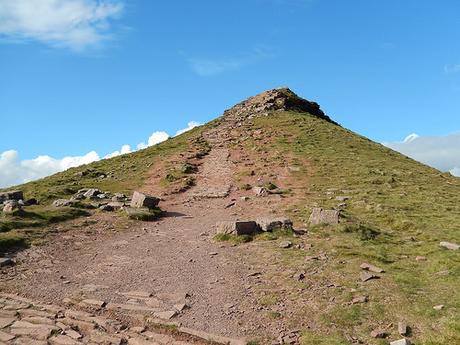 From a distance, Corn Du hadn't looked too menacing and it appeared as though, just after, we'd only have a short climb to reach the highest mountain in the region. First, the stone steps provided a challenge and then, as they ceased, we had to again scramble our way forwards, climbing larger slabs towards the summit.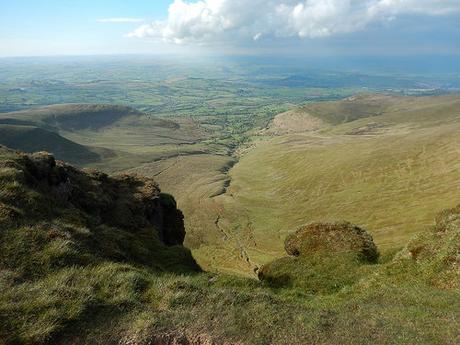 We could then look on and northwards over the landscape, with the nearby town of Brecon the only distinguishable mention among a near-endless quilt of green land.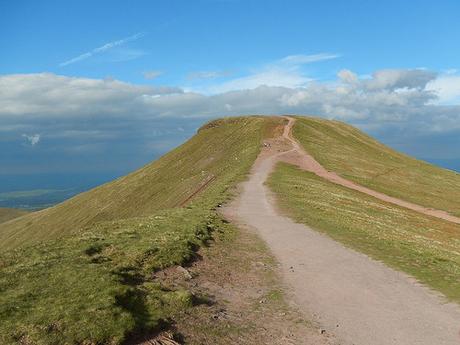 From this point, Pen-Y-Fan didn't look too far away either… But that dip between mountains can be deceiving.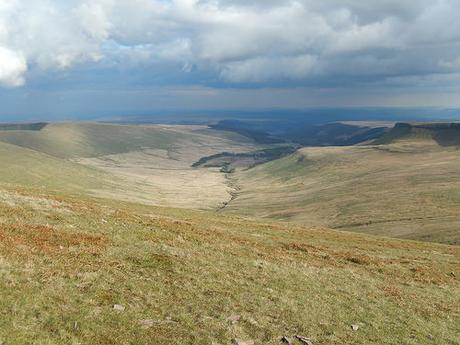 Nearing the halfway point on our walk, we could look deep down along the valley towards our start point.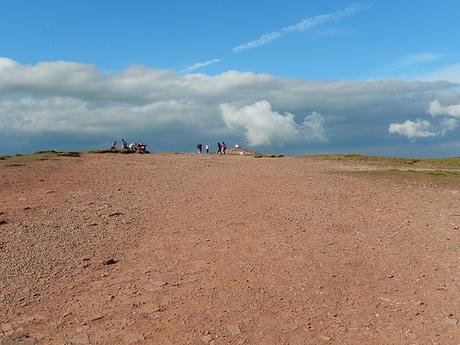 At the top of one of the UK's highest peaks and on a Saturday evening, it was still pretty busy and bustling with people (not to mention one selfie-stick!).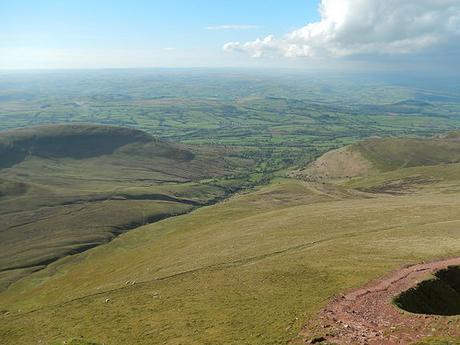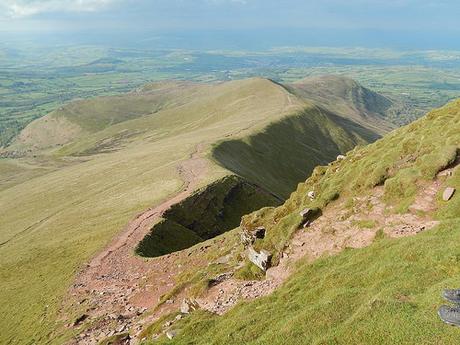 As we headed up towards the center of the summit with its pile of stones (a popular spot for selfies and 'I was here' shots), one guy kindly offered to take a photo of us both, as long as we would do the same for his party in return. That image currently exists on my friend's camera and I trust it will see the light of day when she has time.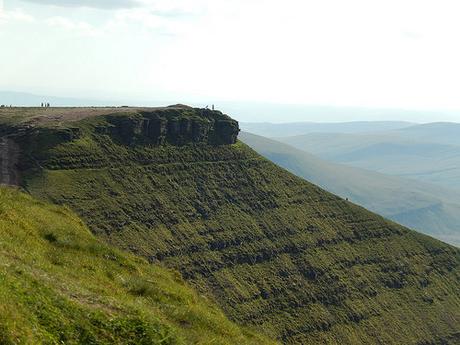 Instead, you'll have to make do of this distant shot of others on top of Corn Du.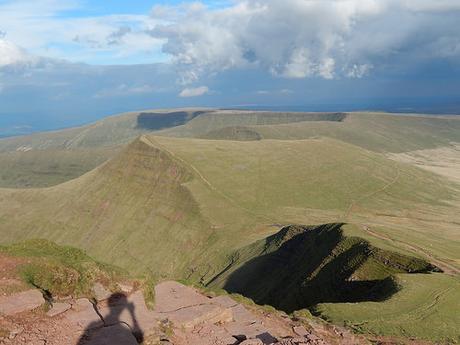 Descending Pen-Y-Fan along its eastern face was one of the most challenging aspects of our adventure so far. Sharp stone steps again led the way but it's a challenge to retain your balance (especially when wearing new boots). I must admit that I'm struggling for total comfort with these boots on almost every walk and I'm having to stop and try an alternative method of lacing at regular intervals.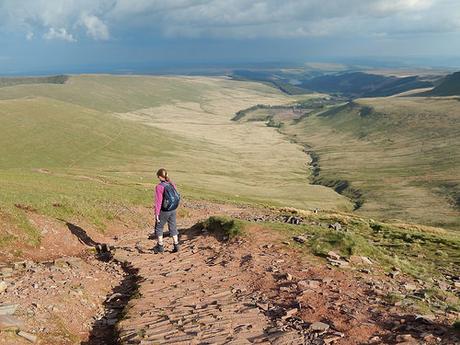 My main issue is that my ankles aren't use to such tall support and that the constant rubbing could lead to blisters if I'm not too careful. On a positive note though, the extra sole durability seems to support the strain underneath my foot from last year.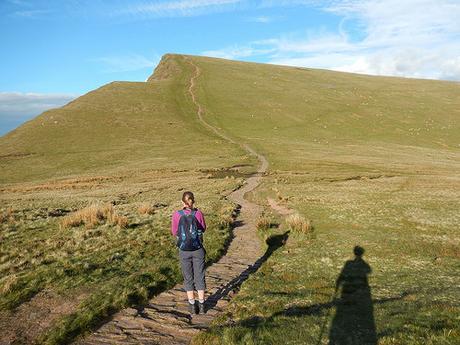 We two peaks beaten and half of the job completed, we began to debate our intentions from here on, as the day wasn't getting any younger. What had been billed, on the website, as a three-and-a-half hour walk was turning in to much more. 8.8 miles? It was beginning to seem like 16 miles and we would still need to return to the camp site before dark so that we didn't die of starvation.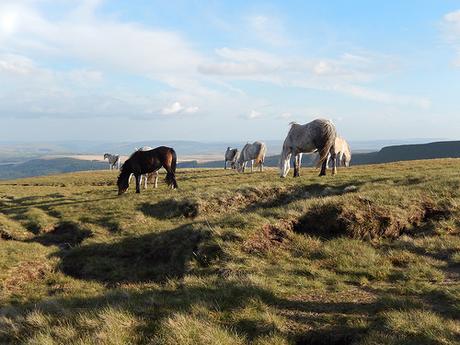 Cribyn was the next item on the list. Although, by the time our discussion had begun, we'd already descended a good 200m and would then have to re-climb the same height to complete our third peak… I knew in my heart that I couldn't have come this far without reaching the top. Fortunately, my friend was also prepared to march on and upwards, provided that we made this our final climb for the day.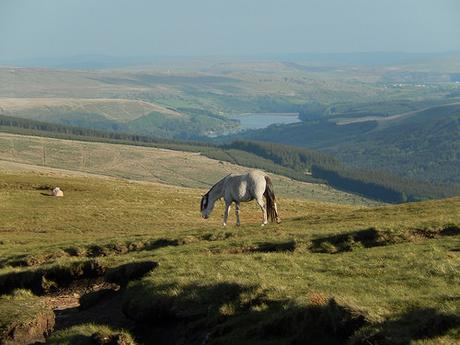 So, we created a compromise in which we would climb Cribyn (peak No.3) but give Fan-Y-Big a miss.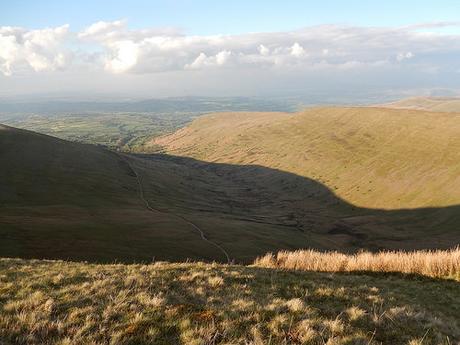 I was also hungry, wary of what time we might be returning to the campsite, tired after a busy morning with lots of driving and concerned about the wellbeing of my friend (not forgetting the constant loop of that CD in my car…).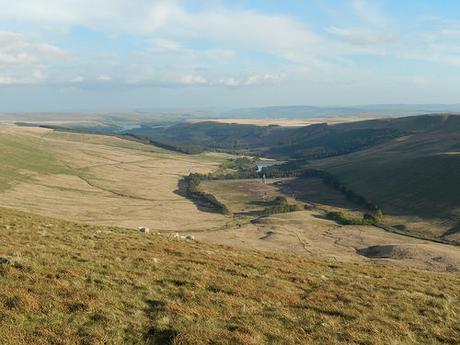 Rather conveniently, there's a path that allows for a premature exit before Fan-Y-Big and this would then lead us all the way down and beyond the reservoir, to return to our start point.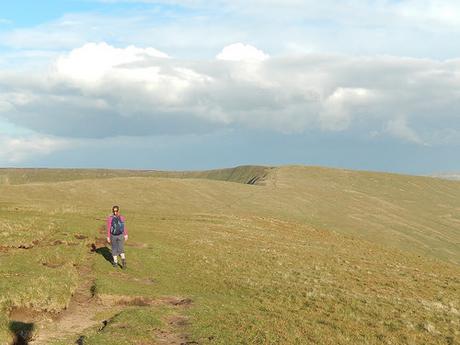 After climbing three of the highest points, Fan-Y-Big didn't look as impressive from afar. It's just a wide cliff offering the same kind of views, right?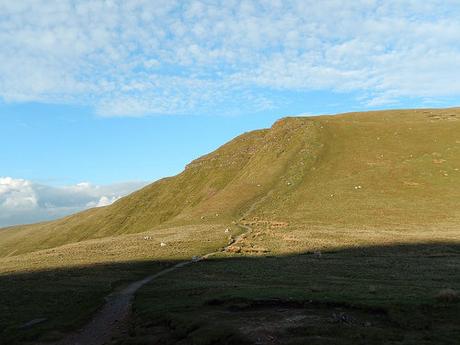 We decided it would've led us away from a more direct route to our end-point.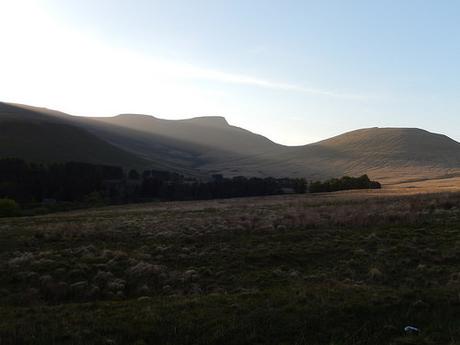 It was getting close to 21.00 by the time we returned to our car. As the sun disappeared behind the mountains, a chill began to sweep over the valley. Despite having arrived at a time where we were fortunate to find a parking space, our car was the last one to depart that evening!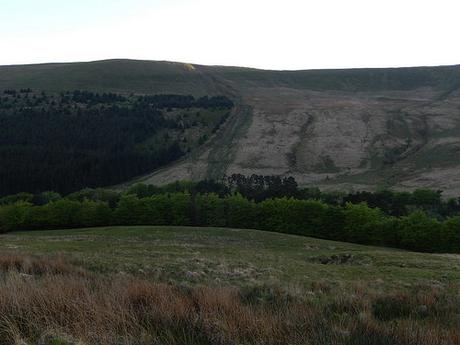 Our very first climb up from the reservoir, where we kept just right of the woodland (I forgot to mention earlier how muddy it was).
To me, there's something magical about finishing a walk beneath a setting sun, as the evening begins to bed itself in. I felt it also during the drive back to Neath, with so few other cars on the road (I also learned that my SatNav turns black to correspond with the time of day).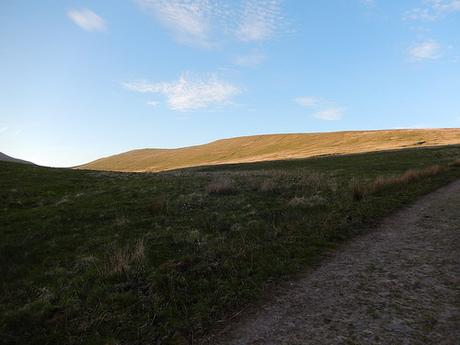 Without a doubt, this was the best walking experience I've had so far in 2015. It'll also remain as one of my favorite all-time experiences and I believe this was because I was able to share it with someone who appreciated the achievement as much.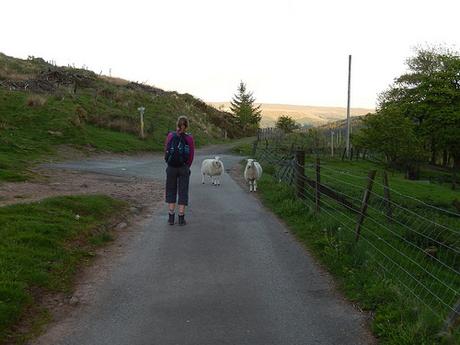 We didn't travel far before pulling over the explore the reflection and tranquillity of Pontsticill Reservoir.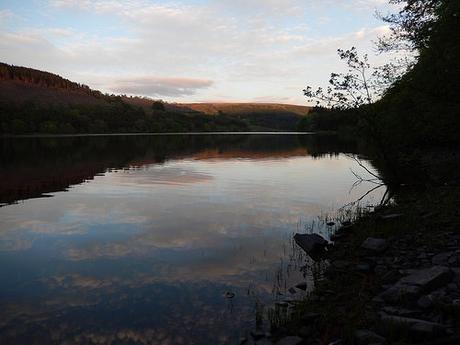 Thanks for reading. I'll certainly be exploring more of the Brecon Beacons as time goes on. For now, I hope that my photos and words have helped to recreate some of the experience for your own appreciation.
Did we get back to the camp site before the gates were locked? Well, you'll just have to wait until I've written about that to find it! ;-)
To see all photos from this walk, please click here.