Sunday 18th September 2016
I'm no stranger to the Four Peaks that epitomise the Brecon Beacons for many visitors. Having climbed three of them twice within the previous sixteen-months, I hadn't expected to be revisiting this mountain range so soon.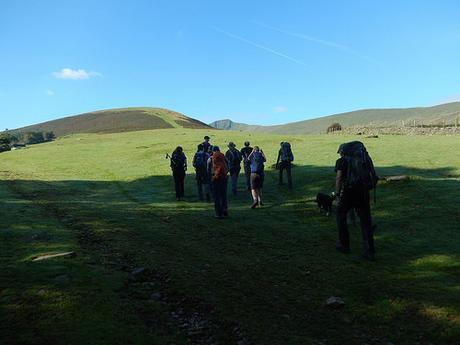 Brunel Walking Group arranged an event where we would be led on a walk by two volunteers of Brecon Mountain Rescue Team. Assuming we might stray from the well worn and 'motorway' tracks, I decided to go along.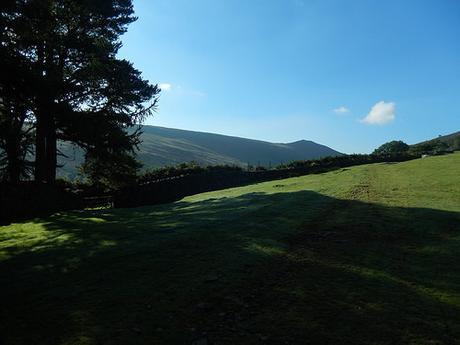 This was the day after a number of us had been canoeing on the Wye Valley (another event organised by Brunel). So, having already endured one long drive across the River Severn and in to Wales, we'd met up in Bristol once more, ready to do it again! This time, I was driving.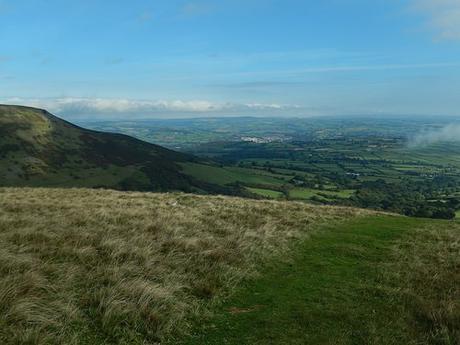 Our destination was a little-known car park in a field near Cwmcynwyn Farm [I have no idea how to pronounce that so, here's the grid reference: S003836 23729]. There's a postbox in the field, asking only £1 per car. Later, I also noticed you can pay £3.50 to camp there and, in lack of blatant facilities, I assume it would be 'wild' camping, of sorts.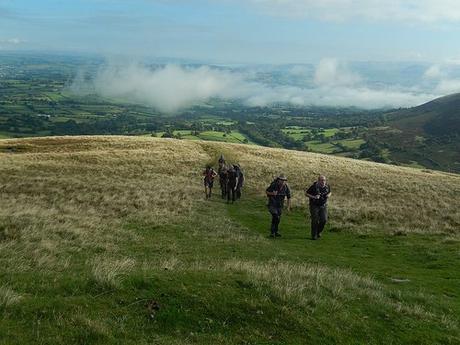 We left Bristol in the form of a convoy; three cars strong. Along the A40 and before reaching Brecon, we arranged to pull over and meet again in a large parking layby, where we would soon be joined by one of the walk leaders for the day, who would then head the convoy, up and down narrow lanes, praying not meet an approaching car or pedestrian around each and every bend. There's no signage for the car park whatsoever. But, my SatNav was spot on in leading the way.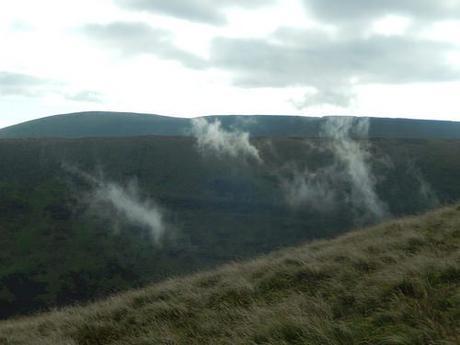 Our walk began somewhere around 350m above sea level and, straight away, we began our gradual ascent towards the mountains.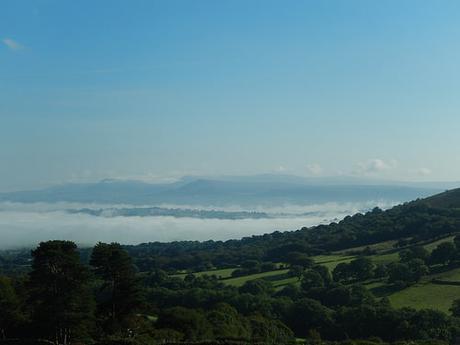 We'd driven up through near-zero visibility within these clouds, from the moment we passed through Crickhowell. Now, to the north-east of our location, we could see the Black Mountains surrounded.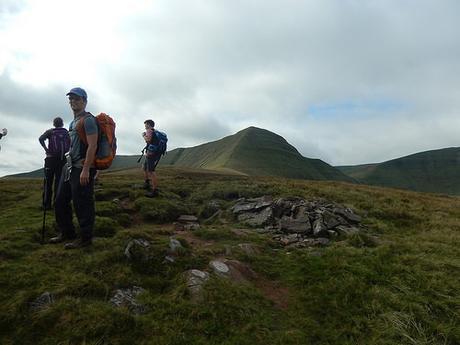 There were at least two points where we paused to take in water, on the long ascent of Bryn Teg. It was one of those climbs where you think you can see the brow of the hill… But then, just as you're about to reach it, you realize that the climb only continues further!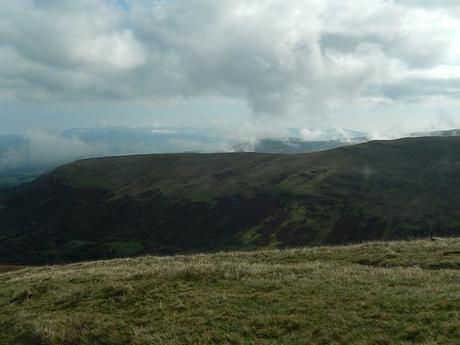 Eventually, we arrived at the towering north face of Cribyn: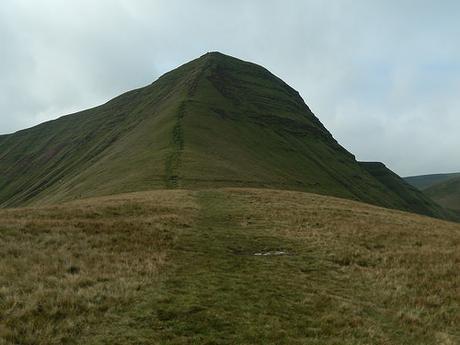 Yes, it really was THAT steep!! This must be the most challenging in which to climb this mountain – if only for the fact that nobody else was heading this way. I found myself leading towards the top; not being one who likes to hang about when the hard work is still to be done.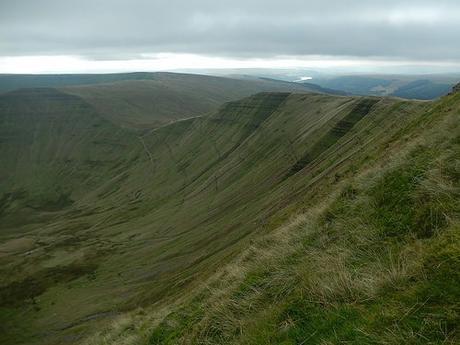 To our left was the familiar ridge that leads to Fan Y Big.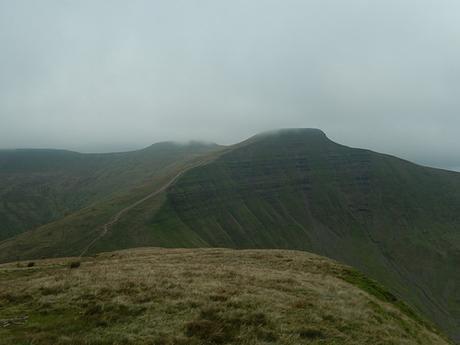 As we each arrived triumphantly on the summit of Cribyn, the cloud suddenly seemed to surround us; partially obscuring the peaks of Pen Y Fan and Corn Du, to the west.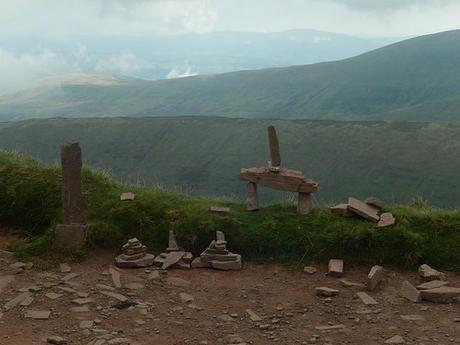 A couple of other people – perhaps searching for solitude from what we would later find on the tourist's mountains – were surprised by our arrival and the mass of our group.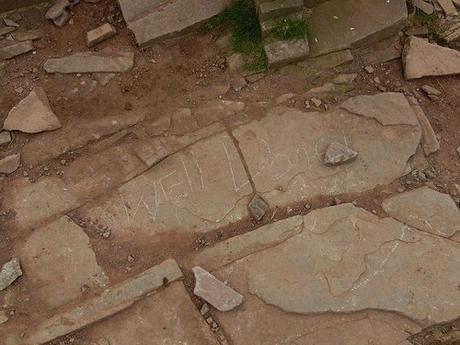 Whichever way you climb up to Cribyn, you'll know you've earned this words! At 795m above sea level, we'd already climbed more than 400m. Still, almost 100m lower than the highest peak, I find the ascent of Pen Y Fan is often always strenuous.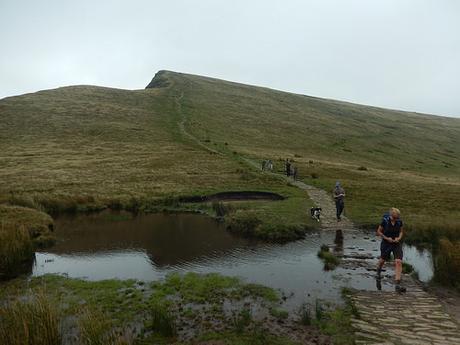 With so much cloud, as we crossed Craig Cwm Sere, there was a fear it might rain at any point. Before that though, it was slightly chilly. One or two people had already considered some form of jacket.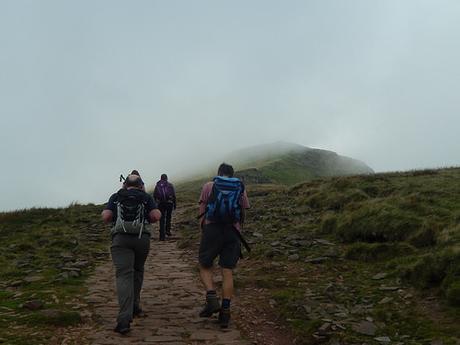 Climbing towards Pen Y Fan on a path that would gradually materialise in front of our eyes – a bit like 3-D computer games from the mid-to-late 1990s, that would frequently using 'fogging' so as not to exceed the hardware's limitations…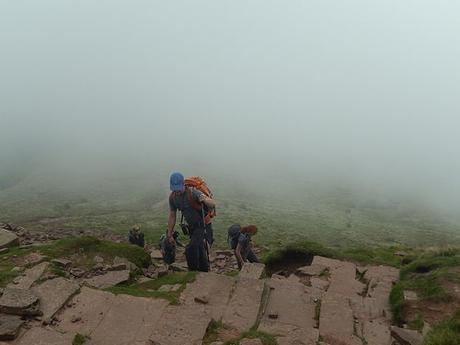 Looking back – well, who was to know that we had climbed Cribyn at all.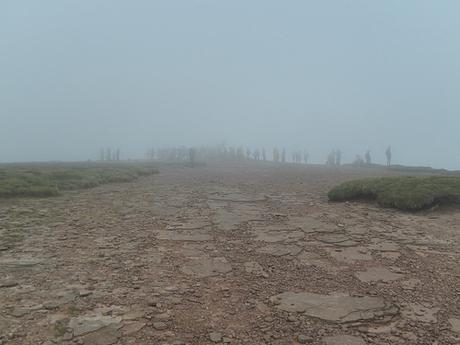 This was a Sunday. Late-morning; getting close to lunchtime.
I'd been to the top of Pen Y Fan on two previous occasions – with clear weather on both days – but I had never witnessed so many people on any summit.
What was going on?
Where they lacking the navigational skills to find their way back down through the cloud?!…
All of them?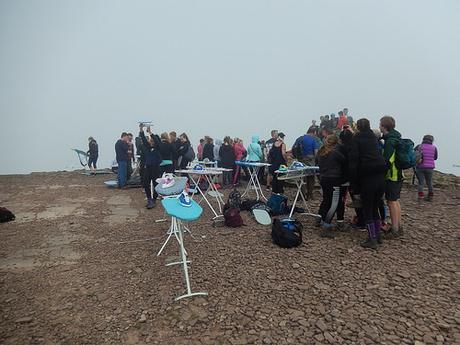 Ah! Ironing boards!…
At the time, this realisation only added to our collective confusion. Later, on Twitter, I would read that this was part of an 'Extreme Ironing' challenge, where one school was looking to raise funds for a trip to Africa where they would help less fortunate school children.
886m up and there was no chance of a group photo on top of the cairn where, as I think we were told, there used to be a trig pillar, years ago.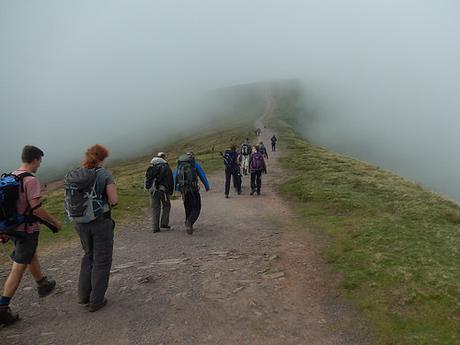 So, our walk continued. Before reaching the summit of Corn Du – which would be our final peak of the day – we dropped down, briefly, before climbing back up.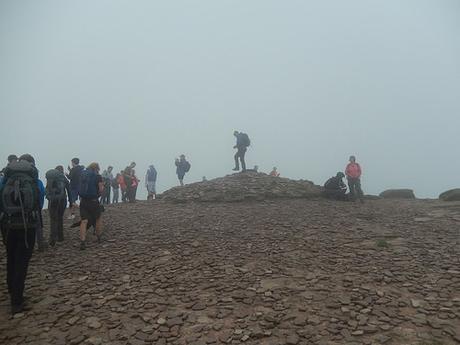 At Corn Du (pronounced "Corn Dee", by the Welsh), the volume of visitors was on a par with as much as I would've expected to see back on Pen Y Fan.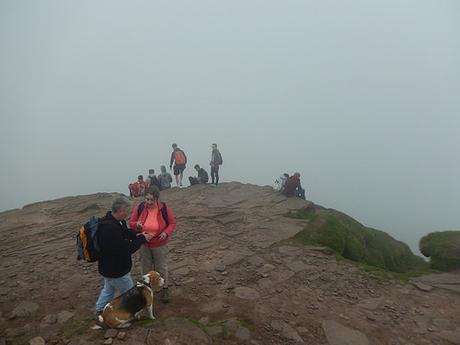 We weren't exactly spoilt for views either, with so much cloud hanging around. A great shame for anyone paying their first visit to the Brecon Beacons.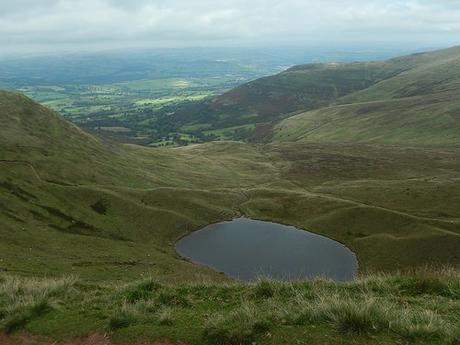 Leaving the mountains behind, we began our descent along Craig Cwn Llwch – try and remember that name because I'll mention it again at the end of this post.
Our destination was the lake (also known as a tarn), where we would be stopping for lunch.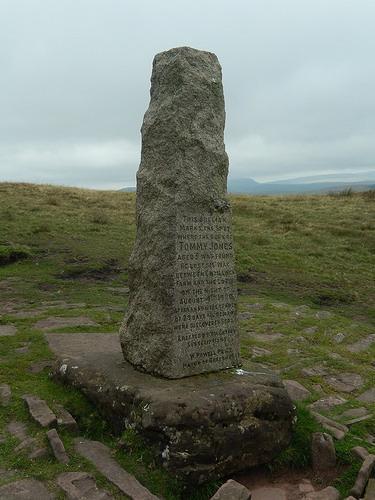 Above Llyn Cwm Llwch, we passed the Tommy Jones Obelisk. A tragic story. One can only imagine what these mountains and valleys must've been like, over a century ago.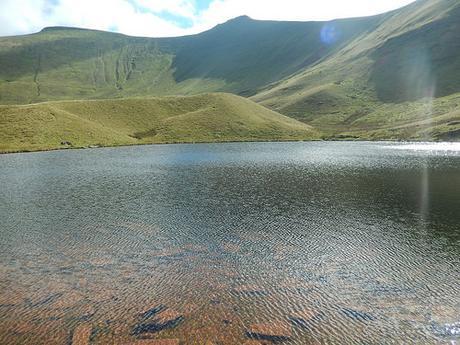 As we sat down beside the water, the clouds obscuring the mountains began to lift. Frustratingly. From two other nearby groups, people attempted to wild swim in the tarn – no-one stayed in there for very long, considering this was mid-September time.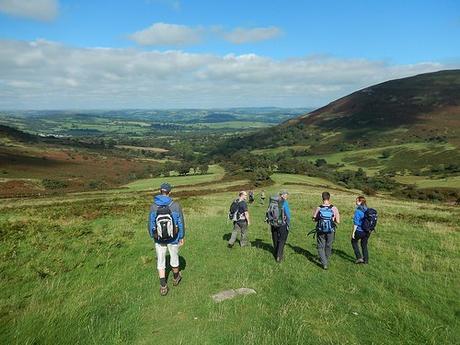 I'm not at all certain of the way back as I wasn't leading. But the main highlights of the walk were certainly behind us, now. We descended from the hills to follow roads and cross valleys.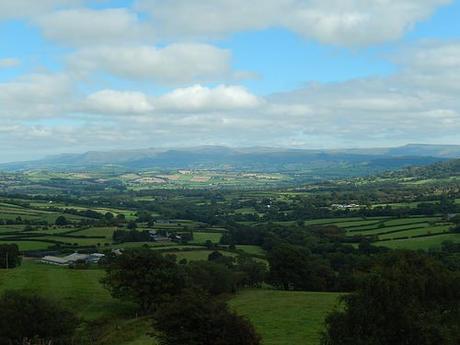 Again, the Black Mountains be seen and, this time, without obstruction.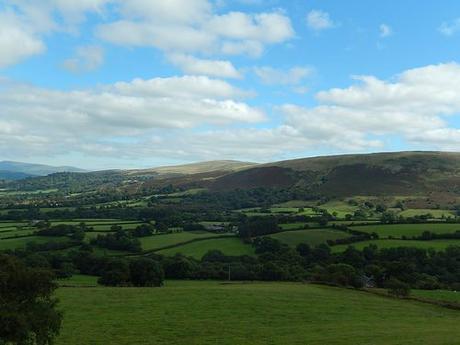 Somewhere along the way (it must've been near Modrydd), we passed another 'wild camping' site, where car parking was provided and you pay to pitch outdoors. Seemingly, no facilities were provided, although the field was beside a stream or river. We were told that the farmer turns up in the day and collects money from people.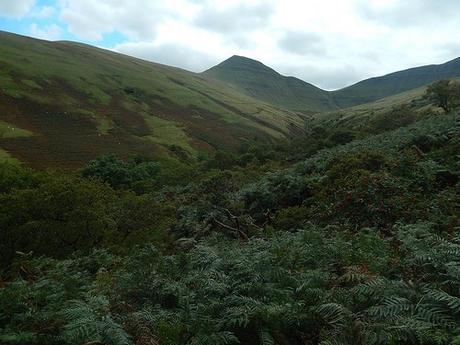 Further on, we followed our Mountain Rescue guides along a path that was hard to distinguish beneath the gorse. Those of us wearing shorts perhaps weren't best prepared for it.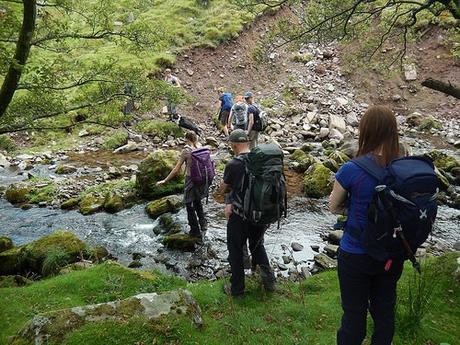 At the foot of the valley, we reached a river crossing before a short walk back to the cars. A mountain walk with variety!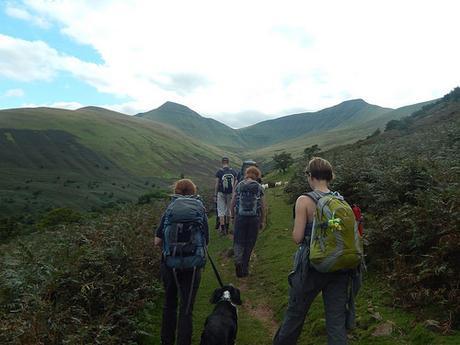 We arrived back at the car park with the promise of a brief tour around the Mountain Warehouse base and HQ, which would've meant a short drive to Brecon… But, in the midst of everyone changing shoes and getting ready to move off, the alarm went off (literally) and our two volunteer guides for the day were called off to fulfill their duties.
Through the power of Facebook, I later read that a woman had fallen and hurt herself near Craig Cwm Llwch on the descent from Cribyn – that very same route that we took before lunch and, right next to where young Tommy Jones passed away. As a team, the volunteers worked well together to assist the woman without further incident.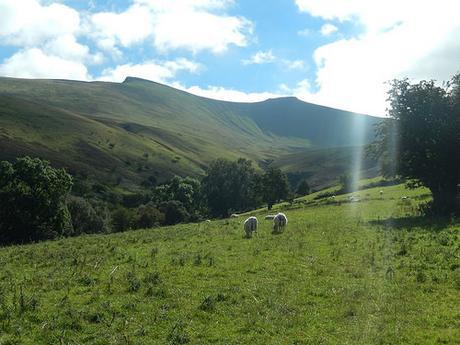 It was a good experience, to be led by two Mountain Rescue volunteers along a Brecon Beacons walk with three peaks and a bit of a difference. We were all grateful to Geoff and Claire for their leadership and time. I hope we get to do this again and receive a tour of the Mountain Rescue HQ in Brecon… I also made the suggestion that we could head to the Black Mountains, because, as a group, we don't tend to do many walks there (and, speaking personally, I've not done my first).
Many thanks go to Geoff and Claire for giving up their free time to guide us, with further thanks to Jo for organising the day.
Distance of this walk: 10 miles
Thanks for reading.
PS.
Along with the correct pronunciations of Corn "Dee" and "Van" Y Big, I learnt that there is no "Mount" in Snowdon and that you should never refer to these peaks as "the Brecons".😉