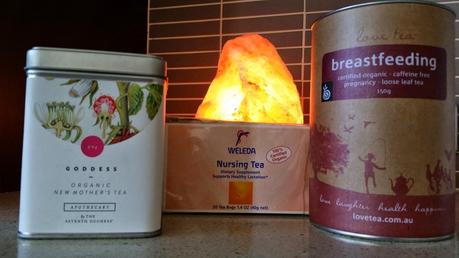 When I had Chai I had no idea that breastfeeding teas existed. I knew nothing about breastfeeding biscuits and increasing my milk supply, I just hoped that everything would work out and thankfully it did. The second time around I was more educated and decided to give nature a helping hand. 
I tried tea from Weleda, Seventh Dutchess and Love Tea. All of them are 100% certified organic. They were all good for different reasons. 
The Weleda Nursing tea is great when you need to increase your milk supply really quickly. I had two cups and within a few hours I had way more milk than I needed, bub got a huge feed that afternoon! I found it really helpful in the first few weeks when I was establishing my milk supply. It's also great when bub is having a growth spurt.
Weleda Nursing Tea contains fenugreek seed, anise seed, caraway seed, fennel seed and lemon verbena leaves.
The Seventh Dutchess Goddess tea tastes lovely, out of all of them it was my favorite flavor. It didn't make a huge difference to my milk supply but what it did do was help to calm bub's belly. He was quite a windy baby and had trouble getting rid of the wind. When I drank this his belly was a lot better and he was a lot more comfortable. This can also be used in the second and third trimesters of a pregnancy as it helps to strengthen uterine and pelvic muscles.
Seventh Dutchess Goddess Organic New Mother's Tea contains anise myrtle, fennel, fenugreek and raspberry leaf.
Love Tea Breastfeeding tea is very reasonably priced but doesn't taste as good as the Seventh Dutchess tea. I didn't find that this helped my milk supply, but as with the Seventh Dutchess tea it did help soothe bub's stomach.
Love Tea Breastfeeding Tea contains fenugreek, fennel, lemon balm, aniseed and caraway seeds.