Looking back through my photos from days out and walks in 2012 last night, I came across these images in a folder labelled King's Wood. This is an area of woodland near the village of Winscombe; across the A38 from Axbridge and only a stone's throw from Cheddar, which I blogged about on Sunday night.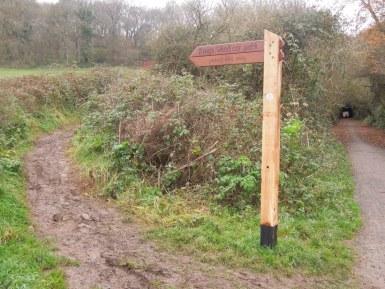 It also neighbours Ba Crook Peak, which was one of my favorite solo hikes from last year (albeit, a short one). On a second walk up and beside Kings Wood, following the Strawberry Line from across the A38, I noticed this prominent sign for pedestrians, indicating a return route to the local car park.
Most signs you see are old, grey, sometimes brown but you often have to look past the wet rot to try and decipher the message written on each plaque. This one was like new; beautiful oak, perhaps locally grown and a darker wood that I couldn't identify, used for a colourful contrast.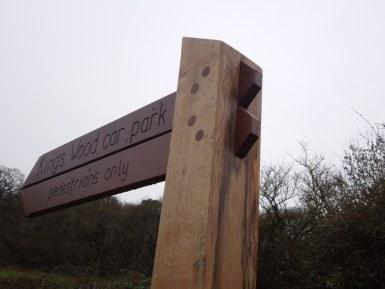 Beautiful!
It looks beautiful and I wanted to inspect it further, as I walked past (my walk wasn't done)…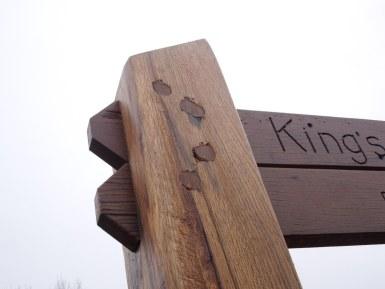 Oh dear.
Someone clearly put a considerable quantity of time and effort in to this construction, utilising some beautiful timber and the kind of joinery that would ensure outlasts our lifetimes. We all make mistakes and there were no markings to identify the maker. Breakout is one issue but, it looks as though they either drilled a hole in the wrong place or, maybe the drill wandered as the bit tore through the underside…
This is probably something that the average person wouldn't notice but, of course; I am a woodworker!

I'm as guilty as any other person for letting minor discrepancies leave the workshop with a project in its otherwise-finished state. But, for something on public display, I don't know; I just found it a little bit disappointing. But, I guess it must have been approved by Somerset or Sedgemoor council or something.
51.455313
-2.591902