Yeah, so much for that crappy stand your ground law protection for racist killer George Zimmerman!
From
the Guardian
:
Trayvon Martin case: Zimmerman drops stand-your-ground defence
Neighbourhood watch leader who shot dead teenager on Florida housing estate will instead go straight to jury trial
Wednesday 6 March 2013 01.14 EST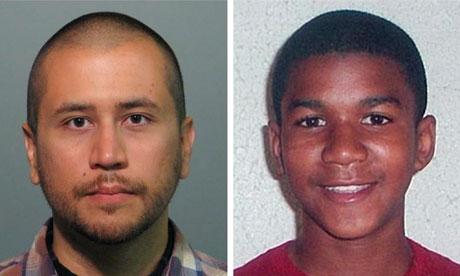 George Zimmerman (left) shot dead Trayvon Martin after taking it upon himself to follow the teenager. Photograph: Reuters Lawyers acting for George Zimmerman, who shot dead the unarmed teenager Trayvon Martin on a Florida housing estate, have abandoned their attempt to have his murder charge thrown out on the grounds of self-defence.
Neighbourhood watch leader Zimmerman, 29, had been expected to claim immunity from prosecution at a hearing in April under the state's stand-your-ground law, which allows for the use of deadly force when a person feels their life is in danger.
But in a surprise move, his lawyer, Mark O'Mara, told a judge that the defence would take its chances at Zimmerman's trial in June for second-degree murder. He said he still intended to pursue the argument that his client was acting in self-defence in February 2012 under a violent onslaught from 17-year-old Martin.
The unexpected decision changes the entire direction of a case that sparked racial tensions when Zimmerman was originally released without charge. The case also put America's gun laws under the spotlight.
His fate will now almost certainly rest with a jury instead of circuit court judge, Debra Nelson, who could have thrown out the case at next month's immunity hearing. It leaves the defendant at more risk of the minimum 25-year sentence that would follow a conviction.
read more here