Breakfast At Tiffany's is a landmark movie of sorts, it created history and made the little black dress chapter number one of that history text book. Right from my school days I never understood the relevance of history and the past until very recently when I decided that even if just for the sake of sounding a little more intellectual and a little less vain, I must attempt to understand art and history even if just a little.
So yes of-course I started my history lessons with Breakfast At Tiffany's (did you really think I would start with - A History Of India, nahhhhh), I know a little too late, but I got down to seeing it finally!
The opening scene is beautiful, a gorgeous Audrey Hepburn, the most exquisite pearl choker, elegant satin gloves, a flattering black dress and the iconic Tiffany's window. The scene had me hooked and instantly set my expectations soaring....
Here are a few things I learnt from the iconic movie.
1. A simple black dress that fits and flatters is a must in every wardrobe, and I just realized that I don't have one. Audrey also proved that the Little Black Dress does not really have to be "little", she never ever really wears a mini or a teeny tiny black dress, they were all an elegant length, never embellished and never over the top.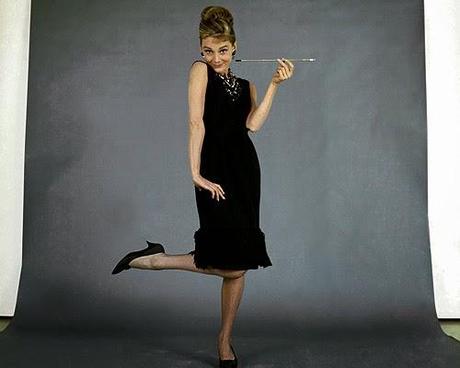 2. There is something about pearls, they always stand out and yet they are never in your face. They are elegant and understated and yet make a classy classic statement always. In the movie Audrey says
"Personally, I Think It Would Be Tacky To Wear Diamonds Before I'm 40."
 I love pearls but I love diamonds too, hehe..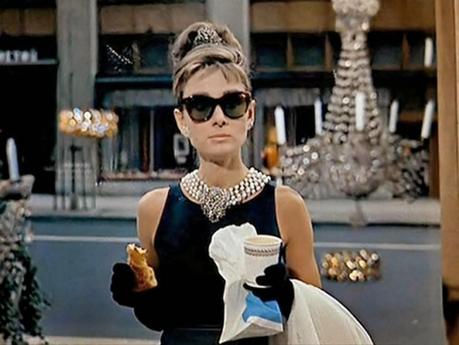 3. Gloves Sunglasses and Hats are oh so glamorous and I find myself craving for them since the movie. I do 
realize
 that those gloves could be a practical nightmare in India - imagine eating vada pav with them on while staring at a main road facing dusty store window - not so glam anymore, right?? But hats, lets promise to try wearing more of those, bring on a revolution of sorts..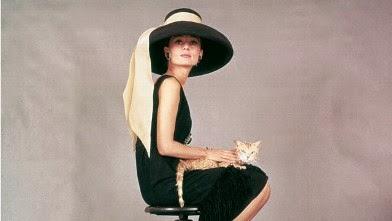 4. A cat is essential in every persons life, no really, I am so serious about this. The nameless cat called 'cat' was the most sensible character in the movie. Cat manages to bring some sense into a completely senseless movie, she was one smart cat (since the cat was smart, I am assuming it was a 'she'). So if you have been 
feeling
 lost in life, maybe you should consider getting a cat and name it cat.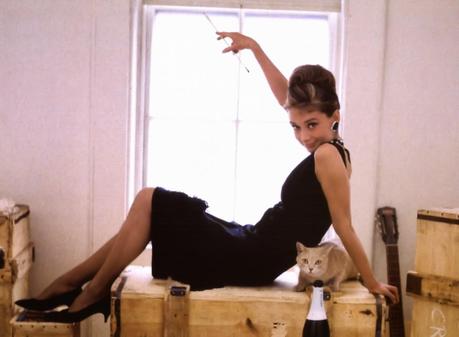 5. When looking for a house, make sure it has a very cute convenient fire exit stair well. These dont just help you escape fires, but also jilted lovers, needy boyfriends/ girlfriends, crazy parties and the police. They become convenient spots for midnight 
rendezvous
 and cozy corners for singing songs.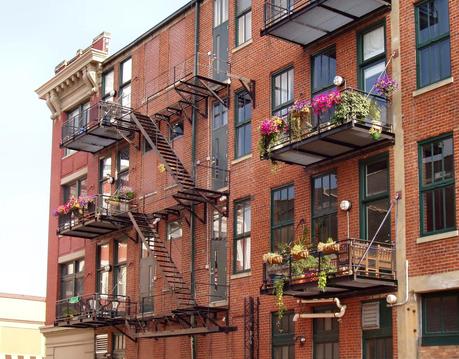 You can tell cant you?? that I was sorely disappointed with the movie though the fashion and Audrey's style far exceeded all my expectations.
I had thought that the movie would be about this sensible, smart and classy girl I had thought it would be about making Tiffany dreams coming true or something along those lines...
But a pretty movie is all it is, a pretty movie about a girl who is lost and has no idea where she wants to go in life, needless to say, the movie felt the same way.
But the dresses were gorgeous, the accessories do what they are supposed to do - transform, the heels are sensible and yet lovely, the hair is always 
voluminous
 all in all pretty is all the movie is.
want to look good and feel fab always?? Join us lookingoodfeelingfab.blogspot.in