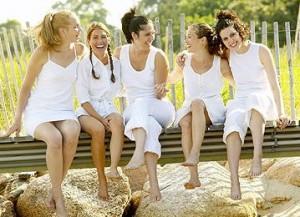 Memorial Day weekend is here, which is considered the official kickoff to summer and when it becomes "okay" to start wearing white.  While the strict rules against wearing white before Memorial Day have long gone by the wayside, there are some who still adhere to the "white only after Memorial Day" guidelines.
White is a popular shade to wear for the summer, yet, how do you wear it without looking like a nurse, as pale as a Cullen?
Here are some popular summer pieces and some of my suggestions on how you can incorporate it into your style.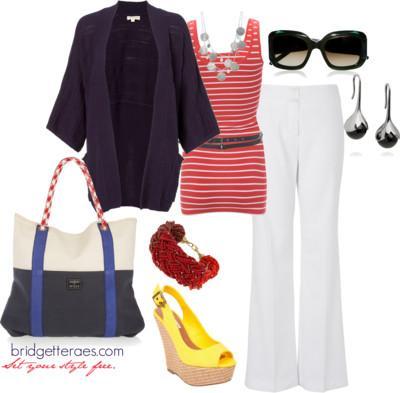 White Pants after Labor Day by
bridgetteraes
featuring a cotton cardigan
White pants are often things that people keep off their bodies until after Memorial Day weekend.  For those daring enough to wear a pair of white pants, choose a style that flatter your figure.  A boot-cut style is usually a pretty flattering shape for all body types.  The fit-and-flare style counter balances large thighs and hips and, for curvier figures, a boot-cut style will give you more curve.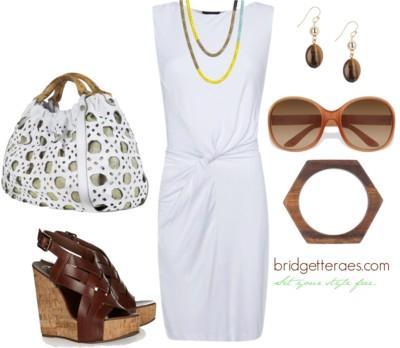 White Dress After Memorial Day by
bridgetteraes
featuring longs jewelry
The white dress is a style that many fear if they will wear they will look like a nurse.  Personally, I don't like black shoes with a white dress because it just looks too stark.  Instead, warming up the crisp whiteness with warmer, more natural accessories creates a better balance.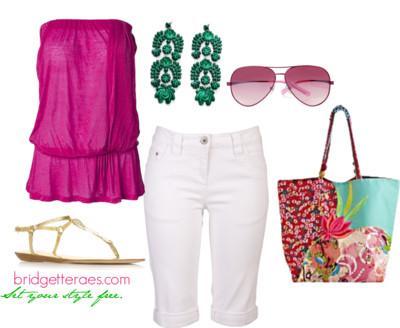 Memorial Day White Shorts by bridgetteraes featuring chandelier earrings
White shorts seem like an easy addition for most women's wardrobes.  I love the summery, resort-y feel of a pair of white shorts, especially when popped with bright colors.  A metallic sandal is a versatile shoe style that will not only work well with a pair of white shorts but just about everything else in your wardrobe.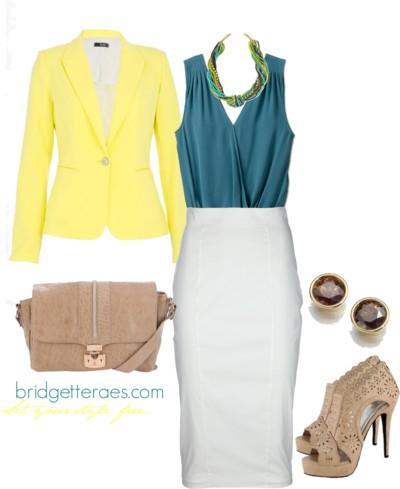 Memorial Day White Skirt by bridgetteraes featuring silk tops
A white pencil skirt is a great summer work piece to add to your wardrobe.  Using neutral accessories is a softer option to shoes and a bag in a heavier color.  Lastly, color blocking; a popular trend.  In this case, I chose a teal sleeveless work top with a yellow blazer and brought it all together with a necklace that picked up all the colors in the outfit.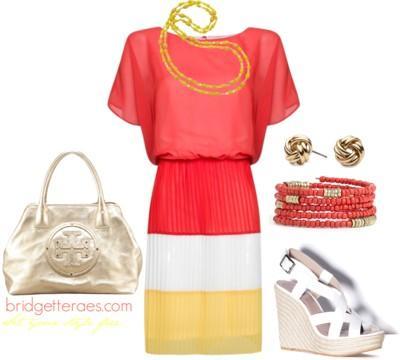 Memorial Day White Shoes by bridgetteraes featuring a glass bead necklace
White shoes aren't typically my favorite shoes to wear.  Probably the best way to wear them would be in a strappy wedge which are summery and a great style to wear with the bright colors that are trendy this summer.  In this case, I chose a summery dress with versatility, a metallic bag (that has the same user-friendly versatility as a pair of metallic sandals) and some accessories that work with the colors of the outfit.