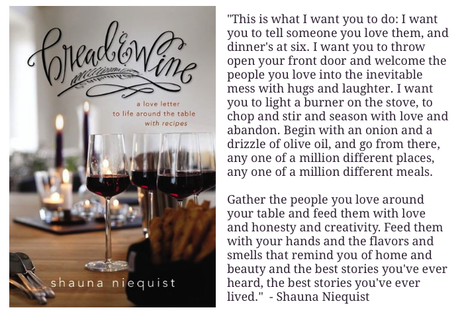 _________________________________________________________________________________
Shauna Niequist has an uncanny habit of writing the books I need to read, exactly when I need to read them.
I read Cold Tangerines a few years ago from a hammock in Hawaii; my heart as carefree and light as the breeze blowing through the palm trees. I read Bittersweet last year during a season that I can only describe as such—a season where we experienced both birth and death, celebration and mourning, incredible joy and unbearable loss.
And now there's Bread and Wine, a love letter to life around the table, which arrived on my doorstep just as I had forgotten that food and community were even related to one another. Somewhere along the past year in the midst of transitioning from working girl to stay-at-home mom, my kitchen has sadly (and unintentionally) lost its magic.
When Brett and I first got married, I indulged in cooking with my "new wife" spirit—apron on, cookbooks highlighted, brand new kitchen utensils at my fingertips. I created fancy pasta dishes and tore recipes out of magazines, adding them to a binder neatly organized by course and category. I stuffed chicken breasts with blue cheese and wrapped them in bacon, with a heaping mound of freshly whipped garlic mashed potatoes on the side. I took pride in my meals, pride in my kitchen, and pride in my table, which was rarely set without fresh flowers and a few lit candles.
My kitchen was once a place of romance and whimsy—where music played and we would occasionally burst into spontaneous dancing while the risotto cooked. I improvised often, always too creative to follow recipes exactly, which usually resulted in either a total success or a total failure. Early in our marriage we offered to host Thanksgiving, a brave and stupid thing to do. I cooked all day with the help of my husband and mom, and our tiny house smelled of turkey for a whole week. I made fancy place cards and set out cloth napkins as eight of us crammed around our too-small table.
I miss those days, those kitchen adventures, my new wife spirit. As I read Bread and Wine, I felt inspired to take back my kitchen, to make it what it once was: a place of romance, whimsy, and togetherness. I felt motivated to break out kitchen tools I haven't used in months, to bake from scratch, to feel food in my hands and taste test along the way. I wanted to host dinner parties, lots of dinner parties, for no reason at all other than to simply celebrate the joy of being together.
If your kitchen has lost its magic, I am convinced Bread and Wine will help you find it. Shauna's stories are, as always, easy to relate to and beautifully told. Every time I read her books, I think to myself, this is the book I want to write. Half memoir, half cookbook, Bread and Wine will inspire you, make you laugh, and provide you with plenty of new recipes to try. I truly cannot recommend it enough. Pre-order your copy today!
P.s. Lesley and I are hosting an Easter meal with friends this year and we are planning our menu around recipes from Bread and Wine. Another post with photos to come next week!