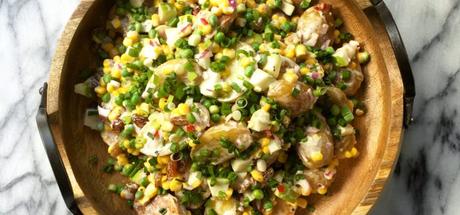 Complete your Brazilian churrasco meal with this delicious potato salad, perfect for celebrating the upcoming Olympics! Typically made with fried potatoes, meat and full-fat mayonnaise, the classic Brazilian potato salad packed a caloric punch. This lightened up vegetarian version, with crispy oven roasted potatoes, and a creamy yogurt dressing, provides all the satisfaction without any of the guilt. Yogurt is full of satiating protein to keep you full, and an excellent source of beneficial probiotics to keep your digestion and whole body healthy. If you'd like to add additional protein to this recipe, mix in some chopped hardboiled eggs.
Total Time: 30 minutes
Serves: 4-6
Ingredients:
12 small new potatoes (or a similar small waxy potato), halved
2 tablespoons olive oil
4 garlic cloves, chopped
½ cup thick full fat yogurt (try Greek yogurt or Labneth, or strain regular yogurt)
4 tablespoons fresh lemon juice
1 cup cooked corn kernels
1 cup cooked peas
1 medium green apple, cored and diced
½ cup dried cranberries or raisins
Salt and pepper to taste
Chopped scallions, to serve
Directions:
Preheat your oven to 400 degrees. Toss the potatoes with the olive oil, garlic, and a pinch of salt and pepper on a baking sheet. Roast for 15-20 minutes, tossing once, until the potatoes are tender and golden brown.
While the potatoes roast, assemble the salad. In a large bowl, whisk together the yogurt, lemon juice, and a pinch of salt and pepper until smooth.
Add the corn, peas, apple, and cranberries, and toss to combine.
When the potatoes are cooked, add them immediately to the bowl, and toss well to combine. Season to taste with more salt and pepper, if needed.
Garnish with the scallions, and enjoy!
Note: The flavor in this recipe improves with time, so if possible, make it 1 hour in advance, or overnight if possible. Serve cold or at room temperature.