Most days I see this beautiful city through cars like these.  They safely pick up and drop off staff, but as I am still new to the Brazilian culture, I love looking, thinking about what life must be like.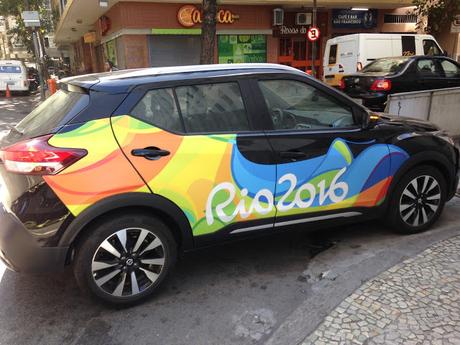 The puzzle-pieced sidewalks of stone, sand, and grime are crowded with people going about their day.  Many aimlessly passing the time, reading the newspaper on a bench or staring at what the genetic diversity of this place has given its beaches - beautiful people that is.  Vendors call; tourists fill corner stands for barbecue and Guarana; a homeless man grabs his pet dog's grungy front paws to dance to the music of a street-busking accordion, tambourine, and drum trio. 
But for those memories, I learned more about being Brazilian yesterday than I have through any of my stay so far.  The people, these joyous people, love to celebrate so raucously that their singing overcame the stadiums amplification many times.  Our first full dress rehearsal went exceedingly well.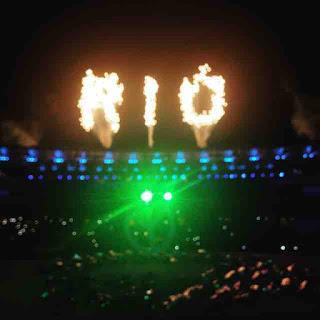 Fireworks are hard to take pictures of...
There are some items that won't be practiced for an audience, including the cauldron lighting, but the visual and technical effects worked or rather fooled the mind.  The story line is comprehensible and (thank goodness) the anthems sound fantastic.  A few things need some work in the parade - particularly some pronunciation problems - but cross your fingers and toes that all the athletes can be corraled effectively.  That's rather difficult to practice.
Brazil loves to party, and the audience LOUDLY sang and danced as passionately as they could throughout.  No, you won't see the formal propriety of Athens 2004 (by far one of my favorites), and it won't be as orderly as Beijing 2008, but it will certainly be Brazilian, and most importantly FOR Brazil.  It is part hilarious, vivacious, intimate, serious, colorful, and unbelievable - but when you watch, pay attention to the crowd if the coverage allows you to.  Their joy will infectiously bring a smile to your face.
It will also be an education for the viewing audience not only in the history of Brazil, but also for its music.  I've mentioned some of the major styles in previous posts, but honestly, I think the ceremony will be a great teaching tool for all these Brazilian music genres.  I realized yesterday that I didn't mention a style called Funk Carioca or Favela Funk when I was covering the other music genres.  It may seem pretty harsh at first (especially to stuffy academes like myself) but keep an open mind and the visual elements will help you to understand it.  Actually,what you will hear is mostly favela funk and samba fusion.  More on that to come, but just like many popular music genres, it often reflects culture and allows for people/groups to uniquely and passionately express themselves.  And this music, just like the other major dance genres in Brazil, originates in the favelas.
Teaser...well, I've run out of rather ambiguous teasers it seems...maybe tomorrow you'll get a really good one!