I say "for reals" because I have only made these out of wooden skewers, not actual brass before. (see sculpture here and light fixture here) I decided to go for the real thing for this one...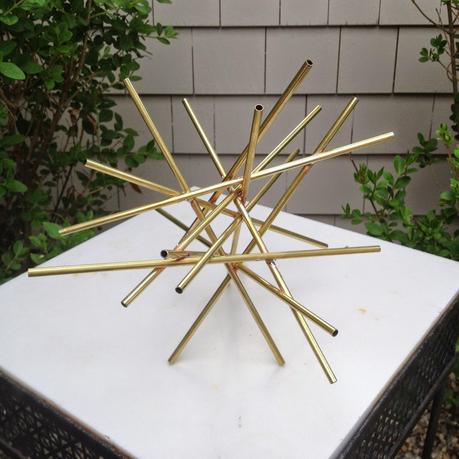 I have a client that saw this and loved it, but not the $$$$ attached to it...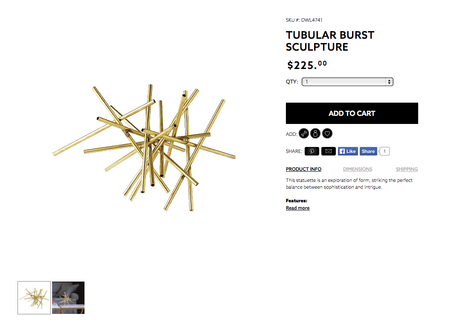 Having welded my kitchen lights this winter I felt ready for the challenge.   I also took jewelry design in art school and inhaled my fair share of lead making stained glass so I thought "no big deal"... its actually quite a big deal.  This is a level 7 on a scale of 1-10 for difficultly.   *If you don't have a soldering gun or trust yourself near high heat spray some drinking straws gold and then glue them together.*  
So, I picked up some 36" long 3/8" brass tubing at my local hardware store, a soldering iron, solder-without lead cause that is BAD for the brain, and a mini tubing cutter...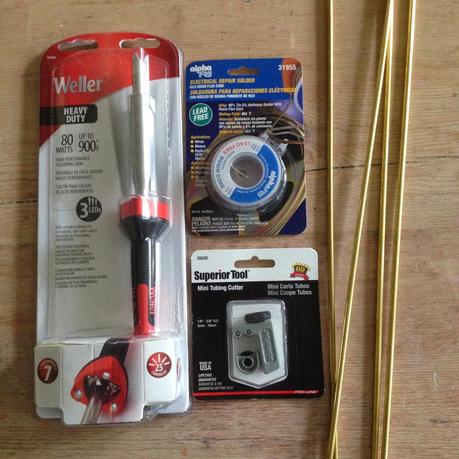 I marked the 36" tubes at 9" intervals..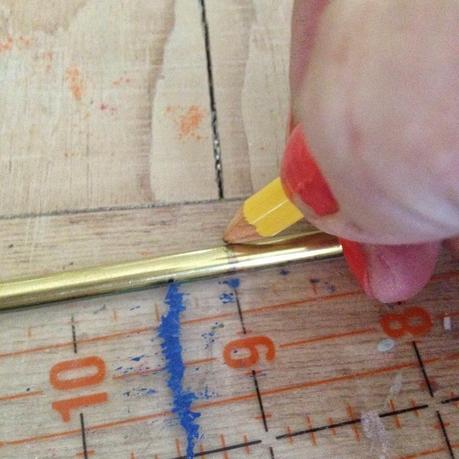 Then I used a great little contraption called a mini tubing cutter.  Best tool I tell you!  All you do is put your tube in and tighten the clamp.  Next twist the tube once and tighten the clamp again.  Repeat until the tube cuts in half.  Its like magic!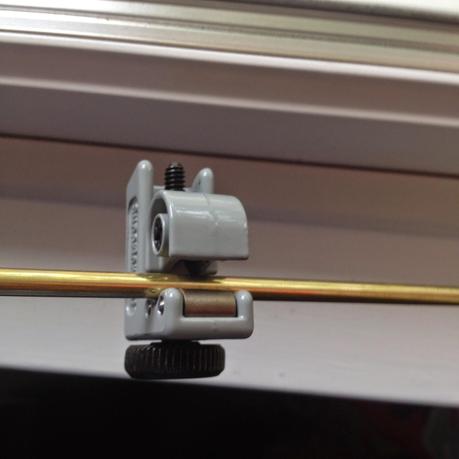 It took me 3 twists/ tightens to make this happen...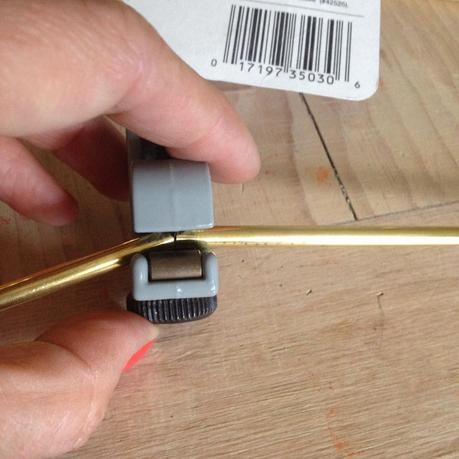 They are so smooth I'd drink from them if  I wasn't such a "don't know where that tube has been" type!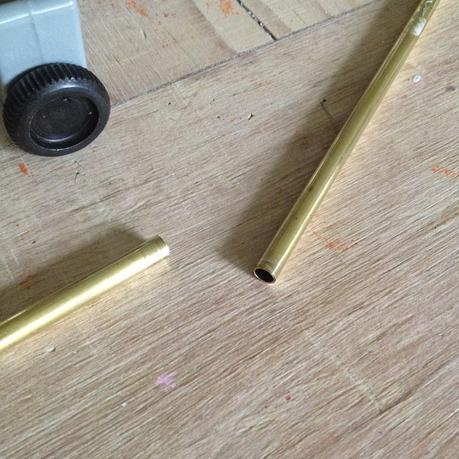 I made (12) 9" pieces from (3) 36" tubes...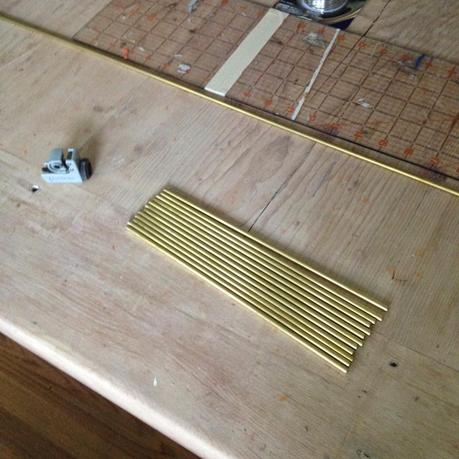 Now for the hard part... soldering. I used a piece of ceramic tile with a layer of aluminum foil for my work area  since this gets VERY (900 degrees) HOT! Gather your soldering iron, solder and some fine steel wool.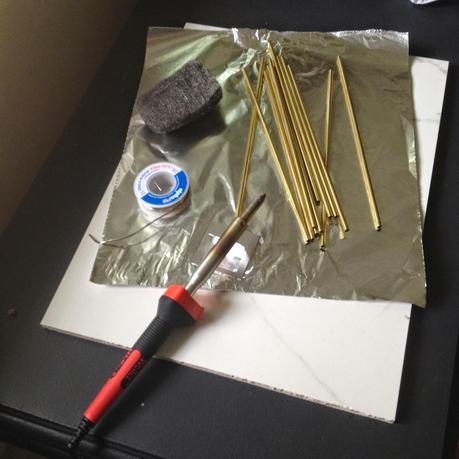 You will need to rub the tubes down with the steel wool to make sure they are clean. Very important!  If there is any coating on the brass the solder will not stick and it will just break off.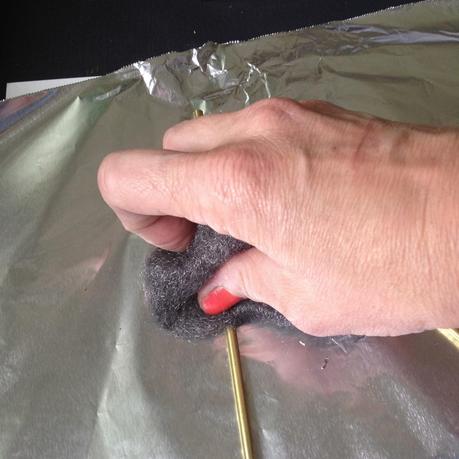 I recommend having three arms for the next step if you are new to soldering, so grab a friend. Here's the deal... you need to hold the soldering iron to the metal areas you want to solder until they reach a temperature that will melt the solder.  I am using a solder with a rosin core (this helps it spread easier), so I touched the solder to the brass until it melted and then I quickly lifted the soldering iron.  This takes a lot of practice!!!!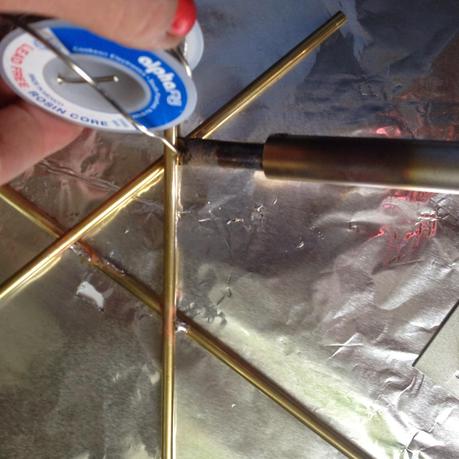 Please note my messy soldering marks...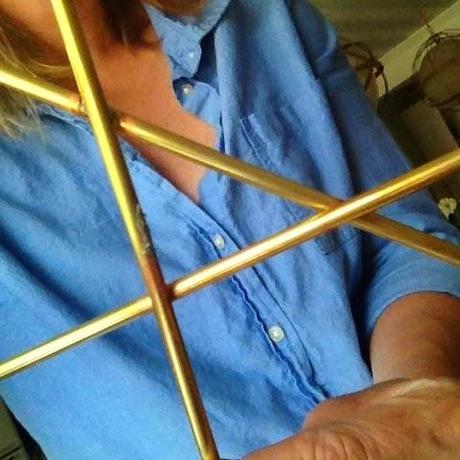 I kept adding tubes, and I used tape to hold ends in place since I didn't have a third arm or a buddy...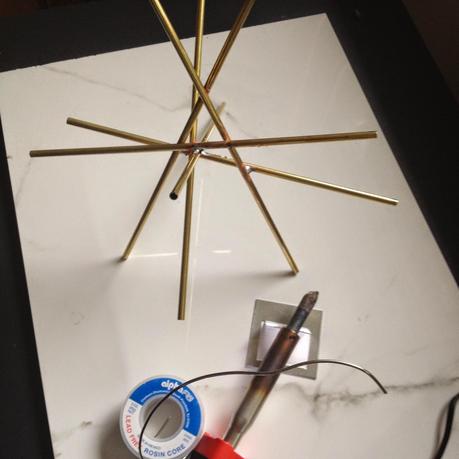 It's my first attempt so it's quite obvious...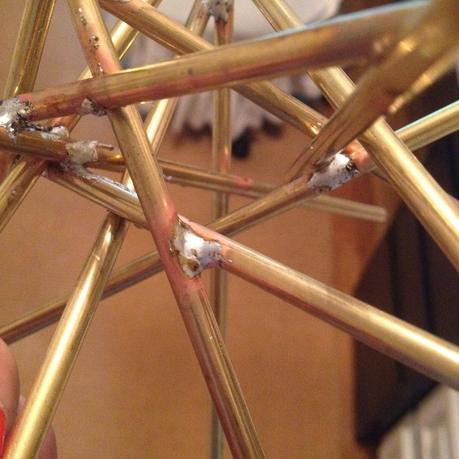 I used my Krylon Paint Pen to cover up the majority of silver solder marks...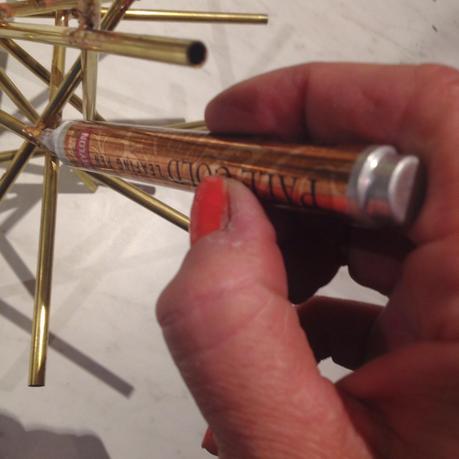 Here is the breakdown on cost... The actual tubing cost less than $18: (3) 36" brass tubes @ $5.99 each This is the "tools" cost, so if you own any of this you are ahead of the game... Tubing Cutter $9.49 3 oz. Solder $11.99 Soldering Iron $31.99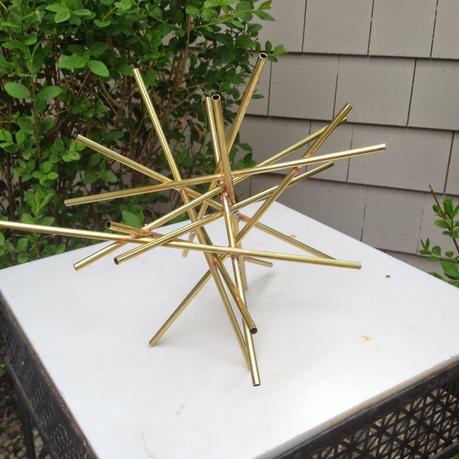 Now I am off to practice some more and make one for my client. I'll keep you posted!