TAKEAWAY: Brand Perfect opened its Adventures in Publishing seminar in New York City Wednesday: Here are some highlights and takeaways from the various sessions.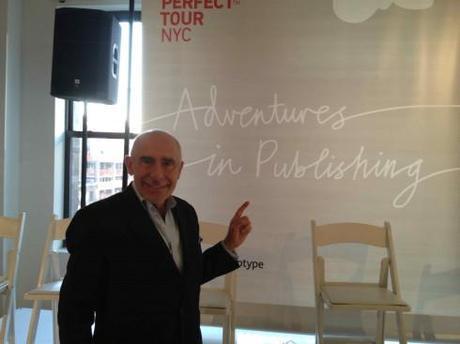 I gave the keynote presentation kicking off the three-day Brand Perfect program in New York City that continues thru Friday
It was the first day of the Brand Perfect: Adventures in Publishing gathering in New York City Wednesday, and I was honored to deliver the keynote to an audience of people from a variety of fields within our industry. Presenters and attendees all had an interest in publishing, but perhaps an even greater interest in the power of brands—especially how new technology and the prevalence of the media quartet makes branding ever more important.
The conference is sponsored by Monotype and coordinated by Julie Strawson, founder of Brand Perfect, who opened the evening by emphasizing the importance of brand for those in publishing.
"With so many publishing platforms and gatekeepers, how do you maintain control over your brand. How can publishers help you deliver a seamless experience whether customers begin their journey in the physical publication, online or on their phone?," she asked.
Highlights of my presentation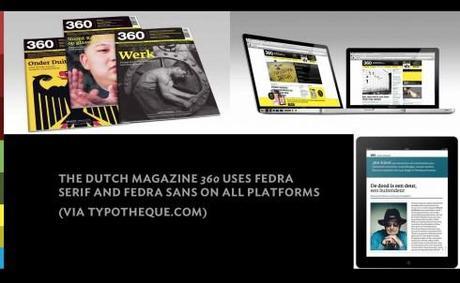 The Dutch magazine 360: using typography (Fedra) to emphasize brand continuity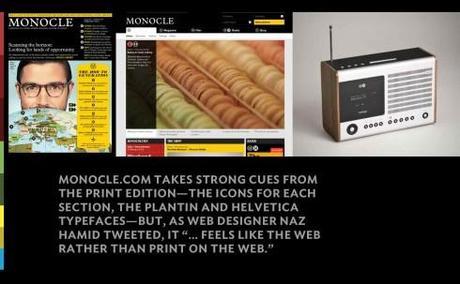 MONOCLE Magazine and brand extensions, including for its Monocle 24 Radio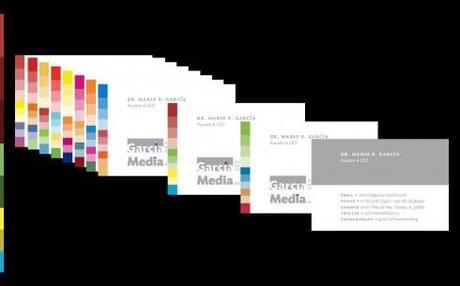 Introducing the new look for the Garcia Media brand: fonts are Ideal Sans and Mercury Display
My own keynote, titled Branding in the Age of the iPad, highlighted these key points:
At a time when the media industry finds itself in one of the most tumultuous transition periods, it is the brand that provides the best shot at attracting new audiences, maintaining the ones that are loyal and expanding across platforms.
It is the job of the editor and designer to make sure that each platform is used to its full potential.
There are many tools at your disposable for creating a multi-platform brand—editorial voice, a multi-platform CMS, a sophisticated logo system—but one of the most effective is typography, which can carry your identity
We at Garcia Media are in the process of rethinking our own brand, and you are beginning to see this in various displays in the blog and our website, but it is still work in progress.
Steve Matteson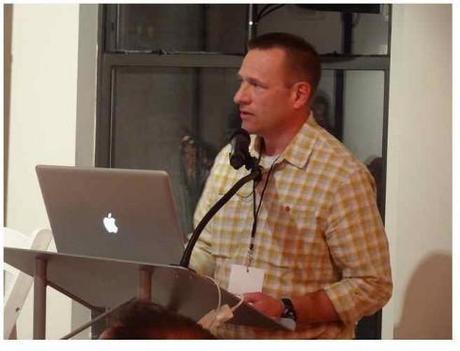 Steve Matteson: Type for digital platforms must be carefully crafted and designed / photo by Doug Haslam
Per his bio on the Brand Perfect site, Steve is the Creative Type Director for Monotype Imaging and leads a team of designers in the US creating custom typefaces for brands as diverse as Goodyear and Beaver Creek Resorts. Most of his own work has been for the branded user experience in platforms such as Xbox, Android (Droid Sans and Droid Serif), Barnes and Noble, Google Chrome and Windows 8.
Steve discussed his work creating new typefaces for reading on screen, making it clear why typefaces designed for print are not necessarily the best choice for the web or digital environments.
He emphasized the importance of having a substantial understanding of type's rich history before switching over to creating type for digital platforms.
Takeaways:
Often using terms such as lyricism and poetry to describe the effects of type as voice, type as consistency and type as integrity, Steve reminded everyone why type created for print does not work for digital. He showed examples emphasizing how smooth curves, density and other features of print type tend to degrade "badly" when used in digital platforms.
Memorable quote: "Type is the clothes that words wear."
He is optimistic that we are beginning to see more variety of type fonts created especially for digital platforms and announced that new eText versions of classic Monotype faces such as Bembo and Sabon are coming soon.
Chris Liu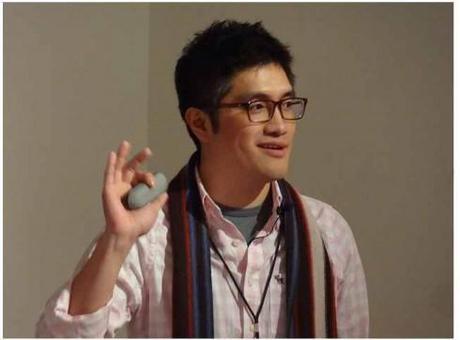 Chris Liu: Challenge and drive the technology, don't simply submit to it / photo by Doug Haslam
From Brand Perfect: Chris has just finished a stint at Intel where he attempted the impossible - leading a global skunk works team with the aim of launching a free, competitive, truly open source, cross device category operating system by the end of 2013. Prior to joining Intel, Chris was the Managing Director of Fjord in London
Chris took a look at how a changing technology is affecting design and what the design industry needs to do to deliver relevant solutions to brands that reach all touch points.
Takeaways:
Technology has empowered the masses to create.
In the past 30 years, design became the result of what technology allowed.
We are beginning to see a re-convergence of design and technology, with designing beginning to drive technology (as exemplified by Google, Jawbone, Nest, Tesla, among others)
But the landscape is becoming more complex, and mobile development projects will outnumber web development projects and more will move in-house.
Challenge and drive the technology, don't simply submit to it
Panel Discussion: Managing brand and cultural change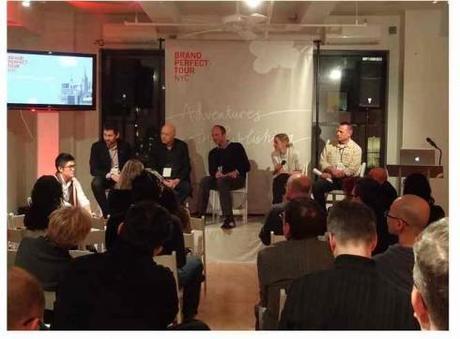 The program ended with a panel discussion emphasizing the need for more training in newsrooms, more creativity in digital advertising / photo by Doug Haslam
The panel included Steve Matteson, Katrina Dodd, Chris Liu, Mario Garcia, Graham Clifford, Robert Newman, Kevin Delaney
Chaired by Katrina Dodd, consultant at Contagious Insider the group took a look at how technology has enabled publishing brands historically and how to manage cultural change in your organization to keep pace with it.
Takeaways:
In many newsrooms there is a lack of vision of where the product is going. Yet publishers today are more eager to experiment with the tablet and mobile platforms than they were to explore websites a decade ago. Still, the startups and more independent branches of publishing companies are doing the most innovative work today.
Kevin Delaney of Quartz said that reporters have been trained to write a standard 700-word story for print, but on the web, short and long stories work far better.
Lack of proper training, primarily in storytelling, keeps newspapers and magazines from advancing to be a full and real multi-platform operation. 
Specifically in the area of advertising, not much creativity is explored, a result of years of keeping advertising far removed from editorial. We need to put storytelling and high level creativity into ads we put into mobile devices. Delaney of Quartz spoke about the possibilities for more engaging editorial and advertising presentations when you free yourself from the standard concept of banner ads on a website.
For more Brand Perfect seminar photos, go here:
http://www.flickr.com/photos/doughaslam/sets/72157632702746993/with/8452098166/
Where's Mario until March 2, 2013?

Mario's upcoming speaking engagements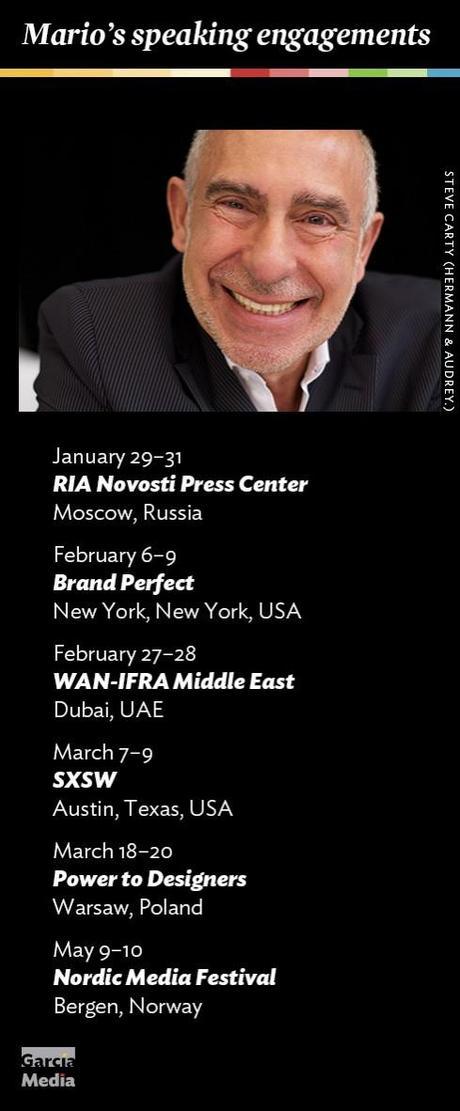 Take advantage of our iPad Design/Ad Lab workshops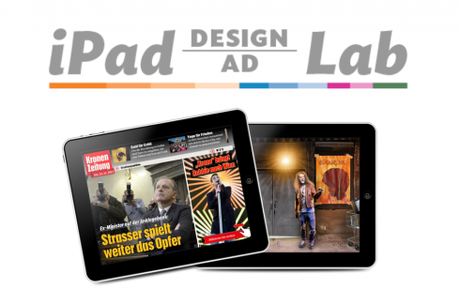 Do you want to take your brand to the next level by creating a tablet edition? Garcia Media can help. We now offer one- to two-day iPad Design Lab workshops on demand to jumpstart your presence on this exciting new platform. We also offer iPad Ad Lab workshops to develop engaging advertising models for your app. Contact us for more information.

Purchase the book on the iBookstore
iPad Design Lab has been given the
QED

 Seal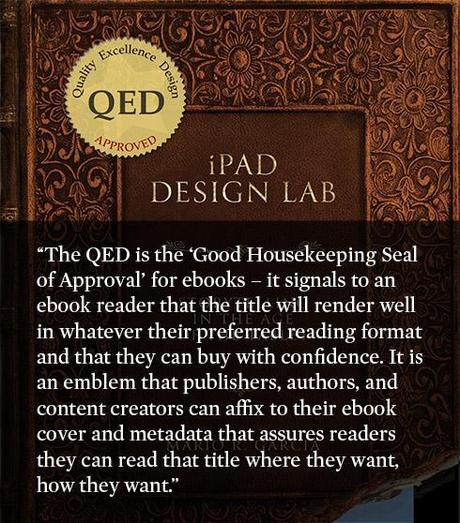 The QED (Quality–Excellence–Design) Seal is bestowed by the judges of the Publishing Innovation Awards after "a thorough, professional 13-point design review with an eye towards readability across multiple devices and in multiple formats."
Learn more about the QED Seal here.
The
EPUB

version of book is

HERE

:

Now available: The EPUB version of  iPad Design Lab: Storytelling in the Age of the Tablet, ready for download via Amazon.com for Kindle:

http://tinyurl.com/8u99txw
Here is how you can get iPad Design Lab book:
The original version of the book is the multitouch textbook version available on the iBookstore for iPad (iOS 5.0 and up): 
https://itunes.apple.com/book/ipad-design-lab/id565672822
This version includes video walkthroughs, audio introductions to each chapter, swipeable slideshows, a glossary and a sophisticated look and feel.
Apple only sells multitouch textbooks in certain countries at this time, unfortunately. Copies are available in at least the following countries: Australia, Austria, Belgium, Canada, Finland, France, Germany, Great Britain, Greece, Italy, Latvia, Luxembourg, The Netherlands, Poland, Portugal, Romania, Slovakia, Spain, and the United States.
For those in other countries and without an iPad, we have made the book available in a basic edition for other platforms. This basic edition includes the full text of the original, along with the images and captions, but lacks the other features such as audio and video. It is available on the following platforms in many countries:
Amazon Kindle: 
http://amzn.to/SlPzjZ
Google Books: 
http://bit.ly/TYKcew
Take a video tour of iPad Design Lab
"iPad Design Lab" trailer on Vimeo.
Read the Society of Publication Designers' review of The iPad Design Lab here:
http://www.spd.org/2012/10/must-read-ipad-design-lab.php

Keep up with Mario Garcia Jr.. via Garcia Interactive: helping transform online news since 1995.
http://www.garciainteractive.com
TheMarioBlog post #1189