I was surfing through Instagram one day and stumbled across Lola Cosmetics. I'm a beauty blogger of almost five years and I've tried a lot of brands but I'd never heard of Lola. I was recently sent a few products to try out and so thought I'd let you know my thoughts.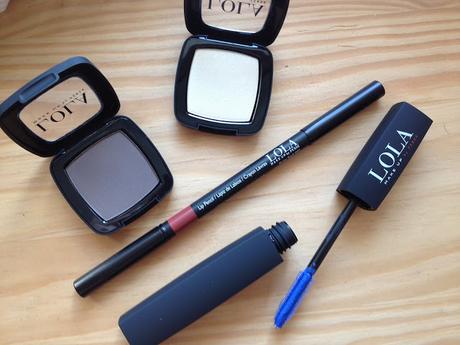 First off, Lola Cosmetics are sold in M&S. I initially thought that this meant their products would be aimed towards an older market and might be heavily scented. I was so wrong! The packaging is geared towards any age. It's black matte and has an almost rubbery texture. I'm a bit of a packaging snob, I like simple elegant packaging and now and again, I'm a sucker for a gimmick. Lola have the right amount of sophistication IMO.
Moving onto the products. I was given two matte eyeshadows, a lip liner and a blue mascara to try out.
The eyeshadows are well pigmented, feel creamy and don't have a huge amount of fall out. The downsides for me are that they didn't blend out very well and I noticed they didn't last as long as my Too Faced or Urban Decay shadows. I used a primer on my lids and they definitely lasted longer but the blending part was still stubborn.
Moving onto the lip liner. I'm a lip liner junkie. I loooove a good lip liner. I mainly have reds and dark nudes in my collection so this one in a rose color was a nice change. The one thing I look for is creamy consistency because I find these go on the lips much easier.  This is relatively creamy once it is warmed either over a candle or between your fingers but it definitely takes a minute. Once applied, this lasts forever! It is the most gorgeous color and I wore this on my lips for 8 hours with NO re-application! win!
Onto the blue mascara. Well, I wore blue mascara as a teenager and it didn't go well. I also teamed it with blue eyeshadow and pink lipstick so that might have had more to do with it haha! the consistency of this mascara is good, it is volumising, thickening and lasts all day long. The fact that it's blue isn't really my style but it is a fab mascara in general.
Head on over to https://www.lolacosmetics.com for more information.